There's no denying that L Brands, Inc. (NYSE:LB) is trading at reasonably high multiples than what we are normally used to. From the outside looking in this makes the stock look expensive, but is it too expensive?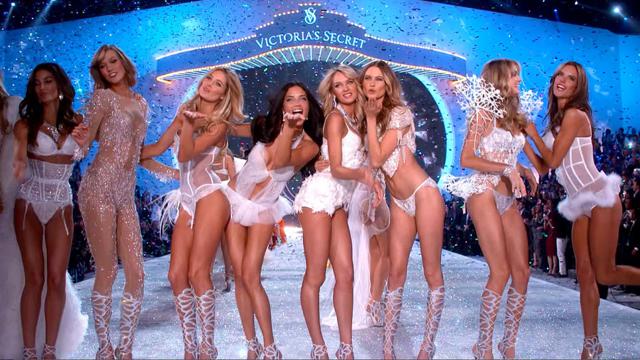 Click to enlarge
L Brands is most widely known for its Victoria's Secret brand, but is actually made up of five different brands in total. The other four are Bath and Body Works, Pink, La Senza, and Henri Bendel. The company's target markets are generally middle-class woman, or men shopping for a middle-class woman, and female millennials.
The bread-winner for the company is of course its Victoria's Secret brand which accounted for 63.5% of operating income in fiscal 2014 as you can see below, and a similar figure of 62.2% in the most recent quarter of fiscal 2015.

Click to enlarge
(Source: Company 2014 10K)
For the first three quarters of fiscal 2015 all segments have been firing and producing great year over year results. So far total sales are up 5% year over year, with every single segment up on the previous year.
So is this enough to justify paying a premium for the company? Looking below you'll see how the valuations have risen on all measures, which understandably has brought about many market commentators calling the stock overvalued.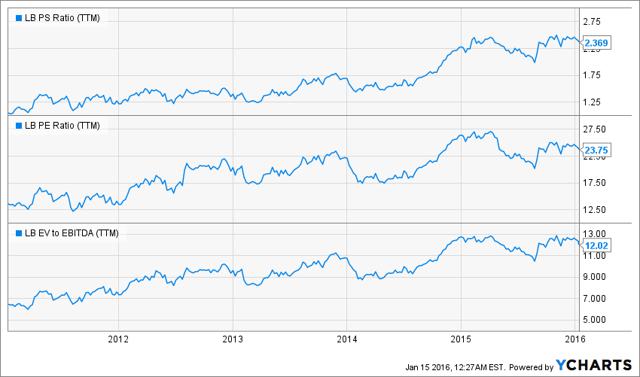 Click to enlarge
Well we are certainly encouraged by the performance of the company. It has been increasing revenue at a very high rate, whilst expanding margins. Shown below you can see another chart demonstrating the progress it has made on these fronts. The increased levels of profitability are very attractive.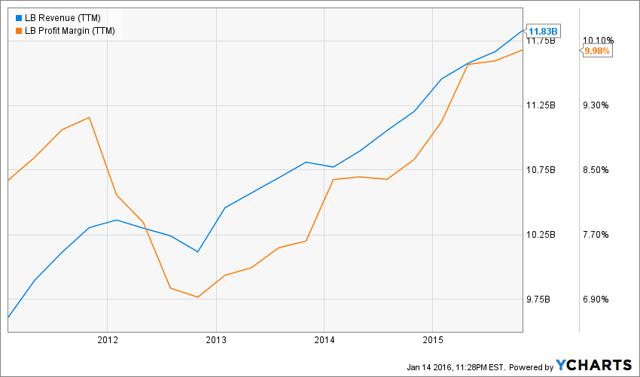 Click to enlarge
This has been very impressive and we believe it will continue. This year the company introduced a number of key "Angels" to its theatrical Victoria's Secret Fashion Show. The reaction to Kendall Jenner and Gigi Hadid was excellent and could be the key to opening up Victoria's Secret to an even larger audience.
Kendall Jenner and Gigi Hadid are two of the most influential young people in the world right now with 46.5 million and 11.7 million followers on Instagram, respectively. We believe there will be a strong and sustained uptick in sales to the millennial demographic following their introduction. Should they return next year, we would imagine the brand gaining further traction, and helping the company achieve continued same-store sales growth which has been quite extraordinary. Below are two tables showing the monthly same-store sales figures broken down into Fall and Spring seasons.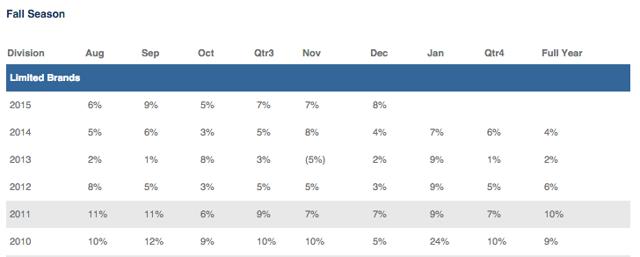 Click to enlarge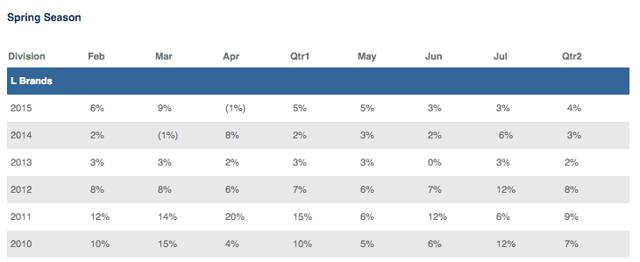 Click to enlarge
(Source: Company data)
If the amazing same-store sales aren't enough for you to justify paying a premium for the company, then maybe its international prospect will be. We see huge potential in international markets for the company in the future judging by its current performance.
In the foot notes of the 2015 Q3 10Q it was revealed that international net sales across all of its segments came to $938 million for year-to-date 2015, equating to 12.2% of total sales. When you consider that its international stores generated $273 million of sales during this same period, its becomes very apparent that there is huge demand internationally that falls outside the reach of its current international store network. We find this demand very encouraging and see it as proof that the company could expand its international store network substantially in the future.
L Brands does have a substantial amount of debt ($6.5 billion) but due to its high interest coverage ratio (6.05) we're not too worried about it and trust the company's management team.
So what is a fair price? Well that's the million-dollar question. We envisage L Brands growing its revenue by 7% for the next three years to $14.88 billion by FYE 2018. The combination of its continued modest share buybacks and this predicted level of growth should see the stock trading below a reasonably fair 2 times sales by FYE 2018, whilst still providing decent (6%) shareholder gains each year.
So in our eyes, no, that stock has not go too expensive, and we believe there are still decent gains to be made for investors.
It is worth noting however, that if the share price were to go beyond $112 before then, all else equal, we may consider closing our position.
Disclosure: I am/we are long LB.
I wrote this article myself, and it expresses my own opinions. I am not receiving compensation for it (other than from Seeking Alpha). I have no business relationship with any company whose stock is mentioned in this article.