By Sridharan Raman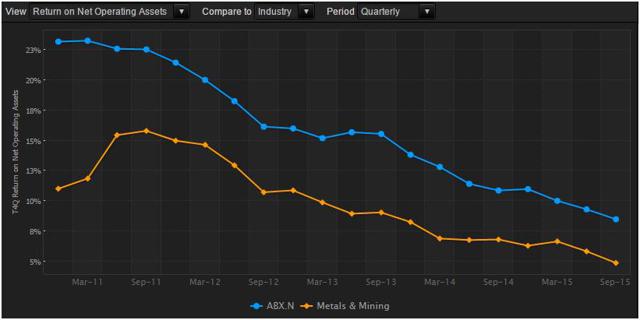 Click to enlarge
Each quarter, the Thomson Reuters StarMine team quantitatively analyzes the earnings estimate accuracy of sell-side analysts and uses this information to create proprietary SmartEstimates.
As we wrapped up this forecast, GoPro, Inc. (NASDAQ:GPRO) announced it would indeed come up well short of expectations, and the stock got hammered. While that was one of our picks, we cannot use that anymore, so we replaced it with Chipotle Mexican Grill (NYSE:CMG). Other negative Predicted Surprises - Lions Gate Entertainment Corp. (NYSE:LGF), Blackstone Group LP (NYSE:BX), Barrick Gold Corporation (NYSE:ABX), and ConocoPhillips (NYSE:COP).
It's worth noting that the last edition of this newsletter for Q3 2015 correctly anticipated the surprise direction in seven out of the nine stocks chosen.
SmartEstimates aim to provide earnings forecasts that are more accurate than I/B/E/S Consensus Estimates, by putting more weight on the recent forecasts of top-rated analysts. When SmartEstimates diverge significantly from consensus, you can anticipate the occurrence of earnings surprises with an accuracy rate of 70%. Revenue SmartEstimates are even more predictive of surprises, with a historical accuracy rate of 78%.
As we do each quarter, we selected ten companies using the Eikon Screener that we expect to fall into one or the other of these two camps, based on the SmartEstimate and Predicted Surprise data for each. We have summarized that data and the facts behind it for the five negative picks below for your reference. Historically, our selections have demonstrated an accuracy rate of about 75%, giving investors an edge when it comes to positioning themselves ahead of these earnings announcements. To take a look at how we did last quarter click here. Stay tuned for the positive surprise expectations.
Negative Surprise Predictions
Chipotle Mexican Grill

Click to enlarge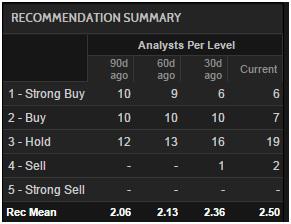 E.coli Outbreak
What started as an isolated incident on the West Coast has spread to the East Coast and is severely denting foot traffic at Chipotle. CMG now not only has an E.coli problem, but an even bigger PR problem as it struggles to regain customers. Same store sales estimate for this quarter at Chipotle is -13.7%. That trend is likely to continue, and the management has already set expectations for a weak 2016 because of it.
Even before the outbreak and after registering six consecutive quarters of 20%+ revenue growth rate, revenues grew in the low teens in the last two quarters. Analysts have grown bearish on this stock. There are now more hold-and-sell recommendations for Chipotle than there are buys, a reversal from just 90 days ago.
Lions Gate Entertainment

Click to enlarge

Click to enlarge
Source: Thomson Reuters Eikon/StarMine
Watch margins
Falling trailing 4Q operating profit margins (down more than 4 percentage points in two years, now at 6.9%) and net operating asset turnover are leading to falling return on net operating assets (down from 25% in 2013 to 7% in the most recent quarter, and below the industry median).
Mockingjay 2 brought in weaker-than-expected box office. Analysts hope that Lions Gate expands past the Hunger Games franchise, possibly more into television content.
Blackstone Group LP

Click to enlarge

Click to enlarge
Source: Thomson Reuters Eikon/StarMine
Turbulent markets
Weaker private company valuations may hit Blackstone's books and weaker credit markets also hurt. Analysts have lowered estimates for revenue and earnings for the current quarter, full year and for the next full year. The pain in the capital markets may last through the year and exit financing may be tougher with the current market volatility.
Barrick Gold

Click to enlarge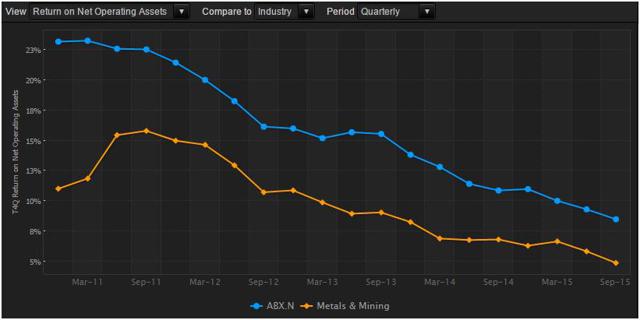 Click to enlarge
Source: Thomson Reuters Eikon/StarMine
Looking for glitter
A 2% fall in Q4 gold prices is likely to hurt earnings. High interest payments on a large debt load have necessitated asset sales. Continued high leverage and interest payments are likely to detract from earnings. Interest expense was $190 million in the last quarter.
Lower production is likely in 2016, making the debt load even more of a concern. Trailing 4Q return on net operating assets (which measures efficiency) has been falling for the past five years, from 23% to 8%.
ConocoPhillips
Click to enlarge

Click to enlarge
Source: Thomson Reuters Eikon
Oil prices, of course
The continued slump in oil prices is expected to hurt earnings this quarter. Increased regulation on climate control will hurt COP which has operations in several regions around the world.
A high debt load along with a dividend payout could necessitate asset sales. Free cash flows have been negative in each of the last six quarters. Return on net operating assets, which measures efficiency, has been falling for the last two years and turned negative (-3.4%) for the last quarter. It's below the industry median for the last three quarters
There are three Bold Estimates that are far below the consensus. These are estimates by 5-Star rated analysts with a strong track history of accuracy.