It would be hard to not admire the consistent growth management First Republic Bancorp (NYSE:FRC) has delivered. Over the past 29 years, the bank's enterprise value has compounded at an annual rate of ~22% - a stat that is sure to have etched a permanent grin on the portfolio of long-time holders. In 29 years, FRC has originated over $144 billion in loans with cumulative net losses only totaling $321.9 million, producing an extremely low net loss ratio of 0.22% - and lower if you exclude a $40 million business loan loss that involved fraud.
Consistent execution has shares trading at a premium price, but even so, I always have an alert set because even a pristine record isn't immune to erratic stock market moves. The bank has a great record, but value depends on the future and I'm a little concerned that past profitability ratios are going to be hard to maintain. Shares are down 10% from the 52-week high and that's even after they advanced on a positive Q4 report. I made a timely purchase the last time FRC suffered from a fall, but we'll need to take a closer look to see if that means we should act on this one as well.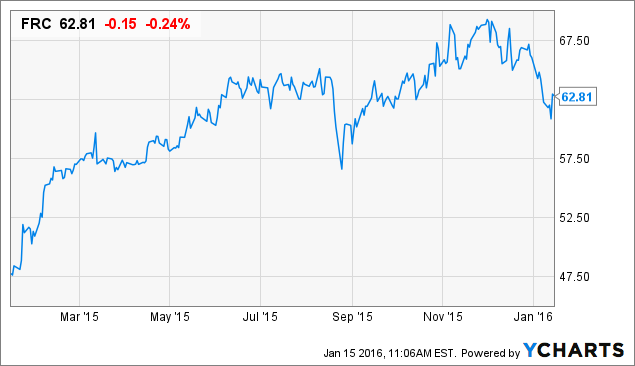 FRC data by YCharts
Hard to Discount The Past
The Q4 report was a positive one. FRC is humming along with $59 billion in assets and double-digit growth rates in just about every category or metric used to communicate performance:
Deposits +29%
Loans +16.4%
Wealth Management Assets +35.4%
Core Revenue Growth and Earnings +15.2% and 10.2%, respectively
Book Value Per Share +14.8%
Needless to say, when you have a strong foundation and aren't limited to economic growth as much as the larger banks are, good things can happen. But, while candid, this is nothing to laugh about because this puts the bank head and shoulders above average banks. However, can it keep it up?
Earnings Trajectory
Core earnings are the name of the game. Time and time again my best payoffs have come from situations that involved wide deviations in the trajectories of reported earnings and what the banking industry calls core income. Core income is GAAP earnings less one-time events and items that are mostly considered accounting adjustments (amortization of intangibles). FRC's core income is typically lower than GAAP earnings because of significant non-core adjustments related to past acquisitions. For example, this year's results were:
$3.18 per share - GAAP Earnings
($0.12) - Impact of purchase accounting net of taxes
($0.04) - Impact of one-time special FHLB dividend net of tax
= $3.02 - Core earnings per share
Based on $3.02 per share, FRC is trading with a trailing P/E multiple of 20.84, and for 2.08X tangible book value ($30.16). Since the middle of 2010, tangible book value has reported a CAGR of 16% and core earnings have grown at a rate of 18%. But, if you've noticed, 18% growth in earnings next year (to $3.56) would only grow tangible book value by 11.8%, well below the trailing rate of 16%. And that's without even accounting for the bank's $0.60 dividend. This math shouldn't be a concern for investors but it highlights how much future earnings growth depends on the next deal, and then the next, and then the next.
Marginal Concerns
Recognizing that in the future the bank is going to need to add another source of income that is not so dependent on accretive acquisitions, the bank has started to emphasize lately its growing wealth management division. Last year, this division's asset balance grew 35.4% to $72.3, bringing in $231.7 million in fee income. Based on $55.1 million in revenue in 2010, fee income from wealth management has an average growth rate of 33% a year. I tend to favor banks that specialize, but at a certain point, managements start to talk about revenue diversification, and this is how FRC plans to lessen future earnings volatility. All good, but even though FRC is a safe and growing play, it would be wise to recognize that 20X core earnings means expectations are high. There is a lot of room to grow further, but at the end of the day, how many U.S. Bancorp (NYSE:USB) or Wells Fargo (NYSE:WFC) sized banks will there be? And on top of this constraint, profitability headwinds usually increase when asset sizes raise regulatory requirements (last pullback was due to concerns about regulations on the other side of $50 billion in assets), and when growth requires gaining market share from the majors.
FRC is a safe bank with a lot of options, but while past acquisitions have been the vehicle, profit margins have been the driver behind the bank's premium valuation. We went over future growth constraints, but unfortunately, current operations are also showing negative margin trends. As you can see below, the bank's efficiency ratio has consistently grown over the past 5 years. The ratio is broken in two to show how wealth management has weighted-in, and it's positive to see the gap is slowly closing, but I think this shows that the incremental acquisitions haven't been all that 'synergistic.' Management on the call forecasted next year's efficiency ratio to be on the higher side of 57-61%, but while this still would be a relatively solid performance, the trend is going in the wrong direction, and as assets grow, so does lost earnings (from lower profit margins). I concede that I maybe jumping the gun by bringing up this concern now, but the positive Q4 report is in and I would only add or hold shares of FRC if I was planning to for a long period of time.
From Q4 Presentation:
Click to enlarge
Bottom Line
First Republic knows how to profitably navigate through a crisis and this deserves a premium, but I'm obviously concerned about the valuation due to the slipping efficiency ratio. The wealth management division is scaling up so my concerns may prove to be unwarranted. However, at 20X core earnings, it's safe to say the bank's valuation is also baking in future acquisitions. This is a safe play but headwinds are mounting and I'd wait for another pullback. Shares are down from their 52-week high but short-term investors are still antsy and that could lead to a more profitable point of entry.
Disclosure: I am/we are long USB.
I wrote this article myself, and it expresses my own opinions. I am not receiving compensation for it (other than from Seeking Alpha). I have no business relationship with any company whose stock is mentioned in this article.