Looking to beat the market pullback? Our articles normally cover high dividend stocks, but this article will focus on another of the few dividend paying stocks which is actually outperforming the market.
If you've streamed movies, or used social media, chances are your activities have been supported by one of the many data centers owned by Digital Realty Trust (NYSE:DLR).
DLR is a real estate investment trust (REIT), through its controlling interest in Digital Realty Trust, L.P., engages in the ownership, acquisition, development, redevelopment, and management of technology-related real estate. It focuses on strategically located properties containing applications and operations critical to the day-to-day operations of technology industry tenants and corporate enterprise data center users, including the information technology departments of Fortune 1000 companies and financial services companies.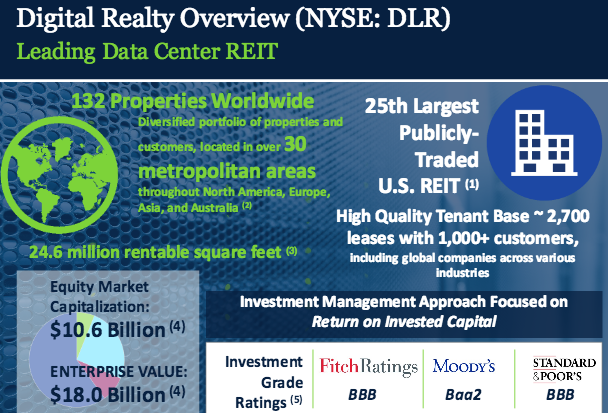 Although DLR does have international exposure, 77% of its business is domestic, which limits its currency headwind risk. In its 2016 Outlook release, management said they expect negative FFO headwinds of $.05 to $.10, (1 to 2%), based on projected 2016 core funds from operations of $5.45-$5.60, up 7% Y/Y at the midpoint, and vs. consensus expectations of $5.47.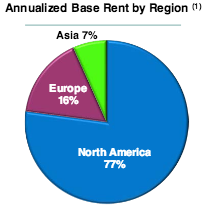 (Source - DLR website)
Performance: Check out these performance stats - DLR's gains over the past month and quarter are the polar opposite of the S&P 500. It also has beaten the market over the past year and year to date.

Common Dividends: Our High Dividend Stocks By Sector Tables track DLR's price and current dividend yield for both its common and preferred shares (in the tech section).
DLR has an attractive five-year dividend growth rate of over 13% and a solid dividend yield of 4.45%. Its dividends are amply covered by FFO (funds from operations), with a 61.82% payout ratio:

Preferred Dividends: DLR has several preferred series shares, however the only one which is currently below its $25.00 liquidation value is DLR-G. These shares also are cumulative, meaning that DLR must pay you any skipped dividends at redemption.

Click to enlarge
Your net profit would be $3.94/share if you bought and held these shares and held them until 4/9/18 and DLR calls them in at that time. That's a 16.17% yield over roughly 26+ months, or 5.01% annualized:

Click to enlarge
Options - Short Term: DLR also has options available. The April 2016 $80.00 call strike pays $1.55, a bit below 2x DLR's next quarterly dividend.
We just added this trade to our Covered Calls Table, where you can see more details for it and over 30 other income-producing trades.

Click to enlarge
The $80.00 strike is $3.52 above DLR's price/share, so there is some potential for assigned price gains also.

Click to enlarge
Alternatively, there's the idea of trying to sell cash secured puts below a stock's price/share in order to achieve a lower breakeven and create some income. The April $75.00 put strike pays $3.00, with a $72.00 breakeven.
Our Cash Secured Puts Table will give you more details for this and over 30 other income-producing trades:

Click to enlarge
Earnings: DLR has kept a lid on its share count over the past four quarters and has grown its FFO/share by over 12%. Revenues and EBITDA also are up, although by more modest amounts, but still rising each quarter.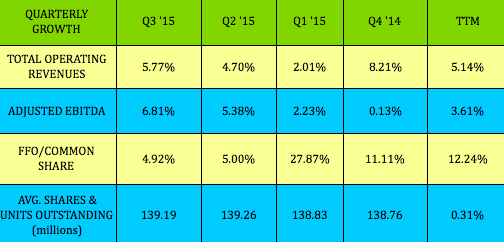 DLR and its new acquisition TELX have several built-in growth drivers, such as rent increases, in addition to the attraction of having long-term leases.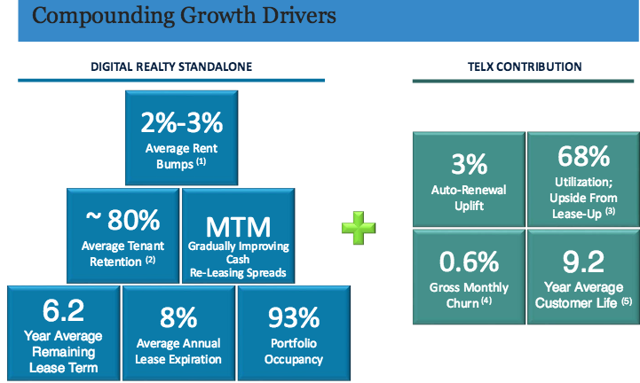 Click to enlarge
(Source: DLR website)
A great source of stability is the large capital investment that DLR's customers make in their data centers - customers are loath to leave after putting their own investment dollars into the centers: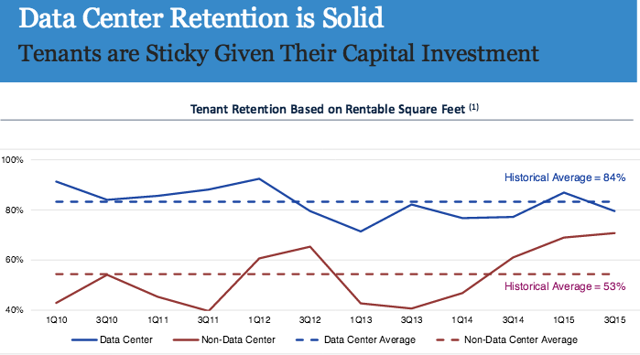 Click to enlarge
(Source: DLR website)
DLR also has benefited from major industry tailwinds as the demand for data storage took off and kept escalating, supporting DLR's growth right through the financial crisis and beyond: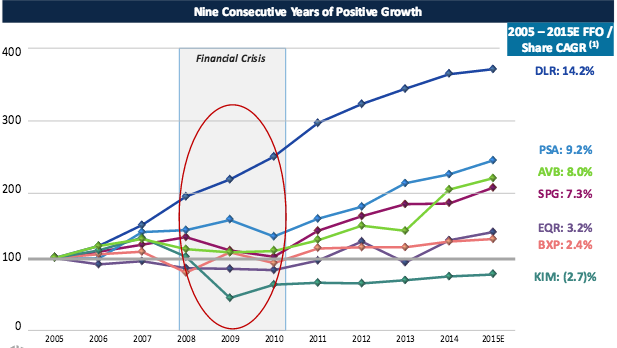 (Source: DLR website)
Valuations: With its outperformance, you can't really say that DLR is currently undervalued - it commands a premium price/book vs. industry averages. However, it's cheaper on a price/sales basis.

Financials: DLR's management efficiency ratios and operating margin all outpace broad office REIT industry averages. However, it does have a higher debt/equity load than average.

However, upon comparisons to these competitors, DLR's various debt metrics look much stronger: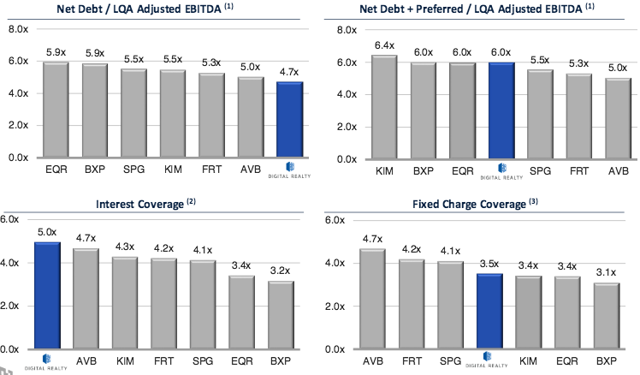 Click to enlarge
(Source: DLR website)
All tables furnished by DoubleDividendStocks.com, unless otherwise noted.
Disclaimer: This article was written for informational purposes only.
Disclosure: I/we have no positions in any stocks mentioned, but may initiate a long position in DLR over the next 72 hours.
I wrote this article myself, and it expresses my own opinions. I am not receiving compensation for it (other than from Seeking Alpha). I have no business relationship with any company whose stock is mentioned in this article.