The theme early in 2016 has been China and oil crashing, which both go hand in hand. If growth in China is slowing, global demand for oil will slow as well, thus creating lower oil prices. This factor, along with the recent rise in global supply, has oil in a free fall.
At the moment, there is a lot of uncertainty creating negative sentiment in every global market, not just China. The Chinese economy is the second largest in the world and a key driver of growth for the world. A slowing China would facilitate a dull global economy and lower revenue for U.S. companies. Foreign sales account for over 30% of revenue for S&P 500 companies; a global slowdown will have a significant impact on the bottom line and stock prices.
This potential sluggish growth and slowing investment in China has investors and traders speculating how bad China might be. They will get their answer soon.
The Event
Monday night, at 8pm CST, China will announce Q4 GDP. The number is expected to come in at 6.8% versus 6.9% last year. Industrial production, retail sales, and fixed asset investment are all expected out as well. These numbers will give us insight into why global markets have been hit with such extreme selling pressure.
The Chinese Academy of Social Sciences, a government think tank, predicted the economy could expand at a slower pace between 6.6 percent and 6.8 percent in 2016. This would be due to weak external demand and cooling domestic investment.
In addition to the GDP announcement, the Chinese New Year comes on Feb. 8th. Markets are closed for the whole week, and you can bet most investors do not want to have exposure over the holiday. I would expect if we see a bad GDP print, volatility and selling pressure will continue, at the very least, until the holiday.
I grabbed a chart from tradingeconomics.com to show the declining trend in quarterly GDP. As you can see, this is not something new; China has been slowing and now we are at a crucial point.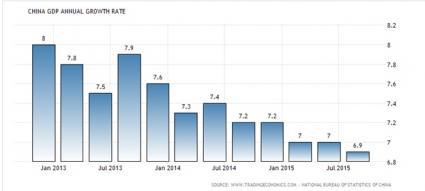 Let's go over three potential scenarios into how to trade the number.
Scenario 1: Chinese government fudges numbers and GDP comes in at 6.8% or above
There is a lot of doubt when it comes to Chinese economic numbers. These accusations have been made before, but if China were to announce a number above consensus, nobody would believe it this time. There are signals that the Chinese economy is slowing down, their stock market being one of them. If China were to post 6.8% or a couple ticks above or below the consensus, we might see a calming of markets into the Chinese New Year.
Scenario 2: 6-8% GDP print
This is the most likely and the closer to 6.8% the calmer the markets.
Scenario 3: Number comes in at 6% or lower
This scenario shows us that China's economy is significantly slowing and that the recent global stock market selloff was warranted. Due to doubt in government numbers, most people will speculate it's even worse, so bad even that the government had to give the world a more realistic number.
Global markets seem to be expecting a lower print, perhaps in the low 6% area. It is not the end of the world and does not mean markets go into a panic; however, if we see something in the low-high 5% area, or below that, there will be significant pressure on global markets.
How to trade the number: ETFs
There are 38 ETFs that enable you to play china in a variety of ways, but if you are trading this number, you might as well play the aggressive ones.
The two ETFs below are for you if you are bullish. A trader can benefit if he thinks China is oversold and will print the number as expected...or because the government says it must be.
Deutsche X-trackers Harvest CSI 300 China A-Shares ETF (NYSEARCA:ASHR) will give you exposure to the Shanghai stock market.
Direxion Daily CSI 300 China A Share Bull 2x Shares ETF (NYSEARCA:CHAU) will move up and down twice as much as the CSI 300, giving you double exposure.
If you are bearish and think China will print a significantly lower number, then go with Direxion Daily FTSE China Bear 3x Shares ETF (NYSEARCA:YANG). This is Direxion's triple leveraged ETF product that will go up as the Chinese market goes down. Be cautious on this one, leveraged bear products can have significant downside when markets rally. Below is a 10-year chart of ProShares UltraShort Financials ETF (NYSEARCA:SKF) as an example. These leveraged bear ETFs should only be treated as short-term trades or hedges, not investments.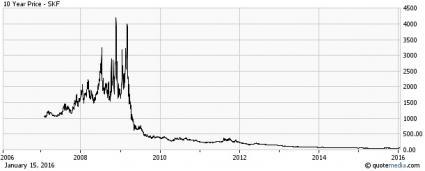 How to invest the number: Three top-rated stocks
JinkoSolar (NYSE:JKS) is a Zacks Rank #1 (Strong Buy) and a Chinese solar play. While a disappointing GDP number will hurt the overall story of Jinko, the company is diversified with a global network across Europe, North America and Asia. 2016 estimates have risen from $3.93 to $4.40 over the last 90 days, showing strong growth potential over the next year. The company also sports an "A" rating in value, in a strong rated industry, currently ranked 13 out of 265 (Top 5%) Zacks industries.
Momo (NASDAQ:MOMO) is a Zacks Rank #2 (Buy) and Chinese social networking play. Momo is a free instant messaging application for smartphones and tablets. The company also sports an "A" rating in momentum and is currently ranked 95 out of 265 (Top 36%) Zacks industries. 2016 estimates have risen from $.23 to $.54 over the last 90 days.
Weibo (NASDAQ:WB) is a Zacks Rank #2 (Buy) and a Chinese social media play. Weibo is a Chinese microblogging site similar to that of Twitter (NYSE:TWTR) and Facebook (NASDAQ:FB). The site is very popular in China and used by over 30% of China. The company is not a value play, but has momentum behind it with a Zacks "B" rating. 2016 estimates have risen from $.38 to $.49 over the last 90 days, showing us that the analysts believe the company has the ability to grow through monetization.
Most of these stocks are down over 30% from last year's highs and down big today as I type. There is a rather large risk that another leg down is coming on a bad GDP number. If that's the case and scenario 3 plays out, I would suggest you take that opportunity to limp into these high-rated stocks for a long-term China play.