We are already a couple of weeks into a new year. One of the first things an investor should have already done is to have taken a quick peek at the asset allocation, the relative ratio of stocks, bonds, cash, and other investments, in their portfolios. Even in a relatively flat year, the ratio might have gotten a bit out of whack.
A retiree may need to do that with a slant towards income and not percentages.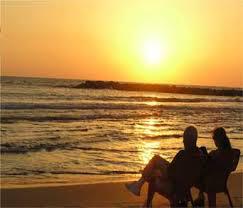 Suppose, for example, that they decided as part of a plan developed years ago to have a broadly diversified portfolio consisting of stock index funds, dividend growth stocks, bond funds, and cash to help fund the gap income, or what is needed after factoring in pensions, Social Security, and part time work, and to account for needed future growth.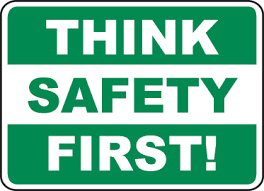 As I wrote in the past on this subject, instead of using fixed percentages for allocation my preferred method (to prevent sequence of returns risk) is to have two years of gap income already in the bank or in a CD and another three years stashed in bonds or bond funds.
Dividends from stocks and bond interest payments can be used to replenish the cash withdrawn at the end of each year. You wouldn't want to necessarily sell stocks in a down market to fund expenses.
Now that you are retired and have begun implementing the plan, let's make sure it is still on track. I'll use an example to illustrate.
The different asset allocation model
John and Jan, both age 62, retired at the beginning of last year and their 2015 budget plan, which I helped develop, called for $50,000 in spending. Pensions would contribute about $25,000 (no annual cost of living increase) and part time work would add $5,000 towards the total, leaving a gap of $20,000 in the first year, $20,500 in the second year, and $21,000 in year three (considering some increase in spending going forward). The couple decided to forgo Social Security until after the 5-year horizon (more on that in a future article).
At the beginning of the year, John and Jan had deposited $40,500 in a bank account and owned a $61,500 bond fund from their broker, which satisfied the 2-year cash and 3-year bond requirements outlined above. In addition, they created a $25,000 emergency fund to account for major unforeseen medical, auto, or home expenses.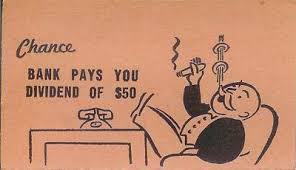 The meat of the portfolio was $500,000 in dividend growth stocks kept in a taxable account. The portfolio, including stalwarts such as Johnson & Johnson (NYSE:JNJ), AT&T (NYSE:T), Procter & Gamble (NYSE:PG), and Chevron (NYSE:CVX), was built up over many years using the techniques outlined in this article, which was updated here and here. Dividends, estimated to be $17,500, won't be reinvested during 2015 and the funds will be kept in the brokerage core account (for now).
Another $150,000 was held in a total market index fund in their IRA.
The table below contains the portfolio and the planned 2015 budget, including spending of $50,000 (item A), income of $30,000 (item B), and funds needed ($20,000) from the portfolio (item C) [C = A - B].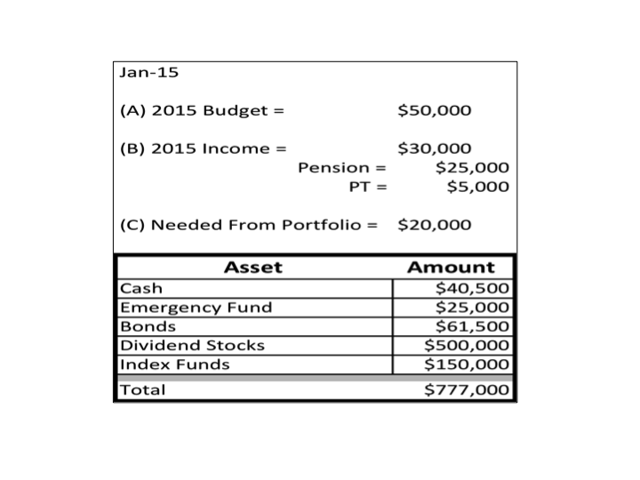 During the course of the year, the couple actually spent $48,000 (a slightly lower spending level than planned is typical for retirees) and the part time work provided a little less, $4,000, than anticipated. John and Jan had to withdraw $19,000 from their bank account to pay bills.
Also, the portfolio changed because of the investment performance (*) during the course of the year and at the end of 2015 looked like this: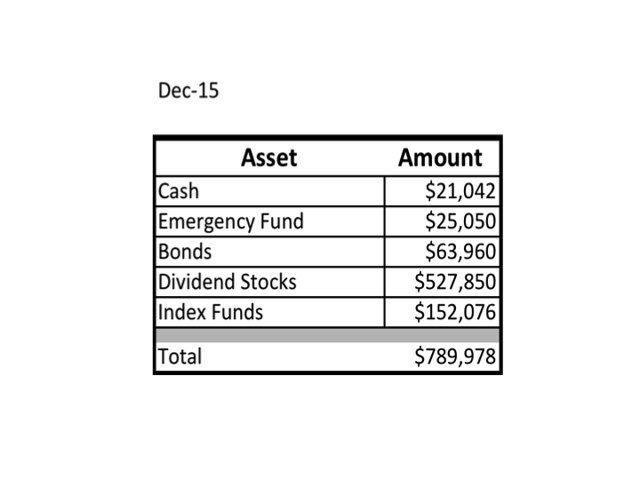 (*) Bank account interest rate = 0.2%, the bond fund appreciated 1% and generated $1,850 in interest payments. Dividend stocks appreciated 2% and paid $17,500. The index fund returned about 1.4%, including reinvested dividends. [All returns were simulated and not necessarily based upon the performance of any particular bank account, individual stock, bond fund, or index fund in 2015.]
For 2016, John and Jan reevaluated their budget. They decided to stick with the lower spending ($48,000 plus inflation) and part time work income ($4,000) levels. Pension income will remain the same at $25,000. As a result, the new budget total is $49,200 ($48,000 plus 2.5% inflation).
The rolling 2-year cash and 3-year bond requirements are now $41,000 and $62,250, respectively. The emergency fund also needs fine-tuning and the new requirement is $25,750 factoring in inflation.
A few things pop up after analyzing the portfolio and the budget:
The cash allocation needs to be pumped up by about $20,000 to cover the next two (2016-2017) years of gap income needs. The emergency fund needs to increase by about $750.
The total in the bond fund exceeds the target allocation by about $1,700, which can be used to help replenish the liquid accounts.
Tapping dividend income received during the year, $17,500, provides the rest of the gap income. No stocks need to be sold.
The index fund in the IRA does not need to be touched.
The total portfolio value increased 1.7%. Not too bad in a relatively flat or slightly down market.
The table below contains the portfolio and the planned 2016 budget, including new spending of $49,200 (item A), income of $29,000 (item B), and funds needed ($20,200) from the portfolio (item C) [C = A - B].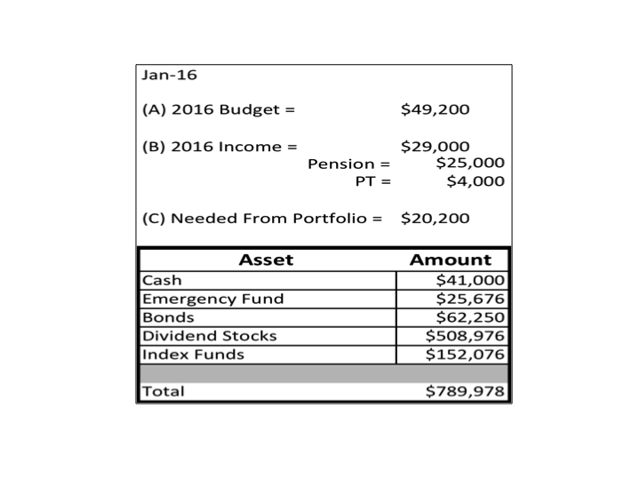 Therefore, the changes that need to be made are as follows:
Transfer 2015 bond interest payments from brokerage to liquid account(s) (cash or emergency fund).
Transfer 2015 dividend payments from brokerage to liquid account(s) (cash or emergency fund).
Plan to withdraw $20,200 during the course of the year to pay bills.
And to repeat: no stocks needed to be sold to provide income.
Also, looking at the updated portfolio: In 2016, dividends will increase to nearly $19,000 based upon the already announced 8% growth and bond interest should increase to nearly $1,900 based upon a higher total in the fund and the likelihood of higher interest rates due to recent Federal Reserve actions.
It is also crucial for John and Jan to keep an eye on the individual selections in the dividend growth portfolio and ensure that the income stream is reliable, although one bad apple may not affect things too much. One particular area of concern for this year might be energy-related issues. The Chevron position might need a closer look.
Conclusion
Around the first of the year is a good time to reevaluate your portfolio to ensure it hasn't gotten too far out of whack. This action is especially important for retired investors who do not expect to tap stocks for at least a half decade down the road, preventing the so-called sequence of returns risk, which can be deadly in a down market early in the golden years.
Instead of using a percentage method to allocate stock, bonds, and cash, a better way might be to verify that income needs over the next five years are kept in safer investments such as cash and bonds.
Disclosure: I am/we are long JNJ, PG, CVX, T.
I wrote this article myself, and it expresses my own opinions. I am not receiving compensation for it (other than from Seeking Alpha). I have no business relationship with any company whose stock is mentioned in this article.