Market Recap: The market was fairly flat to start out the week after the long weekend. The big news for the market was that Greece got its second round of bailout money. We question whether the bailout really can do what people expect. Europe is modeling that the country will return to positive GDP by 2013. With 2-3%-plus growth by 2014. We are not positive that this model is appropriate. Further, the country is still in the same awful situation. A bailout does not address economic issues in the nation. To many, the bailout is a kick the can down the road move. Yet, the news will shift to other developments like data here at home.
Moving through the rest of the week, we have a fairly quiet week that could lead to a fairly flat market with any dips being bought and moves higher being sold. The Greece situation will start to be less important. Eyes will start to turn to Iran, the U.S. consumer, unemployment and general data. For this week, we have new home sales on Friday. We also will get initial jobless claims on Thursday. Yet, the market does not look like it will move a lot. What will?

Oil looks like it should remain volatile. For playing oil, we would take a look at Ultra/Ultrashort ProShares DJ-UBS Crude Oil (NYSEARCA:UCO) and (NYSEARCA:SCO). Theses two ETFs should be making strong moves based on a couple of important factors. First, Iran. What are they going to do for the rest of the week? They have pushed their strong hand out there by cutting exports to European nations first. Additionally, the movement of the dollar will be important. The euro strengthened on Greece news. We are not positive that will last very long. Finally, inventories are due out Thursday. We like a long position in UCO into those and a long position in SCO coming out of those. Inventories dipped last week, but the trend continues to mean lower demand.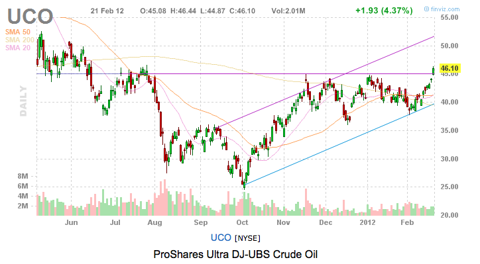 Click to enlarge
Tomorrow's Outlook
We believe that the most important things for tomorrow are the Bank of England's minutes that are due out tomorrow during the British trading session. What do they say about the recent bailout? Are they going to release more QE that would drop the pound and raise the dollar? We have existing home sales here at home. Additionally, we get earnings from Dell (NASDAQ:DELL), Dollar Tree (NASDAQ:DLTR), Intuit (NASDAQ:INTU) and Toll Brothers (NYSE:TOL). These are some pretty significant earnings that will impact the market, especially the Nasdaq.
Analyst Action
The major upgrades and downgrades on the day: Broadcom was upped to Buy at Auriga with a pop in PT at $37 to $44. We see the company as a solid pickup to continue to play in a bundle with Apple's (NASDAQ:AAPL) success. Any signs of BRCM losing deals with AAPL will be a sign to get out. Oracle (NASDAQ:ORCL) was downgraded to Market Perform by JMP, and we disagree as we have them Buy-rated and believe they are still a very solid business with good upside. Finally, Goldman Sachs gave positive comments on Mosaic (NYSE:MOS) about its undervaluation. We believe the ag spot is solid and like CF (NYSE:CF) from that space.
Crude Oil:
Discussed above.
Gold/Silver:
Gold and silver moved higher. Gold jumped on the lower dollar, Greece deal and economic uncertainty. We continue to believe gold has a very solid floor below it, and we continue like to play SPDR Gold (NYSEARCA:GLD) at the 166-167 area as that level continues to hold. Silver moved for similar reasons, and both products are in a good spot. Some worries of economic uncertainty exist, the dollar is weakening, and silver demand looks good.
Our Moves
We had a solid day as we were able to exit our long in Titan International (NYSE:TWI) for a 2% gain that we got into at the end of last week for a move into earnings. We added a new long in Starbucks (NASDAQ:SBUX) to our equity portfolio. We added a bull put spread in McDonald's (NYSE:MCD) to our options portfolio, and we are getting long behind Joy Global (NYSE:JOY) going into their earnings.
We have the following positions. In our Short-Term Equity Portfolio we are long SBUX and Monster Beverage (NASDAQ:MNST). In our Options Portfolio, we are long MCD, Apple, Panera Bread (NASDAQ:PNRA), Priceline (NASDAQ:PCLN), Bed, Bath, and Beyond (NASDAQ:BBBY), and Discover Financial (NYSE:DFS). In our Earnings Portfolio, we are long Priceline, Activision Blizzard (NASDAQ:ATVI), MNST, and JOY.
Chart courtesy of finviz.com.
Disclosure: I am long JOY.