By Charles Kaplan
Formerly traded as GenCorp, the company recently changed its name to Aerojet Rocketdyne Holdings, Inc. (NYSE:AJRD) ($14.61, 1/14/2016) to more accurately reflect its two major holdings: Aerojet and Rocketdyne. The company is well known in the defense and space community for its propulsion systems for space and defense applications. It has grown through a series of acquisitions in the defense and aerospace field. Most recently it acquired Rocketdyne from United Technologies (NYSE:UTX) and has emerged as a significant supplier of solid rocket propellant based on ammonium perchlorate, the basic raw material used in solid rocket fuels.
Sacramento, California-based Aerojet Rocketdyne has emerged as a critical supplier of propulsion systems to NASA and the Department of Defense as well as major aerospace and defense prime contractors and the commercial sector. Boosted by the acquisition, the company's net sales over the past three years rose 60% from $.99 billion in FY 2012 to $1.59 billion in FY 2014 ended November 30. Despite increases in net sales over the past three years, the company reported a $53.0 million loss in net income for FY 2014 stemming from a $60.0 million loss on early debt redemptions and repurchases. Diluted earnings per share over the past five years have been erratic with a loss of $(0.92) reported in FY 2014 ended November 30 compared to a $0.12 per diluted share profit in FY 2010. Despite the company's potential, a positive trend in earnings remains elusive. However, growing tensions around the globe, plus ambitious plans for colonizing the moon, should help boost the company's outlook and earnings.
Currently, Aerojet Rocketdyne remains the only domestic supplier of all four types of propulsion systems, liquid, solid, air-breathing and electric, for space and defense application. The company is highly regarded for its expertise in designing specialized propulsion systems for defense, space and commercial applications, as well as armament systems for precision tactical systems and munitions. AJRD is a leader in liquid-launch propulsion, missile defense and hypersonic propulsion systems. Its propulsion systems have powered spacecraft to every planet in the solar system that has been in NASA's sight over the past 50 years. Furthermore, Aerojet Rocketdyne played a critical role during World War 2, supplying jet-assisted take-off rockets for U.S. aircraft. In FY 2014, the company completed 16 launches, consisting of nine Atlas V, five Deltas and two Antares missions.
Major programs include: (1) Tactical Missile Propulsion - GMLRS, Javelin, PAC-3, Standard Missile, Tomahawk, (2) Missile Defense - HAWK, THAAD, DACs, Trident, (3) Space Launch - AJ, RL, RS and (4) Advanced Space - Booster, Solar Electric, Orion, HF Satellites, Geostar, Iridium, Infrared Systems.
Looking back over the past 70 years, the company has delivered more than 45,000 tactical missile motors and warheads to the military with the USAF, NASA, U.S. Army and U.S. Navy, the company's largest customers, generating 27%, 20%, 18% and 13% of total net sales respectively in 2014. Net sales to such prime contractors as Lockheed Martin (NYSE:LMT) and Raytheon (NYSE:RTN) constitute over 28% and 17% of total net sales respectively in FY 2014 ended November 30.
Despite the company's poor earnings track record, there are several factors that could have a dramatic impact on its earnings going forward:
As of August 31, 2015, Aerojet Rocketdyne had a record backlog of $3 billion, of which $2.6 billion was funded, with the remainder unfunded. Of its August 31, 2015, total contract backlog, 50% is expected to be filled within one year.
The development of advanced boost systems by the company should eliminate the U.S. dependence on Russian-based booster systems for National Security Space Launch. Using Russian-based systems or technology should be outlawed by the Congress.
The U.S. must continue to invest in missile systems and armaments as new threats to our freedom emerge on a daily basis.
Russia and China are now actively planning to colonize the moon in an attempt to challenge our supremacy in space. We must not let down our guard.
Space is the final frontier for mankind.
NASA's new Space Launch System will restore U.S.'s manned capability, enabling its deep space exploration and economic development.
The company has over 400 active contracts.
A manned mission to Mars would be a big boost in the arm for Aerojet Rocketdyne, one that cannot be ruled out despite what skeptics might say.
Developing green propellant systems for spacecraft.
On a comparative basis, the company ranks behind its nearest competitor, Orbital ATK (NYSE:OA), in several metrics including profit and operating margins. Its negative profit margin of (.82%) and operating margin of 5.94% are much lower to Orbital's 4% and 10.66%, respectively. However, the company's enterprise multiple of 8.37 times compares favorably to OA's 11.85 times, hinting at a possible degree of undervaluation at least on this metric.
Q3 of FY 2015 ended August 30 continues to be plagued by a host of write-offs including $50.0 million associated with a legal settlement, as well as $29.5 million associated with environmental issues. Additional write-offs include $17.5 million for contract losses and $9.8 million for early debt redemptions and retirements. All told, the net loss for Q3 was $(0.62) per share, compared to a net loss of $(0.18) per share for Q3 of FY 2014.
Net loss for the first nine months of FY 2015 was $(0.39) per share compared to a net loss of $(1.08) per share for the like period in FY 2014. Net loss for the first nine months of FY 2015 consisted of a pre-tax legal expense of $50.0 million, an after tax gain on real estate sales of $18.0 million, and a pre-tax expense of $33.2 million associated with higher environmental remediation reserve requirements.
Despite the red ink, I feel the company will show improved estimated earnings of $0.85 per share in FY 2016, up from a loss of $(0.45) per share forecast for FY 2015.
The company's balance sheet as of August 31, 2015, has some unique features typical of a defense contractor including $193.2 million in recoverables and receivables from customers. Cash totaled $243.3 million with current assets 1.16 times greater than current liabilities for the nine-month period ended August 31. Lots of room for improvement. The company's long-term debt is manageable at $655.8 million. All told, I would sum up AJRD's financial position as "adequate" not in the top tier or in the bottom tier of the defense space but somewhere in the middle.
One point I failed to mention is the company's undervalued holdings in Easton Development LLC, a land holding LLC with over 6,100 acres in Sacramento, California. No doubt this is a very valuable piece of property being carried on the books at $84.2 million. I think spinning it off to shareholders would be a wise move.
As you can see from the numbers, AJRD has been subject to erratic earnings caused by numerous write-offs and losses over the past few years. Quite frankly, its past earnings track record leaves a lot to be desired. As a result, this stock is not for the faint of heart and carries with it a high degree of business risk. Also, several legal caveats including ground water contamination, environmental and asbestos litigation should also be considered. Let's not forget the risk always remains that a rocket engine will explode on its launching pad. Investors should be aware of all these risk factors before considering this stock. Additionally, an inordinate amount of patience will be needed before this company bears fruit. Just to be crystal clear, the above-average risk profile of Aerojet Rocketdyne makes it unsuitable for risk-averse investors, and caution is advised.
| | | | |
| --- | --- | --- | --- |
| Three months ended August 31 | | Major Contracts | |
| | 2015 | 2014 | Change |
| Contract Projects | (In millions) | | |
| Net sales: | | | |
| Standard Missile | $55.60 | $47.10 | $8.50 |
| THAAD | 61.2 | 50 | 11.2 |
| RS-25 | 50.2 | 29.5 | 20.7 |
| RL-10 | 26.8 | 37.1 | -10.3 |
| RS-68 | 24.9 | 36.4 | -11.5 |
| Orion | 20.1 | 15.2 | 4.9 |
| J-2X | 4.1 | 12.4 | -8.3 |
| All other Aerospace and Defense programs | 196 | 192 | 4 |
| | $438.90 | $419.70 | $19.20 |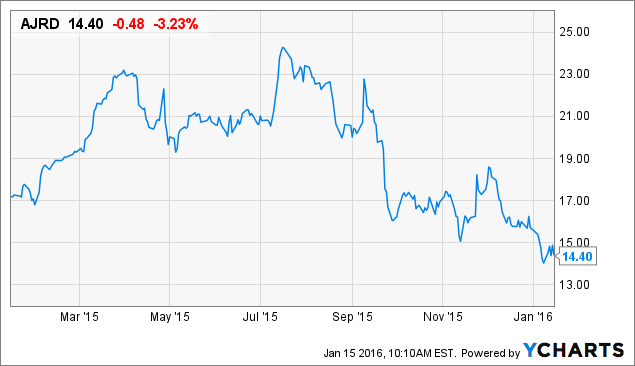 AJRD data by YCharts
Disclosure: I/we have no positions in any stocks mentioned, and no plans to initiate any positions within the next 72 hours.
I wrote this article myself, and it expresses my own opinions. I am not receiving compensation for it (other than from Seeking Alpha). I have no business relationship with any company whose stock is mentioned in this article.