Prospect Captial Corporation (NASDAQ:PSEC) is a heavily beaten down stock trading at an historic low. While driven on a series of negative events, the move may have reached an extreme of bearish sentiment that is setting it up for significant gains in the new year. Before letting recent price action discourage you, there are some things that need to be considered.
The Yield Alone Will Make You Look Twice
At current price levels dividend yield is near 17%, a ridiculously high number and worth checking out. PSEC has a long history of paying one of the highest yields in the sector, over 12% on average, and is not expected to make a cut any time soon.
Original shareholder have received more than $14.25 per share in the 10 years of PSEC's public existence.
Income, NII, taxable income and dividend health are strong. In the last report, Q1 2016, NII covered distributions and taxable income exceeded it. Full year 2015 NII earnings of $1.03 were the same, exceeding distributions with coverage running at 104%. 2016 projections are for at least the same, if not better, performance as 2015. Average EPS estimate is currently running near $1.03 with a high end estimate of $1.10. Current distribution total $1.00 annually; so long as earnings outpace this figure, it should remain safe.
Source: Prospect Capital Corporation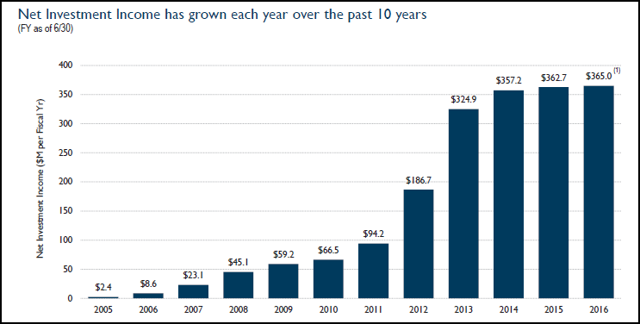 Click to enlarge
Total returns for long time shareholders are positive despite falling share prices. In a recent article, Albert Alfonso points out that even those who purchased shares at their peak price have seen a total return greater than 11% when the dividend is included.
Admittedly, the company did make a cut to its distribution early last year, contributing to today's low, low share prices, but that move was preemptive in light of 2015 performance, rather than reactive, and likely not to be repeated in 2016.
How Oil Prices Factor In
The energy factor. Prospect does have some exposure to the energy sector and is no doubt feeling some pain, at least in terms of share prices, due to low oil prices. However, exposure to the sector is very limited, only about 3.7% of total portfolio, and limited primarily to secured debt so any fears that low oil prices are going to hurt PSEC's earnings are misplaced.
In light of the low rate of exposure to oil, plunging prices may be seen as one of many positive factors for the overall economy, the performance of PSEC's investment companies and PSEC itself.
Credit Rating, Spin-Offs and Portfolio Growth
The credit rating, one of the company's strongest assets, is still solid. PSEC is one of only a handful of BDCs that carry an investment grade credit rating BBB- with positive outlook at Standard & Poor's. This rating is crucial for the company in terms of what it must pay to borrow and is a driving factor in terms portfolio expansion and earnings. The most recent review left the rating solidly in investment grade territory with the top three ratings agencies, important because it provides access to capital the average BDC is not privy to.
A higher credit rating is important to investors for another reason. IN order to maintain investment grade the company is held to stricter financial requirements and uses tighter underwriting procedures than the average lender, both intended to reduce default risk.
Other avenues to capital are open to them. Possible spin-offs -- don't count on those right now -- but also outright sales of the pure-plays are possible means of raising cash and unlocking shareholder value. Case in point: the company recently announced the sale of a Florida property that resulted in a 35% realized cash internal rate of return and raised $42 million in new capital. While not a spin-off, this sale hints at the potential capitalization present in such an endeavor.
Also, a recent move paving the way for more sales of shares below NAV helps to shore up the credit rating, provide capital for portfolio expansion and increase earnings, off-setting some of the negative impact of dilution. Regardless the source, capital and access to capital is good for PSEC as it can be used to finance more loans and increase earnings.
Deeply Discounted Share Price
An extreme of bearish sentiment has resulted in a deep discount to NAV. A dividend cut early in the year, plunging oil prices, global financial market turmoil/correction and possible sales of shares below NAV, along with a pervasive feeling among shareholders that management could "do more," have helped to drive shares of PSEC to historic low levels. These levels have only been touched 3 times previously and each time resulted in substantial gains over the next 12 months.
NAV was last reported at $10.17. This was slightly down from the previously reported $10.31, but still leaves the stock at a considerable discount to its portfolio value. Discount to NAV is now in the range of 41% and at an extreme never seen before. Historic perspective and outlook suggest that this is the time to buy. The last time share prices traded at anywhere near the discount offered today total returns over the next 12 months topped 100%.
source; Prospect Capital Corporation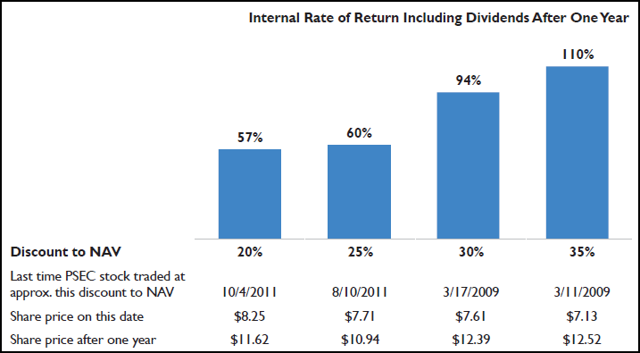 Click to enlarge
Economic Tailwinds
Outlook is positive for the economy, GDP and earnings. Economic trends, led by the labor market, are positive and expected to gain strength into the end of 2016. While not a guarantee of PSEC's success or ability to cover distributions it is, in my opinion, a positive factor and tailwind for earnings when considering PSEC as an investment.
The world bank estimates that global GDP will rise at a rate greater than 3.5% in 2016 and then 3.9% in 2017, up from roughly 3.2% in 2015. US growth is expected to expand to a rate of 2.4% in 2016, up 0.3% from 2015. Earnings growth for S&P 500 companies is expected to return in 2016 and expand from 0.5% in the 1st quarter to over 10% by Q4.
Rising Rate Environment
The company is well positioned for the rising interest rate environment we are in. The bulk of assets, 89%, are pegged to a floating rate, while the bulk of liabilities, 94%, are pegged to a fixed rate. This means that as interest rates rise, so to will PSEC's margins and earnings. It has been estimated that for this to happen LIBOR would have to rise above 1%; 12 month LIBOR rose to 1.089% in December, 2015 and 1.178% this month with the 6- and 3-month rate close behind and on the rise. So long as US economic trends remain stable, we can expect the FOMC to raise its target rates again in 2016, and for LIBOR to rise as well.
Insider Buying Says It All
Over the past year, company insiders have purchased more than $50 million in new shares. December alone saw CEO and COO holdings more than double. These guys aren't idiots, they aren't doing this out of charity, they are doing it because they recognize the potential returns inherent in PSEC.
Summing It Up
So, to sum it up, Prospect Capital pays an extremely high dividend, the dividend is relatively healthy compare to NII and taxable income, the company has a sound credit rating and avenues through which to raise capital, is trading at an historically deep discount to NAV and has a positive forward outlook. Sure, management could do more, but when could they not?
Regardless of the criticism, this stock pays and is poised for significant gains over the next 12 months. A simple reversion to mean NAV discount, closer to 15%, would result in a rise in share prices of $2.70 or +30% from current prices. A rise back to NAV or near NAV levels would be a gain near 70%. Add in the dividend you get paid to hold the stock, and potential gains increase considerably.
Disclosure: I am/we are long PSEC.
I wrote this article myself, and it expresses my own opinions. I am not receiving compensation for it (other than from Seeking Alpha). I have no business relationship with any company whose stock is mentioned in this article.