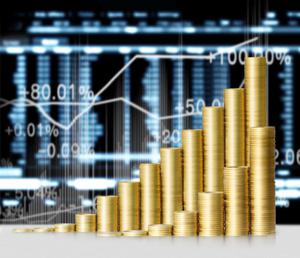 Gold's dual role as a commodity and a currency puts it in a difficult position in early 2016. The commodity sector as a whole has entered its fifth straight year of bear market action. Another market sector, equities, has begun the year with extreme negative action. Over the first two weeks of 2016, the major equity indices have posted huge losses. The Dow Jones Industrial Average closed last week down 8.2% over the first two weeks of 2016. The S&P 500 has lost 8% and the NASDAQ is down over 10% in just two weeks. In the world of commodities, price action has been exceedingly negative. Crude oil closed last Friday below $30 per barrel on both NYMEX and Brent active month crude for the first time in over a decade. Copper, the red metal that often acts as a harbinger of the global economy, is comfortably below the lows of 2015 and $2 per pound. The prices of metals, minerals, energy and soft commodities have lost ground over the past two weeks. World markets are in decline, which raises the ugly specter of deflation. Global economic uncertainty reigns supreme with ubiquitous price destruction.
Gold is a safe haven commodity. During times of uncertainty, it attracts capital. Gold closed last Friday just under $30 higher on the year at $1186.60 per ounce on the active month February COMEX futures contract. Considering the action in other markets the 2.7% rally in gold is tepid. Gold has displayed strength in 2016, but gold remains relatively weak over recent years. In a deflationary environment, the price of all assets fall, therefore the strength in gold is a signal that it remains precious.
The most precious of all metals
So far, in 2016, gold is the most precious metal and commodity for that matter, of all. The uncertainty across all asset classes has caused the price to move marginally higher. Silver, gold's little brother, is also higher, posting an anemic gain of around 0.8% over the first two weeks of the year. Meanwhile, the platinum group metals have taken direction from the industrial sector. Platinum closed 2015 at $891.70 per ounce and closed at $830.90 after trading to the lowest level since December 2008 at $822.10 per ounce last Friday. Platinum, which was down over 26% in 2015, has fallen another 6.8% over the first two weeks of the year. Palladium is down 12% so far in 2016.
Gold is strong
Aside from high-quality government bonds, gold is one of the few assets that has appreciated over the last two weeks. When it comes to the price action over recent years, other commodity prices have been falling like bricks, but gold has dropped like a feather. Gold was trading at under $300 per ounce back in 2000; it rose to highs of over $1920 in 2011. The yellow metal has dropped over 43% from those highs, but that pales in comparison with some other commodities. Crude oil is down almost 80% from its all-time highs, copper is down 58% and silver has lost over 70% of its value. Gold has performed better than most commodities from a value perspective over the four-year bear market in raw material prices.
While the price of gold is up over the past two weeks on uncertainty, the price of gold mining stocks have moved lower. The Market Vectors Gold Miners ETF (NYSEARCA:GDX) ended 2015 at $13.72 per share; last Friday it closed at $13.09 down 4.6%. The Market Vectors Junior Gold Miners ETF (NYSEARCA:GDXJ) was at $19.21 at the end of last year but it closed at $17.95 last Friday, a decline of 6.6% this year. The recent divergence between the price of the metal and gold mining stocks is likely due to contagion from other equity prices. However, with the price of energy falling, the production cost for gold has moved lower, which should be supportive of gold mining operations. After all, the price of the commodity has gone higher and the cost of goods sold, production cost has declined. The bottom line is that gold metal is on its own these days.
Therefore, gold is strong.
At the same time, gold is weak
It is hard to say the price of anything is strong when it has shed 43% of its value over a four-year period. The fact is that gold has done nothing but made lower highs and lower lows since 2011.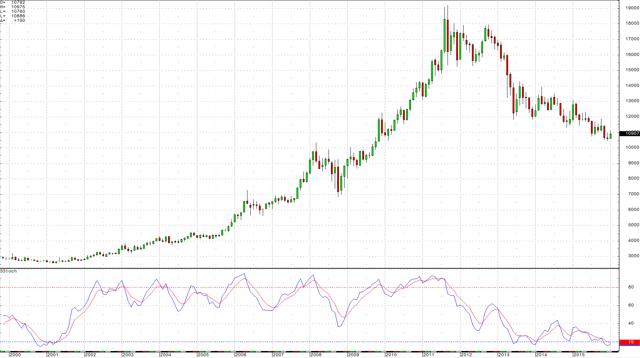 Click to enlargeThe monthly chart of the COMEX gold futures price highlights the bear market conditions for the metal since 2011. Although the slow stochastic, a momentum indicator, indicates an oversold condition, the trend remains lower. On the long-term chart, gold would have to eclipse $1200 per ounce in order to negate the bearish trend. That price is over $110 per ounce above the current level and that is a tall wall to climb in an environment of falling commodity prices and deflationary pressures. Deflation erodes the value of all assets and gold is likely to be no exception.
More lower highs and lower lows in 2016
While the current environment of uncertainty, falling equity and commodity prices and rising bond prices indicates a flight to quality for safe haven assets like gold, there is a growing potential for market participants to shun risk. At the same time, volatility in equity markets as well as other asset classes raises the potential of margin calls where the liquidation of even strong assets like gold may occur to meet financial obligations. Moreover, the economic strains created by current conditions could cause official sector selling, governments around the world hold a large percentage of above ground stocks. Eventually, I believe that this will lead to another year, the fifth straight year, of lower highs and lower lows for the price of gold. We are likely to see gold fall below $1000 per ounce for the first time since 2009 this year. Relative to other commodity prices like oil that is now at 2003 lows, gold continues to shine.
Precious has a new meaning
I believe that gold has a chance to shine in coming weeks given excessive volatility in most asset classes. However, the strength of the commodity may continue to be relative. Gold has held its value better than other assets during the first weeks of 2016 and it has even appreciated. Gold has demonstrated that it is a precious metal and it is a better store of value than many other choices. Gold is likely to follow strength or weakness in the U.S. dollar, which is the benchmark pricing mechanism for the yellow metal.
When it comes to other precious metals, the signs are ominous for gold. These metals tell us that on a historical basis, the price of gold is too expensive or these other metals are too cheap. The long-term mean for the silver-gold ratio is 55 ounces of silver value in each ounce of gold value. At current prices for both metals, that ratio stands at 78.26:1. A price of $13.91 for silver implies a gold price of $765 per ounce if the relationship were to return to the historical mean. Similarly, a gold price of $1088.60 implies a silver price of almost $20 per ounce.
The long-term mean of the platinum-gold spread is a $200 premium, platinum over gold. That spread closed last week at the lowest level in modern history with platinum trading at a $258 discount to gold. The current price of platinum implies a gold price of $630.90 per ounce if it were to return to the historical norm. Conversely, the current gold price implies a platinum price of $1288.60.
During times of extreme volatility and uncertainty, divergences tend to occur in markets. This is what we are seeing now. Given overall market action over recent years and particularly during the first two weeks of 2016, we can conclude that gold is very strong. At the same time, the price action over recent years has been bearish. Strong and weak are relative terms. Price action in gold is weak and anemic. However, the ultimate value of gold continues to rise when measured against other commodity and asset prices. That is what makes it the most precious of all metals. Therefore, gold may just move lower in 2016 and continue to be the strongest asset out there in markets.
I have prepared a video on my website Commodix.com, which augments this article and provides a more in-depth, detailed analysis on the current state of the crude oil market to illustrate and highlight the real value implications and opportunities available.
Disclosure: I/we have no positions in any stocks mentioned, and no plans to initiate any positions within the next 72 hours.
I wrote this article myself, and it expresses my own opinions. I am not receiving compensation for it (other than from Seeking Alpha). I have no business relationship with any company whose stock is mentioned in this article.
Additional disclosure: The author always holds part of his portfolio in precious metals, that percentage varies with market conditions.