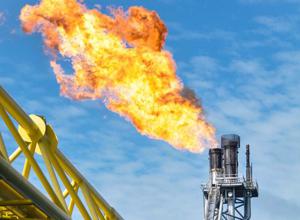 What goes down, usually rebounds and goes up. What goes up, generally runs out of steam and goes down. The latter has been the case in the natural gas market over the past week. Momentum is a key concept when it comes to markets as well as other aspects of life. For example, in football, when one team scores and another immediately comes back and puts points on the board, momentum often changes in a game. That is why a big play is often a "game changer." In physics, we measure momentum by multiplying mass and velocity. In the football game, the velocity of moving the ball down the field and scoring changes the overall momentum of the match.
In markets the same holds true, velocity of a move up or move down is what keeps a trend intact. When that velocity slows, a trend is likely to reverse. In natural gas, we have seen two major changes in velocity of price and two reversals in price over the past month. The latest is underway right now.
A wild ride ends
On December 14, 2015, the price of natural gas broke all support for the past decade and traded down to lows of $1.6840 per mmbtu. That was the lowest level since the late 1990s. Like a game of musical chairs, the music stopped at those lows and anyone with a short position learned an expensive lesson from the combustible commodity. Over the next three weeks, the price rose by over 48% reaching highs of $2.495 during the first week of 2016.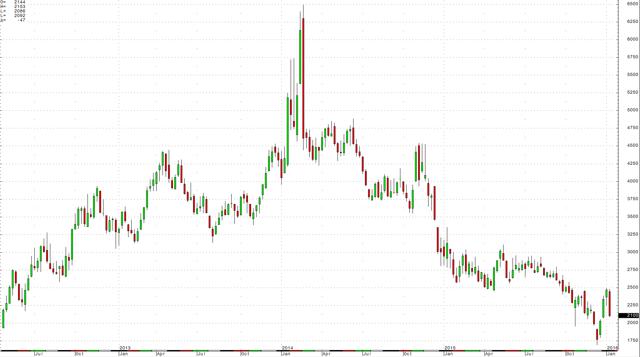 Click to enlarge
The shorts beat natural gas to a pulp during the final quarter of 2015. The price had gone lower in almost a straight line since the summer. However, in markets, prices rarely go in a straight line and the relief rally is a lesson for anyone who thinks that only fundamentals matter. While the fundamentals of this energy commodity remained bearish, the price extension to the downside caused a violent reaction the other way. Any shorts that remained saw natural gas beat them to a pulp.
A return to the trend
Since making highs on January 8, natural gas remembered once again why it traded down to decade and a half lows the prior month. The trend reversed and on Friday, January 15, the price was back down below $2.10 on the February futures contract. The last print on the screen last Friday was at $2.092 per mmbtu and the highs of just a week before now seem like a distant memory.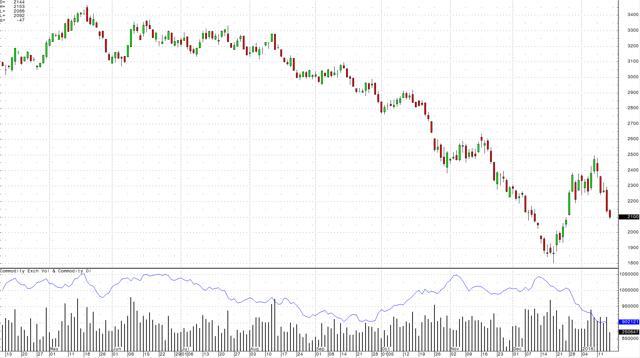 Click to enlarge
The daily chart of NYMEX February natural gas futures highlights yet another reversal of fortune for the energy commodity. An interesting signal that speculative interest has cleared because of wild volatility is that open interest, the total number of open long and short positions on NYMEX natural gas futures contracts, fell from 1.043 million contracts at the market's nadir to just over 902,000 last week. Natural gas cleaned house and now the fundamentals are kicking in once again.
Cold weather now might not matter - it won't be a game changer
The beginning of winter this year was mild; the El Nino caused temperatures to remain above freezing in most of the populous regions of the United States in December. Now, it is colder. New York and Boston will see readings below the freezing mark and Chicago will be back to single-digit temperatures over the week ahead. It is the middle of January and this is the norm for this time of year.
It is likely that withdrawals from inventories will accelerate and we have already seen this begin to occur. The Energy Information Administration reported that stockpiles of natural gas fell by 168 billion cubic feet for the week ending on January 8 last Thursday in their weekly missive. While this was the biggest decrease in stockpiles this season, it may just be a little too late for natural gas to catch another bid at this price level and reverse the current trend, which is lower.
Reserves and inventory levels are huge
After the latest EIA report, inventories stand at 3.475 trillion cubic feet, 20.3% above last year's level and 15.8% above the five-year average for this time of the year. Even if it is frigid across the U.S. every day until April, there are plenty of natural gas stocks available to meet heating demand across the nation. Once the season ends, massive reserves in the Marcellus and Utica shales are ready to fill up inventories again for next winter. The fact is that there are massive inventories now and massive reserves in the rock formations of the U.S. available. This alone is reason for natural gas prices to fall from the $2.10 level where it closed last Friday. If you consider the action in the price of another energy commodity, crude oil, a price of almost $2.50 for gas starts to look like it will fade further into the market's rearview mirror.
Last week, the price of crude oil did something it has not done in over a decade. It fell to $29.13 on the active month February NYMEX crude oil futures contract, the lowest price since 2003. That is not good news for anyone bullish on the price of natural gas.
Volatility but a cap on price
Daily natural gas volatility peaked at just over 75% on January 11. Last Friday, it was at just under 57%. This is another sign that the vicious rally at the end of 2015, culminating in highs during the first week of this year is over. I believe that we will start to see open interest rise once again in coming sessions as shorts come back to the market for another chance to pocket profits when the price falls below $2. There is a high probability that the shorts will come back and the price will continue to move lower in the weeks ahead.
There is too much gas (and energy) around to support higher prices. The shorts have a juicy target now that support is at the mid-December lows under $1.70. This means that there is downside room in natural gas.
In another article I wrote about energy this week for Seeking Alpha, I described how the relationship between natural gas and oil prices has moved from a long-term period of deviation back towards historical norms. Lower crude oil has corrected the multi-year deviation. It is likely that the two energy commodities will now correlate more closely after this wide differential (gas was cheap relative to crude oil) has evaporated.
We are likely to see natural gas trade in a range between $1.75 and $2.25 for the balance of winter. Buying below the lower end of the range and selling above the higher end will be the strategy that I employ using the extensions (the recent highs and lows) as stops - adding (or subtracting) around 2 cents to either side for my orders. In other words, my sell stop will be at $1.66 and the buy stop at $2.52. Hopefully, we will see at least one more momentum shift or "game changer" in this volatile commodity before the game ends this winter.
Meanwhile, the move from almost $2.50 down to $2.10 should not come as a surprise to anyone in the natural gas futures arena; failure at that higher level was almost a guaranty. There is plenty around and this means that rallies are limited. Soon the February contract will roll to March, which is trading at under a 3-cent premium to the nearby contract. One thing is for sure, that roll signals that in natural gas, the winter of 2016 is ending soon.
I have prepared a video on my website Commodix.com, which augments this article and provides a more in-depth, detailed analysis on the current state of the natural gas market to illustrate and highlight the real value implications and opportunities available.
Disclosure: I/we have no positions in any stocks mentioned, and no plans to initiate any positions within the next 72 hours.
I wrote this article myself, and it expresses my own opinions. I am not receiving compensation for it (other than from Seeking Alpha). I have no business relationship with any company whose stock is mentioned in this article.