There has been a lot of buzz surrounding Oprah Winfrey's 10% stake in Weight Watchers International, Inc. (NYSE:WTW), her move to join the company's board and on becoming a member of the service. The news increased Weight Watchers stock price by as much as 300%. But since then, the stock took a ~49% nosedive but it is still 112% up since Oprah announced her stake in the company.
Figure 1: (Source: Authors analysis with data from Nasdaq)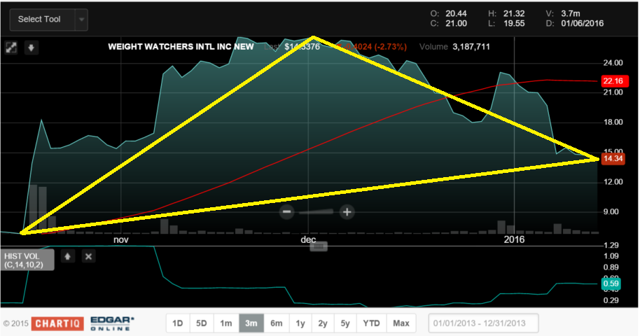 Click to enlarge
The growing uncertainty of whether or not Oprah will help nudge Weight Watchers stock price upwards might be because we are looking at it the wrong way. We are trying to extrapolate business outcomes on a socially driven investment.
The Risk
To start with, the first potential risk is misaligned interest between Oprah and other shareholders. Before Oprah took a 10% stake in the company she knew the company's profitability was in decline. Weight Watchers operating margins have been consistently declining since 2012. While COGS and SG&A have been consistently rising over the same period as shown in Figure 1 and Figure 2 below (COGS increased by ~12% and SG&A increased by ~9% while operating margins have decline by ~34% in the last three years).
Figure 1: (Source: Authors analysis with data from Morningstar)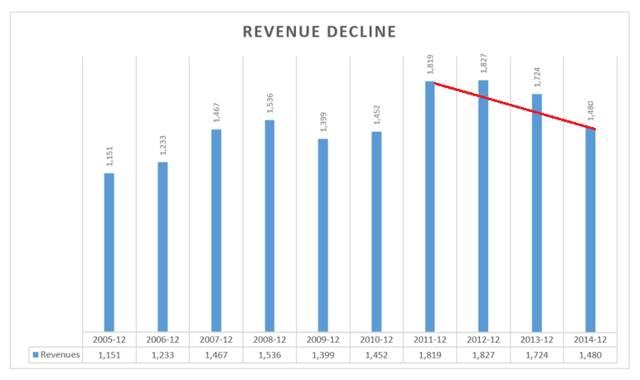 Click to enlarge
Figure 2: (Source: Authors analysis with data from Morningstar)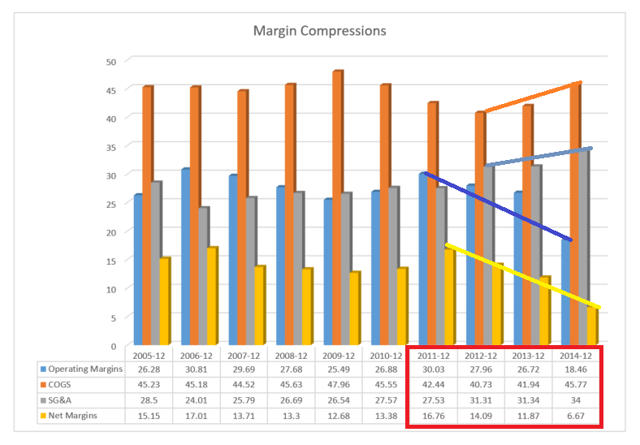 Click to enlarge
Oprah knew of Weight Watchers financial turmoil's. She knew of its declining revenues and rising cost structure and yet she still invested in the company.
Hence the reason why I think the investment was more personal than a purely for-profit seeking venture. This is important to understand because it makes it clear what her priorities are with regards to creating advertisements for Weight Watchers.
For this reason, I think Oprah's aim is to raise awareness on the challenges of trying to "lose weight." This means that her messages will be focused on "weight lose" and not necessary "Weight Watchers" as a company. Do not get me wrong, the ads and her name are very good for Weight Watchers. This is definitely going to help improve Weight Watchers' brand image and hopefully help enable them attract more users.
But it might not be a game changer for the company in the long-term. This is because her message can still resonate with people using different products and services that help with weight loss and maintenance. Besides, every hype eventually loses momentum. They will soon need to have something else to entice consumers.
Oprah's goal with Weight Watchers is to start a journey with people who "want" to lose weight for one reason or another. The "want" is important because the message is meant to make people who have ever struggled with weight loss or who are currently struggling with it to join Oprah on her journey. The message is not meant for everyone. It is the different interpretations of the message that led to mixed feelings on Twitter over Oprah's advertisement statement: Inside every overweight woman is a woman she knows she can be."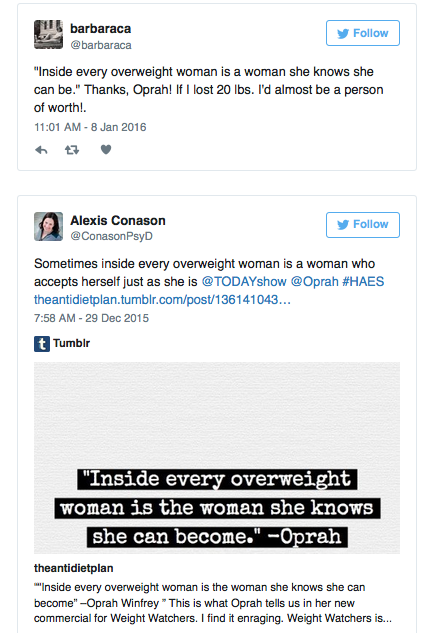 Source: CNN
Revenue Growth Matters More
Lastly, Weight Watchers is still a debt laden firm. Weight Watchers debt levels have raised concern of insolvency in the past and that is why some of the excitement about Oprah's involvement has to do with a potential new cash infusion to settle some outstanding debts.
Figure 3: (Source: Authors analysis with data from Morningstar)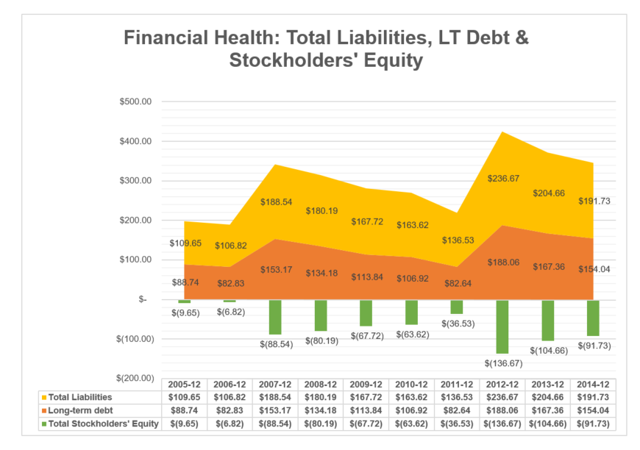 Click to enlarge
The biggest challenge with Weight Watches lies in its declining revenues and widening cost structure. When Weight Watchers reports on the 25th of February, a positive revenue growth rate will be critical to evaluating the company's future. If they announce positive revenue growth and ways to sustain that growth, that would be a good bullish indicator. Revenue growth is critical than debt because Weight Watchers has made some progress with its debt. From Figure 3, you will notice that both its total liabilities and long-term debt have been slowly declining since 2012. This reduction has started to put the fears of insolvency to rest. Also, its book value has started to move back to positive territory. Although the company has a lot of work to do, its progress so far is slightly reassuring with respect to its credit worthiness but not revenue growth.
Conclusion
The issue of weight is personal for Oprah. It dates back to the 1970s and chronicled in a weight loss book she co-authored with her trainer Bob Greene in 2005. This is an initiative she likely feels passionate about. It is this passion that is likely going to motivate her to keep the message and the initiative going.
In addition, I think the Oprah effect will continue to work for the company but not at a large scale. It is good for the whole industry and not only for Weight Watchers. This distributive effect might cause Weight Watchers to siphon only a small fraction of the marketing revenues from Oprah's involvement. That is why Oprah cannot be the only strong catalyst for the company. Revenue growth is essential because it can allow Weight Watchers to lessen its debt burden, get a credit upgrade and have enough cash for marketing and rolling out new products.
Disclosure: I/we have no positions in any stocks mentioned, and no plans to initiate any positions within the next 72 hours.
I wrote this article myself, and it expresses my own opinions. I am not receiving compensation for it (other than from Seeking Alpha). I have no business relationship with any company whose stock is mentioned in this article.