Before looking at the letter to clients from two days ago, let's view the charts for key regions around the world, including today's (January 15) global stock markets turmoil.
Here are ETFs representing those key regions around the world daily, year to date: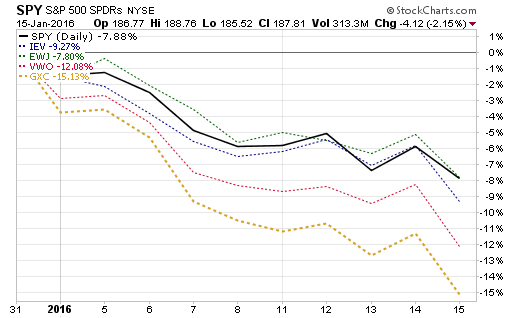 Here are the same ETFs weekly over the past 3 years: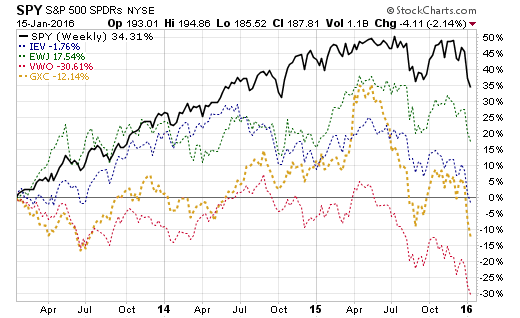 [ Below is our letter to clients on Jan 13, continuing to suggest more market pain ahead, and that defensive positions and high cash allocations are most appropriate for those in or near retirement - there will be good entry points after the markets show clear bottoming behavior, but not yet. That letter also makes sense today, January 15, after the strong sell-off around the world]
-------------
QVM Clients:
The stock market is in tough shape, and the direction of change is strongly negative. We have been expressing caution about market deterioration for months now, and have advised reducing equity holdings and maintaining high cash levels since July. In those accounts where we have authority we made those changes, with cash positions ranging from 40% to 70%, depending on the account-specific mandate.
The condition of the market continues to deteriorate, and today's sell-off is just part of that. It may well be that a rally will occur from this level, which for the S&P 500 is more than 3 standard deviations below its 3-month daily average. But even if there is a short-term reversion to the mean, the trend of the mean is still down. This is not the end of the world, and in the long run all will probably be well, but for now, this stock market is not good.
The longer 200-day trend line is also in a downward trend at this time, and the price of the S&P 500 is below that arbitrary 10% correction definition. Should the market decide to go to the so-called 20% decline bear market, we would be looking at about 1700 on the S&P 500. That compares to a price around 1900 now, and compared to December forecasts by major analysts for 2016 in the range of 2100-2300. We might still get to those higher numbers, but for now cash is king, and better entry points are ahead. Now is not the time to re-invest. We need to see some clear bottoming behavior (prices rising above their averages, and the averages ceasing to trend down).
We are not with the Royal Bank of Scotland economist who said this week, "Sell everything, except high quality bonds" - although it certainly would have been nice if we had gone that far back in July.
We do not agree with Denis Gartman, who said, "This is a full-fledged bear market" - although we are certainly on a path that has a full-fledged bear as one possible outcome - no way to tell for sure.
But we do agree with Jeff Gundlach, who said, "This is a money preservation market, not a money making market"; and with Bill Gross, who said it is more important at this time to focus on return OF capital than return ON capital.
Let's stipulate that there are numerous bulls out there too who point to fair valuations, broad equity index yields higher than 10-year Treasury yields, an economy that is OK, and that the US market is the deepest and safest one at this time, and the yield curve is still supportive of growth.
However, beside the fact that earnings are declining (probably the first time for 3 quarters in a row since 2009), margins are compressing, and revenue is declining, we are particularly focused on how all that resolves in the behavior of stocks - and particularly in terms of "breadth" (how the bulk of index constituents are behaving relative to the performance of the overall index, which is dominated by a few mega-cap stocks).
We normally do a breadth analysis of several US and foreign indexes each weekend after the Friday close, but given the nasty day today - and the nervous phone calls we received today, we did a quick breadth study of the S&P 500 (January 1, 2014 weekly through today).
Here is a summary of the results:
S&P 500 off of its 12-month high by 11.56%, but the median stock off by 20.24% (the best level was off 1.70%).
Only 1.42% of S&P 500 stocks are within 2% of their 12-month highs (the best was 52.31%).
80.77% of S&P 500 stocks off by 10% Correction or worse (the best was 14.23%).
50.61% of S&P 500 stocks off by 20% Bear or worse (the best was 2.64%).
26.52% of S&P 500 stocks of by 30% Severe Bear or worse (best was 0.61%).
The simple fact is that breadth is the worst it's been in just over 2 years (probably longer, but our data only goes back to January 1, 2014) for the median stock, for stocks in Correction, for stocks in a Bear, and for stocks in a Severe Bear. For stocks within 2% of their highs, the reading is close to the worst at 1.42% and far away from the best reading of 52.31%.
There is just no way to paint a pretty picture with these breadth data, and we do not think adding to risk at this time makes sense as long as these breath data (and profits) are in decline, regardless of interest rates or Central Bank policy; and regardless of the bullish views of some key institutional analysts.
[Charts Legend: The orange line is percentage distance of the S&P 500 index from its trailing 1-year high. The gray line is weekly data for the parameter being studied. The dashed black line is the 13-week (3-month) average of the gray line.]
Median S&P 500 Constituent Stock Off Its High
Click to enlarge
% Of Stocks Within 2% Of Their High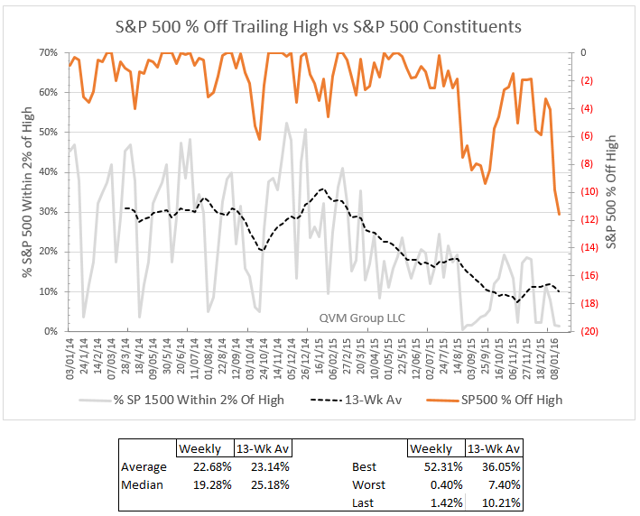 Click to enlarge
% Of S&P 500 Constituents Off High By 10% Or More (Correction +)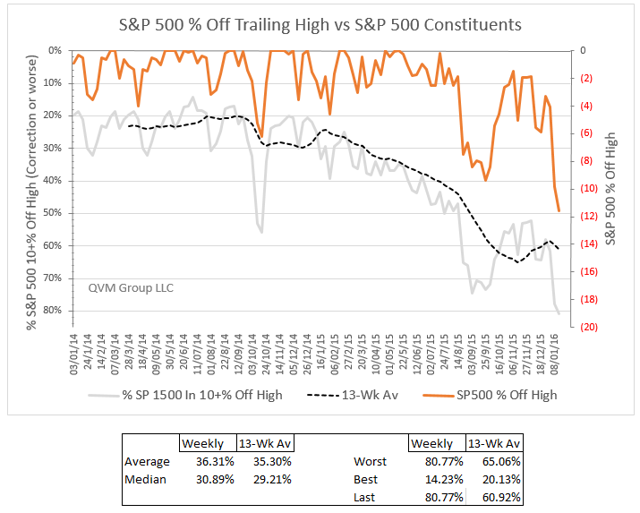 Click to enlarge
% Of S&P 500 Constituents Off High By 20% Or More (Bear +)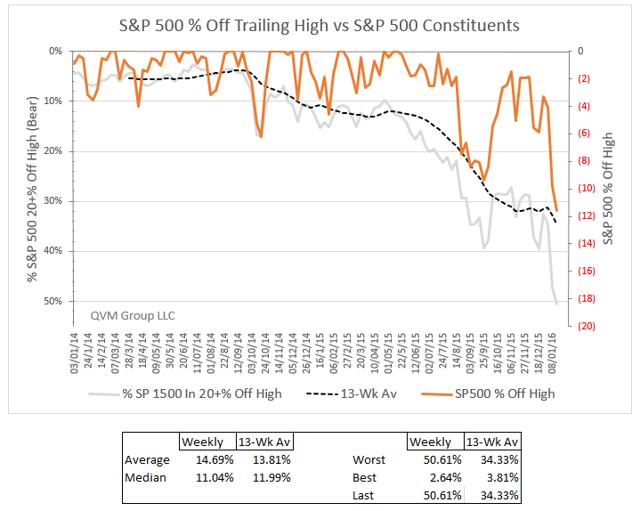 Click to enlarge
% Of S&P 500 Constituents Off High By 30% Or More (Severe Bear +)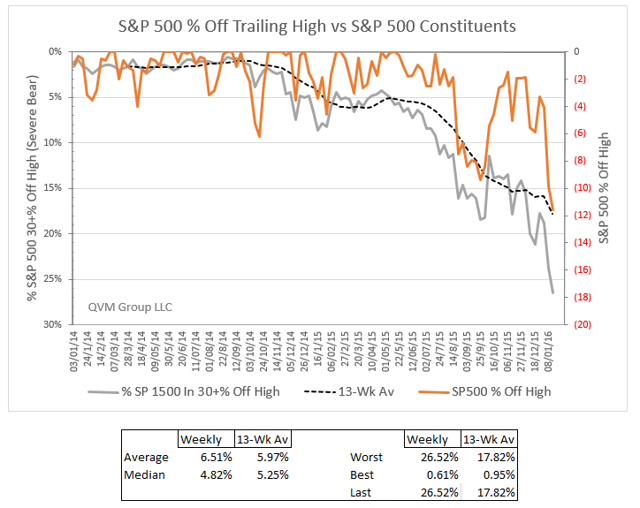 Click to enlarge
Key S&P 500 Funds Directly Related to This Article:
Disclosure: QVM has positions in SPY as of the creation date of this article (January 15, 2016). We certify that except as cited herein, this is our work product. We received no compensation or other inducement from any party to produce this article, and are not compensated by Seeking Alpha in any way relating to this article.
General Disclaimer: This article provides opinions and information, but does not contain recommendations or personal investment advice to any specific person for any particular purpose. Do your own research or obtain suitable personal advice. You are responsible for your own investment decisions. This article is presented subject to our full disclaimer found on the QVM site available here.