"Time is your friend; impulse is your enemy."
-- John Bogle
Bull and bear markets come along on their own time lines, stay for as long as they like, then move on. An investor has to recognize them, make decisions and basically "deal" with what is being presented to them.
We should now recognize that the relentless uptrend that we have been accustomed to seeing for the equity market has been broken.
Sentiment has decidedly changed from buying any weakness to selling any strength. The "negative feedback" loop I spoke to last week is flourishing. Everywhere an investor looks, the advice is "sell" on any market strength.
"Bearish JPMorgan says sell any rally"
"Market may see a 1998 correction: Wells Fargo"
How long this sentiment and corresponding market action will take to recover and if it portends a drop to a cyclical bear market is an unknown.
My call for higher stock prices in 2016 was based on the trends of crude oil and the USD changing. In just two short weeks, WTI has dropped another 21%. Combine that with the negative reaction that investors have historically taken when the Fed changes direction on interest rates and the perfect storm for weak equity prices has occurred. I offer no excuses, it is time to watch, wait and see what develops next. More on interest rates and equity prices later.
The important issue now is whether that call for higher prices remains wrong throughout this entire year. Does the equity market enter into a cyclical bear market as so many are predicting, or do the trends that I anticipated reversing finally arrive and the S&P stabilizes? Do investors buy this dip or do they sell any rally?
There are a few things that should be discussed before I go into what I believe is crucial as we now approach what could be a turning point in the direction of the stock market here in the near term.
Every investor is different. Each has his/her personal situation, their station in life, their goals to consider as they make these decisions. One size doesn't fit all. Whether it be dividend income, generating wealth, or preservation of capital, there are plenty of "general" rules that apply to assist in making the right choices.
If you have a clear understanding of where you are financially and what your goals are, then the first and foremost action would be to stick to that plan.
As an "investor" you must not lose sight of the long term by confusing what you are seeing in the short term. The "noise" gets ramped up as fear takes over. The most common mistake when an investor finds themselves surrounded by fear is to overreact and make bad "snap" decisions.
In my view, any call to raise a boatload of cash on any rally is still dependent on each individual's situation. An investor adjusts for "risk" that they perceive present. This is an ever evolving situation, as your situation changes and the market vacillates.
I believe that same investor makes a DRASTIC change in their strategy when they perceive a distinct change in the market action. A "complete" breakdown in the technical picture on many levels. More on that later. Any drastic change should NOT be based on emotion and/or fear.
For an "investor", making a drastic change is nothing to be taken lightly. I don't make these types of changes until I need to, and when I do, there is a plan to profit from those changes. I am still invested the way I was in August 2014. I "adjusted" adding more defensive dividend names as I sold some high beta winners when the market rallied off the September lows. Overall, though, I have made no drastic changes in positioning.
Time is your friend; impulse is your enemy.
In the present environment, you can cut the "fear" with a knife, as evidenced by this note to investors issued by RBS to "sell everything"
I'm never "all in" or "all out". That's a fool's errand. Anyone suggesting that is also suggesting that they can precisely "time the market". Good luck with that thought. If one thinks the "fear" is ramped up now about a market decline, wait until we are in fact in the middle of one. Those telling anyone they will step up and put their "all out" cash position to work are kidding themselves.
I have shared my views during this bull market. Now with so much negativity around, I would be remiss if I didn't at least acknowledge what investors can do if the market skeptics are now correct. For some, simply selling any rally won't be enough if the market truly breaks down as is being forecast. Many market participants now are wondering how they can protect their holdings in the event the market sends the sell signal and we transform from a bullish backdrop to a bearish view.
Here are a few options at an investor's disposal. I have used these strategies in the past and they are part of my plan IF, and WHEN, I make any drastic change to positioning.
Sell calls on your positions - very minimum protection.

Buy puts on portfolio positions. I prefer "in the money" puts, the deeper "in the money put" that one can afford, the better.
That positioning gives an investor "point for point" protection on the downside without the hefty premium that comes with a cost if you are wrong. Think of it as insurance. If nothing burns down, you lost the insurance premium that you just paid for.
Use the double or triple leveraged instruments to "short" the major indexes. The double and triple leverage allows you to buy less of that product to protect the equivalent amount of your portfolio net worth. If you have a diversified portfolio, that should provide enough of a hedge since most stocks flow with the general market.
There is a Double Leveraged ETF list and a Triple Leveraged ETF list that market participants can select from. As with any leveraged fund, if you are correct, it's plenty of fun in a down market, and if you have the story wrong, you can expect some pain.
Investors are always reminded about the natural decay of leveraged ETFs (beta-slippage). The pros and cons are always brought up when the discussion turns to using leverage. The "decay" issue comes into play when these instruments are held for a long period of time. When used for brief periods of time they can work rather well. Here is an example of what transpired in the market selloff last year.
On July 20th, 2015, the S&P closed at 2,128, then fell to the August 25th low of 1,867 for a 12% loss.
The triple leveraged S&P "short" ETF, the ProShares UltraPro Short S&P 500 ETF (NYSEARCA:SPXU), closed at $31.84 on July 20th. The August 25th close for SPXU was $45.65, or a gain of 43%. If held for a relatively short duration, there is no penalty, and in this case, it actually fared better than the three to one ratio. That was primarily due to the swift nature of that decline.
Last, but not least, for the stock pickers out there, is the outright shorting of individual stocks that you feel are overvalued.
The way the pundits are talking, "shorting" just about anything will work in a crash environment. It would be like shooting fish in a barrel.
Please keep in mind that the strategies presented are initially utilized as a hedge against current holdings. The strategy evolves as the situation unfolds and can be used to profit in a downturn.
I will add that when one embarks on a bearish plan to profit from a large downturn in stocks, they better have a grip on the technicals to know when to pull back from that positioning. Bull market rallies in a cyclical bear market happen often and are violent, usually wiping out the "shorts" that have no idea what they are doing.
Let's be clear, I acknowledge the recent stock market action has been terrible with plenty of technical damage being done already this year. I am also of the opinion that when an investor prematurely changes positioning and is wrong it can become a serious mistake.
The losses will be a lot more than those who waited and then put in a plan to profit on the downside.
Given the quick 10% drop in equities since December 29th, each investor needs to ask themselves is this a clever time to put on these bearish hedges. As an example, investors who acted in that fashion back in September of last year because they were SURE the market had broken down, find the S&P at the same level it was back then.
Time is your friend; impulse is your enemy.
Another 2008 in the making?
Plenty of fear and negativity around but I am having a hard time grasping the fear rhetoric that has made the quantum leap from this market drop to a full blown financial crisis last seen in 2008.
As for the "It's 2008 all over again" cry, I simply can't buy into that theory at the present time. Credit spreads are not blowing out, valuations are not wildly expensive, leverage in the financial complex is seriously less than it was going into 2008, sentiment is horrible, earnings comparisons just might get better and the list goes on.
My opinion aside, the question now is whether or not the markets will move substantially lower from current levels. History has shown that major bear markets result from 1) recessions, 2) commodity spikes, 3) aggressive Fed tightening, 4) extreme valuations and 5) excess inventory accumulation.
So with the never ending parade of recession calls, doom predictions, and general fear promoted to investors, it is easy to fall prey to what may be a misrepresentation of the situation.
The Yield Curve and Recession
One such example of that is the shape of the yield curve, specifically the spread between the 2-year and 10-year Treasury yields. How many times have we heard that a flattening yield curve is "the bond market telling you something".
I saw claims that the new post crisis low for 2-year Treasury and 10-year Treasury signaled a breakdown in the curve that would result in an inversion (2-year yields higher than 10-year yields) in 2016. I get it, I understand how many want to bolster the negative story bonds often tell.
But unfortunately for those who would try and claim a recession is imminent, that's an illegitimate and misinformed interpretation of the yield curve. Below is a chart of 2s, 10s against recession dates.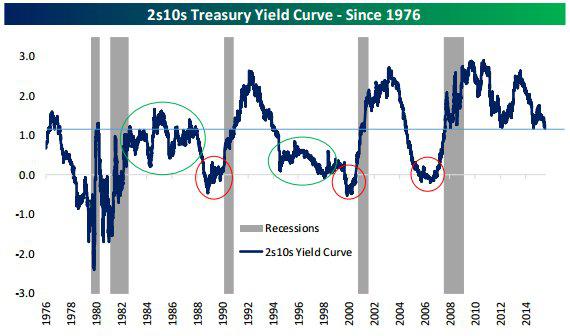 Source: Bespoke
As shown, rapid flattening of the yield curve has no impact at all on recession probability unless the yield curve inverts. For example, in the last three economic cycles, the curve reached current levels for the first time in May of 1988, August of 1993, and December of 2004. Those three dates were 26 months, 91 months, and 36 months before the start of the next recession, respectively. So unless someone is using current levels on the yield curve to argue that a recession is likely to start no sooner than two years from today, I am skeptical about this current level being concerning.
What would be concerning would be an inversion, when 10s yield less than 2s and the spread is negative. Those are "sure fire" predictors of recession. But as a reminder, the yield curve still sits at 120 basis points. It would have to flatten by over a basis point per day to signal an imminent recession by the start of the third quarter!
Since 1982, the fastest ever 120-day move was a 1.27% flattening. In other words, for the yield curve to signal recession, it would have to match the fastest ever flattening move and would then only signal a recession in the next quarter or two. In short, the bond market is not telling you anything about a recession. Unless we see the scenario I just mentioned unfold, it's best to shut out the noise being presented by many stock market pundits.
Watching Fixed Income
Investors can watch the fixed income markets for evidence of increasing financial stress. The credit default swap market (CDS) is the best place an investor can monitor stress. To that end, it's best to watch the lenders (banks) for signs of stress. While default risk for the major U.S. banks and brokers (as measured by 5-year credit default swap prices) has trended lower and lower ever since the Financial Crisis in 2008/2009, you typically see increases during periods when the equity market is in correction. I have included a separate document providing charts of the six major U.S. banks and brokers MS, JPM, GS, C, BAC, WFC where the stock prices and 5-year credit default swap (CDS) prices going back to the start of 2013.
By 2013, default risk had settled back down to relatively low levels for the big banks, so this 3-year period allows you to see how CDS prices have reacted recently to share price pullbacks. Even during the August/September correction for the market, you saw default risk spike higher. During the most recent leg lower since the end of December, though, default risk has barely budged.
The data represented in the document posted suggests that the "contagion" that will bring us to the brink of another financial crisis is overblown.
ECONOMY
November data showed another solid month for the labor market as measured by the Bureau of Labor Statistics' Job Openings and Labor Turnover Survey (JOLTS).
The rate of job openings remains off its multi-year highs but posted another strong month in November at 3.7%, well above the highs seen in the last economic expansion. Private openings were flat MoM and have been trending lower in the last few months.
The quit rate returned to a post-recession high of 2.0% for the total labor force and 2.2% for the private labor force but has yet to break out. The current quit rate indicates that the existing employed population is not yet being enticed away by better opportunities at other employers, a key ingredient for wage growth to build.
Labor demand remains extremely strong as measured by the layoff rate, which is above recession lows but still negligible for the total labor force; the private layoff rate returned to normal after "spiking" to a measly 1.4% last month.
Quit rates for high turnover industries continue to improve slowly but like the broad quit rate have not by any means broken out over the last year or so. Regional views of layoff rates show no concerning up ticks.
The NFIB Small Business Optimism index saw a slight uptick in the month of December. While economists were expecting the headline index to come in at a level of 95.0 from November's reading of 94.8, the actual reading came in at 95.2. While the uptick is welcome, the current level is still below its long-term historical average of 96.1 from 2000 and more than five points off the peak reading of 100.4 a year ago.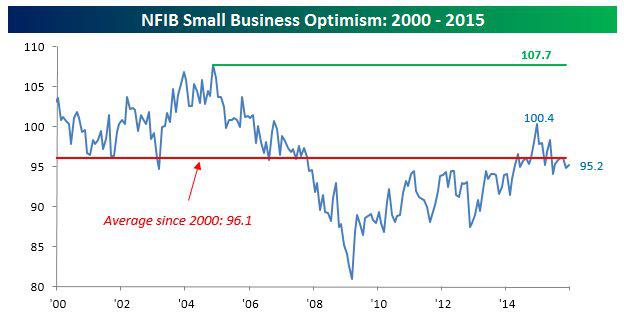 Retail sales came in as expected down 0.1%, but that hardly left anyone cheering.
Retail sales data, which are a key gauge for overall consumer spending, can be volatile from month to month. Sales growth has decelerated over the past year, reflecting declines in sales on gasoline, electronics and appliances, and department stores. Overall sales were up just 2.1%, a marked slowdown from the previous year's 3.9% annual gain.
Slumping oil prices have also held down the sales figure over the past year, as consumers spent less at gas stations thanks to lower gasoline prices. In December, sales at gas stations fell 1.1% and were down 19.4% from a year earlier.
Empire State Manufacturing fell through the floor. As the report stated:
"The headline general business conditions index fell thirteen points to -19.4. The new orders and shipments indexes plummeted, indicating a steep decline in both orders and shipments. Price indexes suggested that both input prices and selling prices increased. Labor market conditions continued to deteriorate, with employment indexes remaining in negative territory. The six month outlook was noticeably weaker, with the index for future general business conditions falling to its lowest level since early 2009."

China

A recent Seeking Alpha article discusses an issue that I have discussed here quite often. China's transformation to a services based economy.

The fact that Ford saw a 27% jump in auto sales there in December is evidence that their consumer seems to be doing fine and the transition is in place.

Starbucks (SBUX) believes that as well, as CEO Howard Schultz announced that his company will open 500 stores in China a year for the next 5 years.

The World Bank recently released their look at 2016 with a report; January 2016 Global Economic Prospects - Spillovers amid Weak Growth

"Under the baseline scenario, it is expected that China will steer its economy to more consumption and services led growth and the monetary policy tightening cycle in the United States will proceed without undue turbulence; as a consequence, global growth will see a modest upturn."

"But this does not rule out the fact that there is a low-probability risk of disorderly slowdown in major emerging markets, as U.S. interest rates rise after a long break and the US dollar strengthens, and as a result of geopolitical concerns. The simultaneous slowing of four of the largest emerging markets, Brazil, Russia, China, and South Africa poses the risk of spillover effects for the rest of the world economy."
Chinese trade data came in dramatically stronger than expected, with exports down only 1.4% YoY versus expected declines of around 8%. That figure crushed expectations and was higher than every analyst estimating the release for Bloomberg except one. Exports were also strong. Headlines are already proclaiming victory for the "devalue the yuan" strategy.
The slow painful recovery in the Eurozone continues as the German economy recorded its second year of tepid growth. For the critics, "you have to crawl before you walk, and walk before you run".
EARNINGS
Earnings season began this past week. The peak reporting day for this earnings season is not until January 28th when 50 companies in the S&P 500 will report their Q4 numbers. Looking at sentiment heading into earnings season, analysts continue to aggressively cut estimates on the companies they cover, and this has been a trend in place for more than a year and a half now.
Forget the fear, forget all of the rhetoric, whether you are bullish or bearish, earnings will decide if equities will stabilize at these levels or not. I don't believe earnings will be cataclysmic as some are predicting after last years disappointment.
FactSet Research put together a graphic on how earnings estimates have trended recently.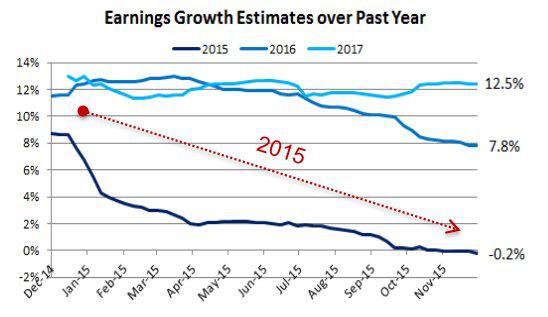 Source: FactSet
We have heard through various media reports that most stocks in the S&P are already down 20-25% from their 52-week highs. Most of those companies have P/Es that are not exorbitant. Furthermore, many, if not all of those companies are not experiencing an earnings debacle like the energy sector. What is already forgotten in all of the "fear" commentary is that ex-energy, the S&P 500 grew earnings last year.
The bulls say since these stocks have already had their "bear" market correction from the massive gains that have been achieved, it would take a massive reduction on the earnings front for those names to drop another 20% or so. If their earnings are stable and improving, many feel that won't be the case and it will put a floor under the market.
The fact that GM can raise its dividend, raise its guidance for this year says a lot about the "other" companies and earnings that are being overlooked and dismissed. Simply because of the overhang with "energy" earnings.
The bears say it doesn't matter, these companies will get caught up in the downturn. Their thoughts are that corporate earnings will most assuredly drop like a rock this year.
The first major earnings reports came in this week. Citigroup, JPMorgan and Wells Fargo all beat earnings estimates
Per Thomson Reuters:
The S&P 500 Earnings Yield stands at 6.59%, the highest point for that metric since the 2nd week of October 2014 or the bottom of the 2014 correction.
SENTIMENT
The fall in equities has hit investor sentiment very hard. Over the past 5 weeks, the outflow from equity ETFs and funds has reached $32 billion. This is greater than at the recent August/September low and third only within the current bull market to March 2009 and August 2011.
Some of the negativity in investor sentiment is being driven by the recent change in direction regarding interest rates. This graphic highlights that point.

Source: Bespoke
One consistent trend of the market following the three periods shown above is that when the Fed first hiked rates, the market ran into headwinds. For all three periods, the S&P 500 saw a peak to trough pullback of between 8% and 10% in the months surrounding the first hike in rates. While the long run implications of a rate hike after an extended pause are mixed, in the short term, prior experiences suggest that the market has short term issues with the adjustment.
So, while oil and China get blamed for the market's weakness, don't overlook the impact of Fed policy, which not only impacts equities, but also oil, China, and many other areas of financial markets. Also, it might just work out that the market will see the bounce that the other three occurrences witnessed after the initial 8-10% drop.
Most readers are probably tired of me showing the various sentiment indicators to bolster the "contrarian" view. Sorry, but here is more evidence that usually indicates a short-term bottom.
I've gleaned data from Bespoke Investment Group and it shows that the last time bullish sentiment was lower (2005), the S&P 500 was in the latter stages of an 8% pullback, and reached a low a short time after.

Click to enlarge
In the case of bearish sentiment, the 2013 wasn't accompanied by much of a decline in stock prices, but it was a period where economic data was coming in consistently below forecasts.

Click to enlarge
CRUDE OIL and the USD
I have been wrong with my assessment on the trends of Crude oil and the USD. If you remember, they were the "cornerstones" of my bullish thesis for 2016 that could carry the averages to new highs.
That surely isn't happening. As far as WTI is concerned, I made the argument that we would not see the massive declines that 2015 brought us. I wasn't expected to see crude drop another 21% in the first two weeks of 2016. At some point, these trends will abate but for me to sit here and tell investors to "wait", well, that would be wrong. At the moment, I'll call it like it is, as the price teeters at levels not seen since 2003.
THE TECHNICAL PICTURE
Many technical indicators I use to gauge the stock market are now starting to "line up". Lucien Hooper devised the "December Low Indicator" early in his stock market career.
According to the December Low Indicator, danger lies ahead when the DJIA violates the December low in the first quarter of the New Year. That has been accomplished in short order with the Dow 30 dropping below 17,251 here in January.
Since 1950, but prior to 2014 there have been 31 first quarter December low violations.
All but two (1996, and 2014) led to further losses, averaging 10.9%.
2014 came along and the December Low indicator was triggered, but that led to an 11% gain that year. Nothing is infallible, but it does seem to have a pretty good track record over time.
Anyone that has followed along knows that I base my long-term strategy by following the "monthly" chart of the S&P to determine if trouble is brewing, and a change of trend is upcoming.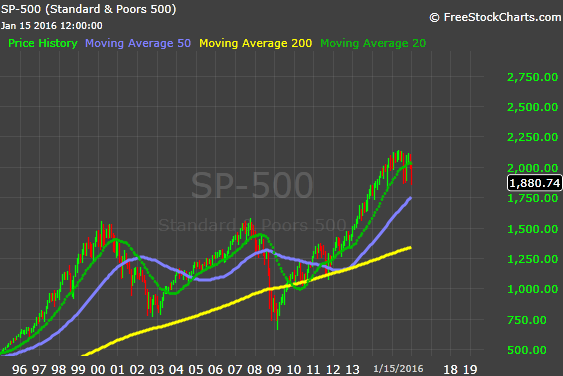 After the close this week, the S&P stands at 1,880. That is now well below the 20-month moving average of 2,025. With the large, quick drop, the 20-month MA is now flattening. The bulls will need a retake of that MA to keep the average from rolling over. This is the "yellow" light that is flashing now and will be utilized to start making the transition from bull, to neutral, to bear.
IF the same warning pattern unfolds as it did back in 2000 and 2008, the 20-month MA will continue to flatten and roll over. At that point, we could expect another rally to either retake the MA and continue this bull market, or fail and send the major averages down to a possible cyclical bear market.
The critics bring up the fact that I've waited too long to see the signs that they supposedly have already reacted to. Maybe so, but as stated, I don't take a drastic change of positioning lightly. More importantly when I do, I start to enact a plan to profit on the downside.
In 2007, this process took time to play out. The S&P broke below the 20-month MA in December 2007, then spent the next 4 months below it. The failed rally back to the flat trendline then occurred in May 2008 at S&P 1,437. The "red flag" sell signal was triggered.
The closing high occurred in October 2007 at S&P 1,549. The sell signal recorded back in 2008 was 7% from that high. Bottom line, I believe an investor can take the appropriate steps to protect themselves approximately 10% from the high.
Time is your friend; impulse is your enemy.
If and when I see another "sell signal", the strategies I laid out earlier are employed as events unfold. A plan to profit and take advantage of the decline is put into place.
The time to "short" is when a downtrend is "confirmed", just as it's time to "buy" in a "confirmed uptrend. One only has to ask the "short sellers" how they have fared trying to short this bull market by calling every top since 2012. I will get plenty of arguments that the downtrend is in fact in place. I will simply refer them to the LT Monthly S&P chart that has just now started to falter and the associated commentary I have put forth.
Getting back to the short-term picture, the August-September lows came into play on Friday.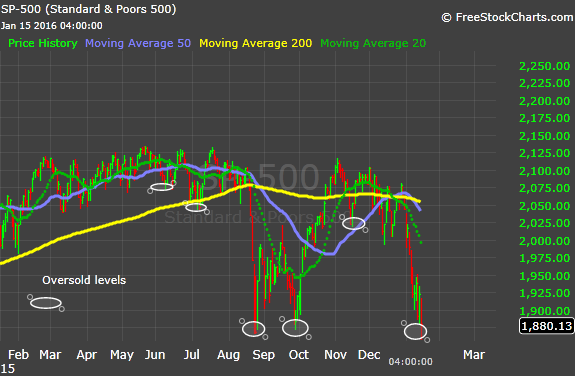 Suffice to say, the S&P had a terrible day on Friday, as the average closed down 41 points to 1,880. The day's action briefly saw last year's lows (1,867) breached.
Staying with the old axiom that the markets never bottoms on a Friday, next week's action could see more of the same fear to usher in lower prices next week. The October 2014 low of S&P 1,820 is the next major support level. Shorter term support levels are the 1,869 and 1,841 pivots with resistance at the 1,901 and 1,929 pivots.
The market remains oversold, and while it may stay that way for a while, I will put forth the possibility that fresh selling will take the S&P to a closing level under last years low. That may set the stage for a selling climax to take place and form a short-term bottom.
This correction has now dropped the S&P 12% off of the highs.
SUMMARY AND CONCLUSION
On the one hand, I don't see the prerequisites for a recession, nor do I see any type of 2008 financial crisis developing over the energy debt situation. The Fed isn't about to assassinate the recovery by raising interest rates incessantly. There surely aren't any commodity spikes, past recessions have occurred when oil has spiked. Not so today. All of those mentioned have ushered in past recessions.
However, the fundamentals, and now more importantly the technicals are issuing warnings. The first two weeks of this year have been driven by emotion (Fear) and technical support levels being breached. I cannot buy into the fact that investors woke up on January 2nd and realized the fundamentals are so terrible they have to sell. Sorry, it doesn't work that way.
Volatility is likely to remain for now as investors determine if the Fed transition will run smoothly and if the global economy can produce sufficient growth to warrant the market's current valuation
U.S. and China manufacturing is problematic but services is more important and continues to expand.
U.S. ISM services index remains strong. Services represent 88% of the economy. U.S. ISM Manufacturing, representing the other 12% of the economy, remains in contraction. Make no mistake, it would be nice to get some improvement in manufacturing.
China services, which are 48% of their economy, is expanding. China manufacturing, 42% of their economy, is contracting. It has to be noted that China is currently transforming to a consumer-based economy.
The market and many investors are correct to be concerned about the state of manufacturing. However, I don't believe we can draw the conclusion that entire economies will collapse.
Just as I wrote in August and September of last year, the technical damage that has been done to the equity market cannot be easily dismissed. Combine that with the current mindset of the investment community and we have a situation that is troubling for long-term investors.
The yield curve, widening credit spreads, and most important, my long-term technical signals are what I will be watching to determine if a drastic change of positioning is warranted.
I will keep my previous commentary in mind to maintain composure just in case this time is different.
"IF we have indeed seen the top in May 2014, it will defy all of the previous history that we know of concerning an end to a bull market."
Of course, "anything" can happen, and I have to assume that there is a possibility that this time IS different.
Best of luck to all!
Disclosure: I am/we are long BAC,C,GS,JPM.
I wrote this article myself, and it expresses my own opinions. I am not receiving compensation for it (other than from Seeking Alpha). I have no business relationship with any company whose stock is mentioned in this article.