Chesapeake Energy (NYSE:CHK) just released Q4 earnings but maybe it doesn't matter. In the past the company has been a natural gas producer with up to 99% of its revenue coming from the sale of Natural Gas. Management has decided that liquid products will comprise about 50% of its revenue within the next 5 years.
The stock's price has been moving up over the past month and might signal a thumbs-up to management's new strategy. Look at the hourly trading prices provided by Barchart over the past month: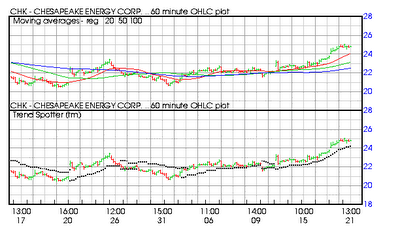 Chesapeake Energy Corporation engages in the acquisition, development, exploration, and production of natural gas and oil properties in the United States. It also provides marketing and other midstream services. The company's properties are located in Alabama, Arkansas, Colorado, Kansas, Kentucky, Louisiana, Maryland, Michigan, Mississippi, Montana, Nebraska, New Mexico, New York, North Dakota, Ohio, Oklahoma, Pennsylvania, Tennessee, Texas, Utah, Virginia, West Virginia, and Wyoming. As of December 31, 2010, it had interests in approximately 45,800 gross productive wells. The company's proved reserves include 17.096 trillion cubic feet of natural gas equivalent. Chesapeake Energy Corporation was founded in 1989 and is based in Oklahoma City, Oklahoma. (Yahoo Finance profile)
Factors to consider:
Barchart technical indicators:
56% Barchart technical buy signal
Trend Spotter buy signal
Above its 20, 50 and 100 day moving average
5 new highs and up 18.13% in the last month
Relative Strength Index 66.10%
Barchart computes a technical support level at 24.27
Recently traded at 24.76 with a 50 day moving average of 22.72

Fundamental factors:
In the past this was a Wall Street favorite as a natural gas producer
30 Brokerage houses assigned 37 analysts to follow the stocks numbers
Analysts predict revenue will grow by 28.00% this year and another 7.70% next year
Earnings are estimated to be impacted during the transition with a decrease in earnings forecasted this year of 5.40% followed by another decrease of 30.10% next year. Over the next 5 years earnings are expected to increase annually by 11.23% overall
These consensus numbers result in analysts presently giving 11 strong buy, 5 buy, 17 hold, 2 under perform and even 2 sell signals to their clients
Analysts feel if all their numbers are met investors could see a total annual return in the neighborhood of 14% to 18% per year over the next 5 years
Production and capital costs will increase as the company moves from being a natural gas producer to a 50/50 balanced producer
Some of these cost will be offset by increased production levels
The P/E ratio is 8.11 compared to a P/E ratio of 15.10 for the overall market
The dividend of 1.47% is only about 14% of projected earnings and below the 2.20% dividend rate of the market

General investor interest:
This is a very popular stock with the readers of Motley Fool and 7,671 readers have an opinion on this stock
Readers voted 97% that the stock will beat the market
98% of the more experienced All Stars voted for the same result
Fool notes that 94% of Wall Street columnists articles were positive
Favorable comments were made by Jim Cramer, Rich Pzena, Jim Jubak, John Keeley and Hillary Kramer

I always try to compare a stock to its competitors over the past 6 months but this one is hard because of management's looking for a product remix. While Chesapeake is down 19% over the past year, Devon Energy (NYSE:DVN) was up 16%, EnCana (NYSE:ECA) was down 12% and Southeastern Energy (NYSE:SWN) was down 8%: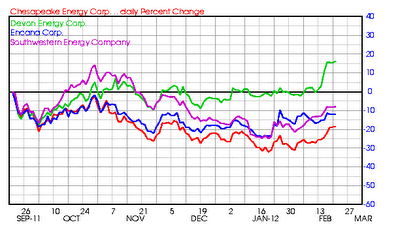 Summary: Analysts think that the restructure at Chesapeake Energy from a natural gas producer to a more balanced product mix will be positive. I'm not as sure as they are and will advise you look at protecting yourself with mental stop loss in the neighborhood of 20. Follow the stock using a 14 day turtle channel to see where it's headed: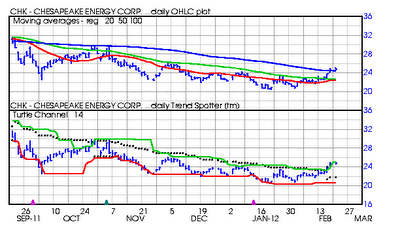 Disclosure: I have no positions in any stocks mentioned, and no plans to initiate any positions within the next 72 hours.