Atlanta-based Delta Air Lines (NYSE:DAL) is expected to report another set of record profits on January 19 but investors would never know this from looking at the share price chart.
Investors are clearly cautious around airlines meaning several factors besides reported EPS are likely to drive post-report share price movement.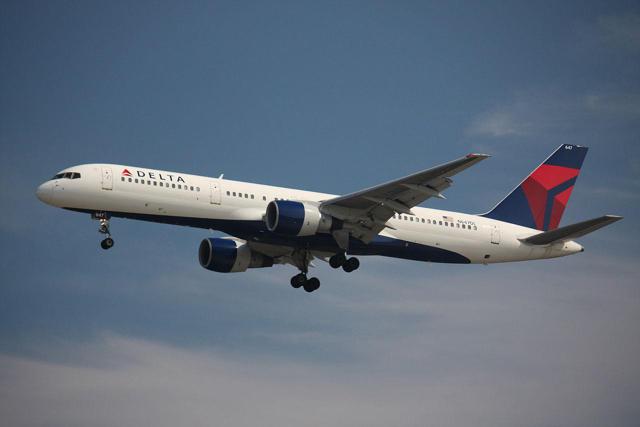 Click to enlarge
source: Wikimedia Commons
Estimates
According to data from Yahoo Finance, the average 14 analysts reporting is EPS of $1.19 for Q4 2015, a 3.4% increase over Q4 2014 EPS of $1.15. Over the last 90 days average estimates have remained fairly constant bouncing between EPS of $1.18 and $1.19.
On the revenue side the average analyst estimate calls for $9.61 billion in revenue, a decrease of 0.40% from Q4 2014's $9.65 billion. While falling revenue is often a concern for investors it's not a major problem for airlines in the current environment. Sharply lower fuel prices have slashed a major airline expense but have also put some pressure on fares causing unit revenue to decline. Overall, this is expected to result in lower revenue for all three major legacy carriers while all three carriers are still expected to post record profits. If Delta reports revenue well below estimates it could pressure shares, however, I do not view the current expected decline as a threat.
PRASM
Despite lower fuel prices having a much greater financial impact, the story of 2015 for airline investors has been PRASM (Passenger Revenue Per Available Seat Mile). Declines in PRASM have ignited fears of price competition and put pressure on airline shares throughout 2015.
To combat falling PRASM and maintain pricing power, Delta kept 2015 capacity growth low and forecasts 2016 capacity growth of only 0%-2%. For November, Delta actually managed to post a 1.5% PRASM gain although it was mainly due to the position of the Thanksgiving holiday and was followed by a December PRASM decline of 5.0%.
For Q4 2015 Delta has guided for a PRASM decline of 1.5% which, while not ideal, is a smaller decline than was seen through most of 2015 and at other major airlines. If Delta can meet the guidance it could begin to show a bottoming of PRASM, especially if management gives strong PRASM guidance.
And guidance will be key. While I still expect some PRASM pressure through the first half of 2016, if management guides for a bottoming in PRASM it could provide a major boost for the stock. If, on the other hand, management guides for continued PRASM pressure throughout the year or sharply lower Q1 2016 PRASM it could put major selling pressure on the stock as the PRASM decline would overshadow earnings growth in many investors' minds.
Capacity
Capacity is largely connected with PRASM as too much capacity can pressure fares lower and PRASM to fall. Because of this airline investors love to see low capacity growth. In this area investors should look for Delta's management reiterating its 0%-2% 2016 capacity growth forecast.
Capital returns
I do not expect any new dividends of share buybacks to be announced alongside the Q4 2015 report. Delta already has a $5 billion share buyback program scheduled to run until the end of 2017 and the dividend is typically raised in May with the first increased dividend paid in August.
Taxes
Delta still reports its EPS factoring in corporate taxes despite the airline not actually paying federal corporate taxes due to its accumulated net operating losses, or NOLs. As previously stated in the Investor Day presentation management expects these to run out in 2018 and a "transatlantic business reorganization will lower book expense and cash taxes".
Management may release more details on Delta's tax plans alongside the Q4 2015 report but it's an outside possibility at this point. Based on the Investor Day presentation management expects the 2016 book tax rate to be between 35% and 36% which is similar to 2015's book tax rate.
Branded fares
A key point of Delta's business strategy is its use of branded fares to create more tiers of fares. Management expects this to boost paid load factors for First Class and Delta Comfort+ seats, both of which contribute higher unit revenue to the airline. While it's still early in the rollout, management may have some comments on how the strategy is progressing.
Takeaway
Analysts expect Delta's EPS to rise slightly while revenue declines slightly largely driven by lower fuel costs. But investors will also be closely eyeing PRASM and related guidance which will likely be the key movers of the stock.
In other areas, management may add some comments regarding tax plans and branded fares which could be a positive for the stock price. At the same time, I do not expect any changes to the capital return plan as the buyback authorization has plenty remaining and the dividend increase announcements are not normally made at this time of year.
Disclosure: I am/we are long DAL.
I wrote this article myself, and it expresses my own opinions. I am not receiving compensation for it (other than from Seeking Alpha). I have no business relationship with any company whose stock is mentioned in this article.
Additional disclosure: The author does not guarantee the performance of any investments and potential investors should always do their own due diligence before making any investment decisions. Although the author believes that the information presented here is correct to the best of his knowledge, no warranties are made and potential investors should always conduct their own independent research before making any investment decisions. Investing carries risk of loss and is not suitable for all individuals.