A wise man once said that life is what happens to you when you are busy planning things. From my perspective no truer words have been spoken. Up until a few days ago I was busy putting the final touches on my forecast for 2016. But after watching a global retracement in equity valuations and Treasury markets circling the wagons, it was time to change course.
Thus far we haven't really seen much in the way of panic selling in the U.S. On the other hand, China is a whole different story. It's important to remember that the communists who run China are not yet clear on how to manage the sell-off in equities. Indeed, for most investors in China this is their first rodeo. And for the powers that be, they're not quite sure whether they should modify the so-called circuit breakers to limit the damage, or should they just let the markets fall in order to allow the markets to engage in some honest price discovery. What we do know is that the Chinese have been spending a lot of money over the past several months to prop up the equity markets. And lest we forget, China has no problem with devaluing their currency. Stay tuned on that one.
As if China's heightened volatility was not enough to roil the markets, the nuclear ambitions of North Korea and the saber rattling between Iran and Saudi Arabia have escalated tensions well beyond the volatility concerns relating to the Chinese economy.
There is no doubt that 2016 is going to be an interesting year. But it seems that investors could get carried away with all of the negativity that currently surrounds us. With all of that being said, I believe that investors should keep 3 major themes in mind as we navigate our way through 2016. .
Number 1 - Equities have experienced some real pain thus far in 2016. And given the lack of technical support, the markets are likely to fumble around for quite some time. As shown in Figure 1, the S&P 500 broke down below its 200 day moving average for the second time in 5 months. . And it did so in rather convincing fashion.
Figure 1 - S&P 500 versus the 200 day moving average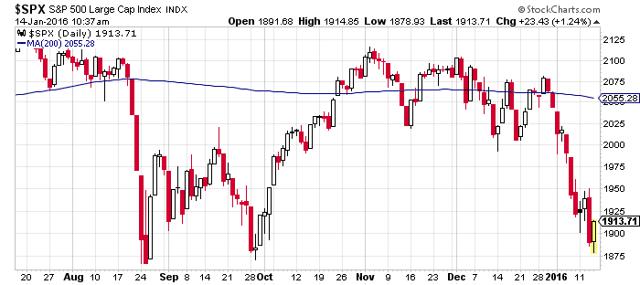 Click to enlarge
After the close on January 13th the S&P 500 stood at 1,890.28. If my math is correct this represents an 11.3% decline from the 2,130.82 peak level we saw on May 21, 2015. As such, we are now in official correction territory. . However, it's important to note that the Russell 2000 has experienced even more of a decline. In fact, after peaking at 1,295 in June of 2015, the index closed at 1,024 on January 13, 21% off its highs. Without getting too bogged down in the details I think it's safe to say that small-cap equities have fallen into a bear market.
Figure 2 - The Russell 2000 relative to its 200 Day Moving Average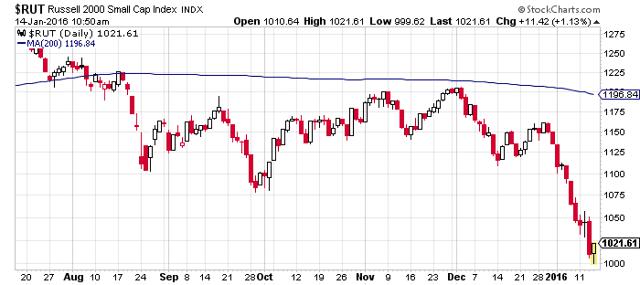 Click to enlarge
Unlike the S&P 500, which put up a good fight to remain above the 200 Day Moving Average, the Russell 2000 actually threw in the towel this past August. And if I have learned anything in my 26 years in this business, this is no time to be cherry picking in the small-cap space.
I'll be the first to admit that just because the S&P 500 falls below its 200 day moving average, large-cap equities could very well remain in a trading range for a lot longer than one might think - especially in a low interest rate environment. But as shown in Figure 3, the market's breadth continues to shrink to dangerously low levels. In fact, based on the latest data from Bloomberg, only 26% of all NYSE listed stocks are trading above their 200 day moving average. Let's face it: the underpinnings of this market are coming under some real pressure.
Figure 3 - Market breadth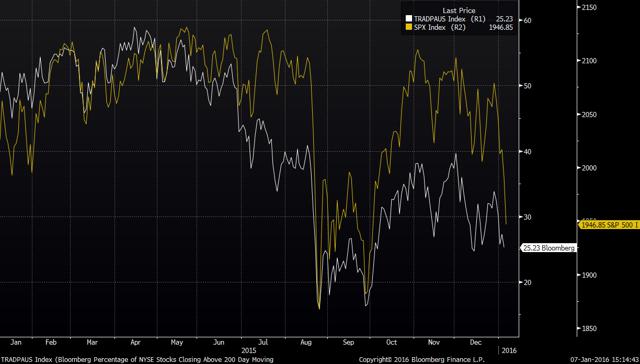 Click to enlarge
Even though market breadth is looking pretty shaky, one can argue that 74% of the equity market has already been taken to the woodshed. This leaves us with a cohort of stocks that are either dramatically overvalued (like many of the "mo-mo" names trading alongside a number of solid growth companies with reasonable valuations. So this begs the question - Will large-cap equities continue to lead the way or will they follow the small-cap equities into a full blown bear market?
I think it's pretty clear that the upcoming parade of earnings will provide some of the answers. But it is also important to follow market sentiment. Thus far, the correction has been relatively calm and orderly, with equity volatility holding in the mid 20s. And trading volumes, meanwhile, have remained in check. Number 2 - The economy at large continues to grow but at a relatively disappointing level. And by all accounts, the so-called 2% economy seems likely to continue in the months ahead. With that being said, I have never been one to accept conventional wisdom at face value. After all, conventional wisdom is there to be challenged. That has long been my view when it comes to evaluating Fed monetary policy (I'll have more to say on that later). It has also been my practice to look at Nominal GDP data on a year/year basis. After all, that's how companies measure their results. So why should we, as market practitioners, look at the economy on an inflation-adjusted, quarter to quarter basis? Over the long term it may all work out in the end, however in the short run, quarter /quarter analysis of GDP data can often be extremely misleading. To emphasize this point we note that the conventional view holds that Real GDP only grew at a 2.0% annualized rate in Q3 of 2015. However, nominal GDP posted a 3.07% growth rate on a year to year basis. That's quite a difference by my way of thinking. And quite frankly, when investors focus on a 2.0% as opposed to a 3% economy you can see where the confusion might cause some investors to draw the wrong conclusions about the health of our economy.
And while we're at it, just how large is this economy of ours? If we look at this in the same way that most economists do, Real GDP stood at just $16.4 trillion at the end of Q3. Nominal GDP, meanwhile, stood at $18.06 trillion. That, too, represents quite a difference in thinking. As long as we remember that inflation-adjusted data is only meant to illustrate the effects on consumers' purchasing power, and not a reflection of actual spending data we should be ok. Indeed, it's always good to remain grounded in reality.
In keeping with my preference for the unvarnished data, I also like to understand what the Core GDP data is telling us. More specifically, core GDP can be thought of as the summation of Personal Consumption Expenditures (PCE), Private Residential Fixed Investment (PRFI) and Private Non-Residential Fixed Investment (PNFI). As of Q3 2015, Core GDP stood at $15.4 trillion, which happens to account for roughly 85% of total GDP. What's more, Core GDP actually registered a 3.54% growth rate versus one year ago.
Figure 4 - Year/Year Growth in Final Sales to Private Domestic Purchasers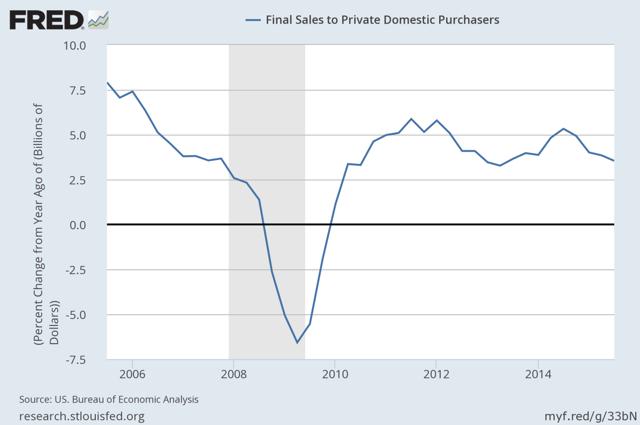 Click to enlarge
So why should anyone care that 85% of GDP is humming along. The remaining 15% comes from Government Consumption Expenditures (NYSEARCA:GCE) along with the adjustments made for inventories and imports. Depending on how you look at it, GCE is growing, albeit modestly. Imports have outweighed exports for more than 40 years, so not much has changed there. The thing that stands out right now comes from the inventory data. As we all know, this data fluctuates wildly from one quarter to another. So if Q4 2015 GDP data provides a downside surprise, we should at least keep an open mind about what the Core GDP numbers suggest.
Number 3 - The Federal Reserve represents my biggest fear heading in to the New Year. For whatever reason the Fed seems committed to tightening monetary policy this year in spite of the many reasons not to. This whole quixotic notion that the Fed wants to get ahead of the inflation curve with 4 potential rate hikes this year seems a bit farfetched in my view. In fact, this sort of aggressive policy stance could very well do more harm than good. Besides the fact that global markets aren't ready for this, global deflationary forces are wreaking havoc with our Nation's energy security. If the Saudis continue with their plan to recapture market share from the U.S., it's quite likely that crude oil prices have yet to establish any sort of bottom. As such, inflation and, more importantly, inflation expectations are likely to disappoint the Fed along with their justification for increasing short term interest rates. If the Fed continues to ignore the "Inconvenient Truth", it's also quite likely the Fed could produce a flat yield curve in the next 12 to 18 months.
As we show in Figure 5, the yield curve has already compressed by some 40 basis points following the Fed's December 16th rate increase. As of January 13th, the spreads between 10s and Fed Funds currently stands at just 168 basis points. When you consider that 10 year Treasury rates are only 2.04%, the Fed could be playing with fire here. And I'm willing to bet that the market sell-off is due, in part, to the Fed's "momentary" lapse in judgment.
Figure 5 - Spreads between 10yr Treasury rates and the Fed Funds rate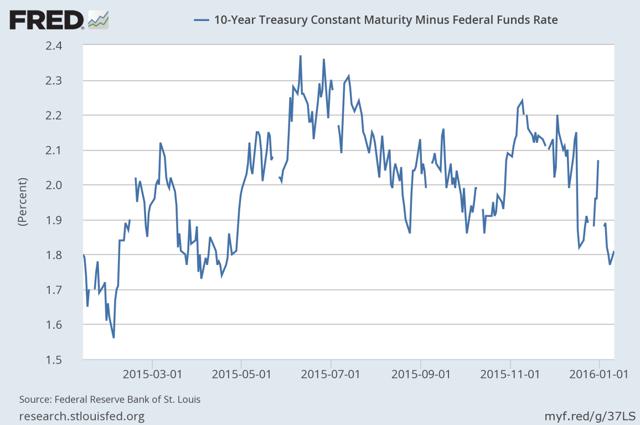 Click to enlarge
Finally, in spite of all the current fears surrounding the markets today, the likelihood of a recession emerging this year still seem pretty remote. Nevertheless, we are beginning to see a number of potentially serious issues emerge within our cohort of Leading Indicators.
ISM Manufacturing New Orders have registered two consecutive months of sub-50 readings. While the December data improved to 49.2 in December, other data from the ISM is less encouraging. . While the manufacturing sector represents less than 15% of our economy, it is still a concern. Although much of the manufacturing sector has been in a steady decline for the past few decades, the strong U.S. dollar has put even more pressure on the nation's export activity.
Initial Jobless Claims are no longer declining the way they have over the past 6 years. Based on the 4-week moving average, Initial claims touched bottom at 259,250 this past October but have since risen to a level of 278,756. It's hard to say if this is a real trend but it does concern me.
Ted Spreads have widened much farther than I expected following the Fed's initial rate hike. While it's not surprising that 3-month Treasury rates increased by roughly 25 basis points, 3 month LIBOR rates have risen by more than 35 basis points. This leaves the TED spreads at a level of 42 basis points which is quite a bit higher than they were at the beginning of the 2004/2005 rate hike cycle.
The S&P 500 has fallen below its 200 day moving average for the second time in the past 5 months. What's different this time is that more of our Leading Indicators are showings signs of stress than they were last August.
As of December 16, 2015, the Federal Reserve has begun to tighten monetary policy. While I have already made my opinions known, this decision is a real game changer, Given the Fed's ambitious plans for 2016 and beyond, this becomes just one more risk factor that investors need to consider, as if there weren't enough already.
With only two of my Leading Indicators showing some decent strength - namely Building Permits and the St. Louis Fed's Financial Stress Index - we might be seeing the first glimpse of a genuine economic slowdown. However, my cohort of Late-cycle Indicators continues to suggest that the recovery still has legs.
The average duration of unemployment remains historically elevated. In fact, the latest monthly data stood at 27.6 weeks. While that number has come down gradually from the 2009 peak of 40 weeks, the duration is still twice what it should be at this point of the cycle.
Commercial loan growth continues to improve, having registered a 6.3% increase over its Q3 2014 performance. This is solid growth, to be sure. But history tells us that growth rates approaching 8% represent a clear sign of the cyclical peak.
Household debt service payments as a percent of disposable personal income remains extremely low by historical standards. In fact, the ratio stood at just 10.02% as of Q3 2015.
By the same token, household leverage also remains well below historical norms. As of Q3 2015, total leverage stood at just 14.4%.
The only Late-cycle Indicator that poses a problem, in my opinion, comes from the chronic imbalance between Business Inventories and Sales. This ratio has been elevated for most of 2015 and will likely remain so when the December 2015 results are published in the next few weeks.
The Bottom Line
The equity markets are a mess with most signs pointing to a down year. Given the declines we have seen this year in market breadth it's no small wonder that equities are re-testing their August 24th lows that we saw last year. Whether or not we get a near term capitulation remains a matter of debate, but the debate should focus more on the "when" and not the "if".
The good news is that the economy continues to trot along. As we start getting in to the earnings parade next week, it should remind everyone that the economy is not headed for a recession right now. But if the near term volatility is tough to watch, an old friend of mine recently reminded me that sometimes we ought to just shut down your terminal and go catch a movie. I hear there are still a few good flicks out there.
Disclosure: I/we have no positions in any stocks mentioned, and no plans to initiate any positions within the next 72 hours.
I wrote this article myself, and it expresses my own opinions. I am not receiving compensation for it (other than from Seeking Alpha). I have no business relationship with any company whose stock is mentioned in this article.