At the beginning of this journey to identify the top large cap CCC stocks at the beginning of 2016, I start with David Fish's Dividend Champions, Contenders and Challengers ("CCC" here) for January 2016, using the "All CCC" tab of some 750 companies which have increased their dividends for at least each of the last 5 years. I then eliminate the REITs and MLPs to narrow the list to 662 companies and calculate a Dugan Score for each.
As some readers may now know, I created a scoring system in mid-2015 to rank and identify those CCC stocks which I believe have:
Strong current conditions, as exemplified by: great value as measured by relative Graham number, low payout ratio, low debt/equity ratio and high Most Recent dividend increase %
Excellent future prospects, as exemplified by: high EPS growth forecasts for Next Year and 5 years out, and excellent overall DGR histories.
Simply put, the Dugan Scoring System is based upon a disciplined, systematic approach that evaluates each CCC stock on the basis of a wide variety of investment criteria from four broad categories: Risk, Value, Past Performance and Future Performance Expectations. The system is explained here.
After scoring each stock, I rank them by their Dugan Scores and toss out the bottom scoring half. This leaves 331 companies, which are each all-around strong companies, for filtering by specific criteria which I believe reflect many SA readers' needs. I have done this exercise in the past and received suggestions that my filtering criteria weren't conservative enough for this volatile stock and market environment. While I had previously used minimums of $3B market cap and 7 years on the CCC list, some folks thought $3B is a small cap, in which they have little appetite, and using 14 years instead of 7 as a minimum on the CCC list would reach back to cover the last 2 recessions, not just the great recession of 2008 and 2009 by using 7 years.
So, in this exercise, the filters for the top half (331 companies) were:
Yield greater than 2.29%..

. because

DGI'rs like yield
# years on CCC >14… to cover the last 2 recessions, not just 1
Market cap >$10B… to insure only large caps
Relative Graham number <66… to insure very good valuation.
The goal of these exercises is always to end up with a ranked and filtered list of companies that are proven to be high quality and worthy of further due diligence by myself and SA readers. Not every company on the list will meet everyone's idea of what constitutes an excellent company; and every company on the list has some weaknesses, since no stock is perfect. The Dugan Scoring System takes into account the strengths and weaknesses of CCC stocks and the higher-rated companies are excellent companies, but still may have a wart here or there. The lowest score in January's posting was less than zero. The median score of the 662 non-REIT and non-MLP companies was 72. To make the top 10% required a score in the 90's. The top score was 128, out of a total of 150 points possible.
Here are the top 10 CCC companies, taken from the highest scoring 50% of the 662 CCC companies and after filtering per the above criteria: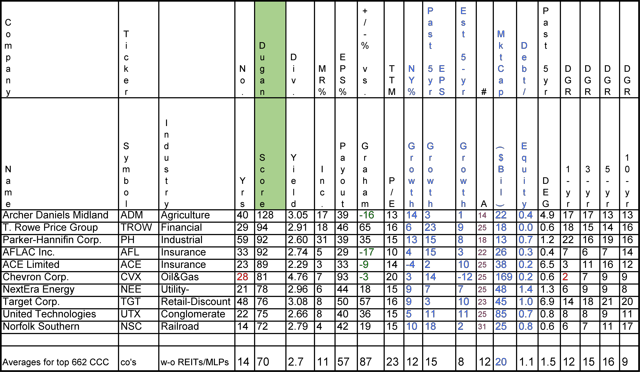 The above are impressive, all-around, solid companies. All sport Dugan Scores in the upper half, with four companies in the best scoring 10%. The DGR histories range from good to great, except the 1-yr's for ACE and CVX. Yields are fine and most recent dividend increases range from acceptable to truly outstanding (ADM, TROW, PH), except maybe ACE. EPS payouts are all great, except CVX for obvious reasons. Relative Graham numbers are all superb. Compare each Graham above to the 662 companies' average of 87.
To me, TROW stands out as its numbers across the board are all very good. TROW grew its per-share-price from roughly $10 in 1997 to over $85 at the very beginning of 2015, with the normal recession-induced dip in 2008 and 2009. During that time it enjoyed earnings growth over 14% per year. 2015 was a bad year as TROW's price dropped $20/share from that $85 high while dragging its then P/E down from 19 to 14 today, a 20% drop, while earnings remained flat. The double-digit number of analysts following TROW are forecasting a return to earnings growth in 2016 and again in 2017. The FASTGraphs picture below illustrates how that could result in an annual 28.7% capital growth along with a nice 3.2% dividend if it drives a return to a 19+ P/E. See dotted line and inset table.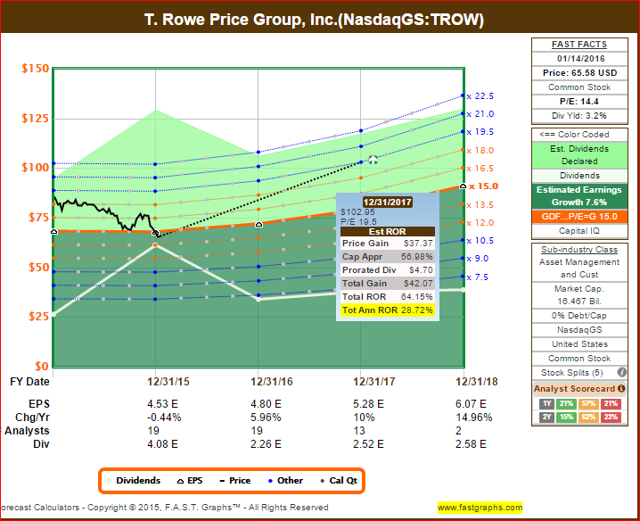 That rosy picture justifies further due diligence; and ignores the possibility of a market correction and rests on the premise of the analysts being correct over the next 2 years.
I hope you enjoyed this journey. Comments are encouraged. Happy investing.
Disclaimer: The opinions in this document are for informational and educational purposes only and should not be construed as a recommendation to buy or sell the stocks mentioned or to solicit transactions or clients. Past performance of the companies discussed may not continue and the companies may not achieve the earnings growth as predicted. The information in this document is believed to be accurate, but under no circumstances should a person act upon the information contained within. We do not recommend that anyone act upon any investment information without first consulting an investment advisor as to the suitability of such investments for his specific situation. (Stolen from Chuck Carnevale.)
Disclosure: I am/we are long ADM, TGT.
I wrote this article myself, and it expresses my own opinions. I am not receiving compensation for it (other than from Seeking Alpha). I have no business relationship with any company whose stock is mentioned in this article.