U.S. stock markets and U.S. stocks have been doing terribly this year, but one company has so far bucked the trend: Realty Income (NYSE:O). Real estate investment trust Realty Income has had great success over the years carving out a niche for itself by delivering consistent dividend growth. As a result, Realty Income has attracted a loyal following of the income investor crowd and a valuation that matches this loyalty: Realty Income sells for ~18.2x 2016e AFFO. That's not cheap, but quality does have its price, right?
Realty Income's stock has held up very well during the first two damaging trading weeks of the year. While investors fled high-yield income vehicles and sent stocks into a tailspin, Realty Income is actually up 1%. That's right. Realty Income has been an anchor of stability for income investors this year, and the real estate investment trust also had a special present in store for its very loyal shareholders.
On Thursday, Realty Income announced that it would increase its monthly dividend by ~4% to $0.1985 per share. The new dividend will be paid the first time on February 16, 2015 to shareholders of record as of February 1, 2016. According to Realty Income's press statement, this is the 84th dividend raise since the real estate investment trust became a publicly traded company back in 1994.
The dividend raise comes after Realty Income hiked its dividend from $0.1905 per share to $0.1910 per share in January. On an annualized basis, shareholders have $2.382 per share coming their way in dividends, which equates to a 4.56% dividend yield. I am very satisfied with this year's dividend raise.
With the latest dividend increase Realty Income extends its one-of-a-kind dividend growth record that makes the real estate investment trust stand out of the crowd.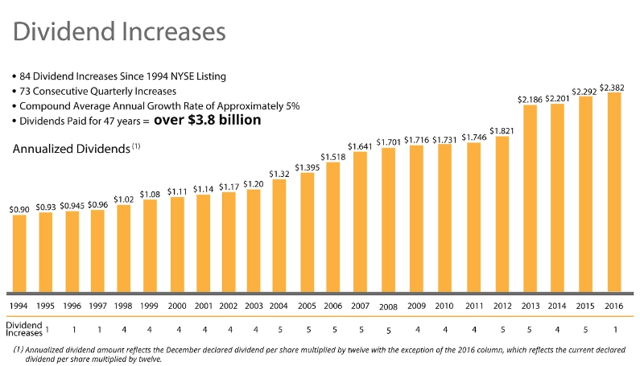 Click to enlarge
Source: Realty Income
Expect resilience in a weak market
Realty Income has held up well in the first two weeks of 2016 largely because investors could be relatively certain that the REIT would follow its past practice of increasing its dividend at the beginning of the calendar year. A year ago, investors got a ~3% dividend raise.
U.S. stock market indices have officially entered bear market territory last week, so investors can be expected to remain on edge and sell shares quickly if any weak macro data is released. That said, though, Realty Income has been proven as an anchor of stability in an environment of volatility, and 2016 has not been any different so far.
Safe harbors will always attract capital
Just last month I penned an article on Realty Income entitled "Buy Realty Income To Protect Yourself Against The Fallout From The High-Yield Rout" because the REIT was in a good position to withstand any market turbulence. I went so far and contended that Realty Income could "outperform other high-yield income investments in 2016". Little did I know back then that barely a month later Realty Income would already be standing on top.
After the latest dividend raise and strong year-to-date performance, Realty Income remains a top income vehicle with little headache potential for 2016.
Your Takeaway
Making money can be so easy... Realty Income just handed us shareholders a ~4% raise. Importantly, Realty Income's stock has been resilient in a terrifying market. Year-to-date, O is up 1% despite tailspinning markets filling investors' hearts with desperation. Because of its consistent dividend growth and good reputation, Realty Income is a top-rated income vehicle that keeps delivering excellent results.
Disclosure: I am/we are long O.
I wrote this article myself, and it expresses my own opinions. I am not receiving compensation for it (other than from Seeking Alpha). I have no business relationship with any company whose stock is mentioned in this article.