In a recent Forbes article I explained that I considered NorthStar Realty Finance (NYSE:NRF) to be a "value trap" based on the argument that the company had no catalyst for change.
Conversely, in a recent Seeking Alpha article I pointed out other "value trap" REITs that I considered to be trading at low multiples seemingly doomed for their inability to remain competitive." As I pointed out, Global Net Lease (NYSE:GNL), VEREIT (NYSE:VER), Spirit Realty (NYSE:SRC), One Liberty Properties (NYSE:OLP), and Gladstone Commercial (NASDAQ:GOOD), look "good on paper… but upon further examination they are cheap for a reason."
As Investopedia defines a "value trap" the "trap springs when investors buy into the company at low prices and stock never improves. Trading that occurs at low multiples of earnings (or FFO), cash flow, or book value for long periods of time might indicate that the company is in trouble and that stock prices may not move higher."
Last week I ran across an article on Seeking Alpha, VEREIT: My Valuation and Letters to the CEO. The author put together details related to his Fair Value assessment of VER and he concluded that the "fair value of VER's shares ARE between $9.52 and $10.73."
His argument that shares in VER are trading at a "25% and 40% discount to the current share price of $7.65" was obviously the motivation for his two letters to VER's CEO. In one of his letters to Glen Rufrano (VER's CEO), the author said:
I am writing again because I am upset, as I'm sure you are too, that the stock price of VER has not come to reflect the company's true intrinsic value.
He added:
This is not only frustrating, but is also a significant competitive disadvantage that must be immediately corrected.
Clearly the author has spent considerable time researching VER and in his two letters to Rufrano (June 15, 2015 and December 30, 2015), he suggested several ways to restore investor confidence and ultimately restore VER's share price.
Obviously, based on my argument that VER is a "value trap," I don't agree with all of the author's suggestions but I think where we find common ground is the fact "O and NNN are definitely good for their dividends".
Clearly comparing VER to stalwart REITs like Realty Income and National Retail Properties provides useful meaning in determining whether or not VER will ever return to glory. In fact, I believe that by comparing the names, it's possible to determine when and how VER will move away from its "value trap" status and into a more favorable "true value" play.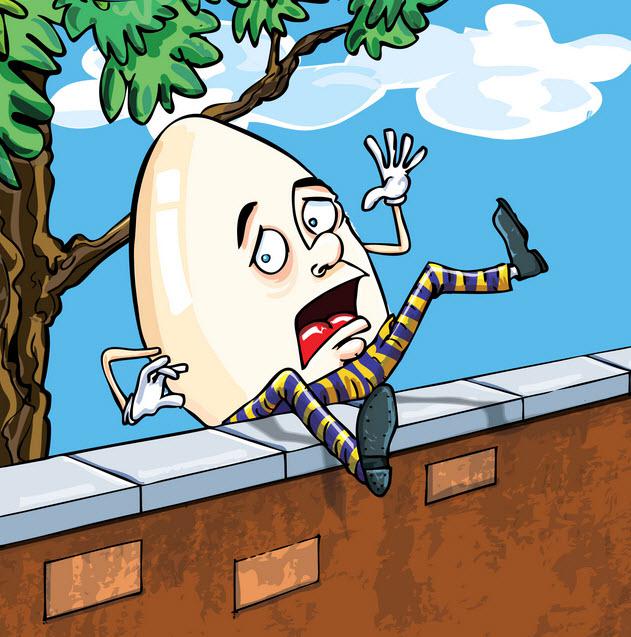 Humpty Dumpty Had A Great Fall
I began covering VER back in September 2011 when the company commenced its IPO (see my first article HERE). In record time, the previous management team (led by Nicholas Schorsch) forged a strategy to become the "World's Largest Net Lease REIT."

Click to enlarge
As you consider VER's current portfolio, it's important to consider the "smoke and mirrors" that went into the REIT's investment platform. VER commenced with a portfolio of banks, mostly short-term leases, that were previously owned by Schorsch and his partners. Fueled by massive demand of non-traded REIT products, Schorsch developed a business model that allowed his non-traded REITs to monetize by selling into his public vehicles (like VER).
Many of VER's properties were acquired by his non-traded REITs (including Cole) and of course, there was little risk management related to acquisitions since VER was focused on growing assets, as opposed to risk control. The huge popularity in Schorsch's non-traded REIT products was sparked by the broker-dealers who were paid handsomely for putting their clients in such products. Few cried foul that Schorsch was charging 15% on equity raised and ultimately that became the vehicle for Schorsch's virtuous cycle of liquidity.
In a sense, some believed that Schorsch's liquidity expertise was superior to Mr. Market's proficiency. But just as The Wizard of Oz's magic came to an end, so did Schorsch's. As you can see below, VER has returned -23.7% since its IPO.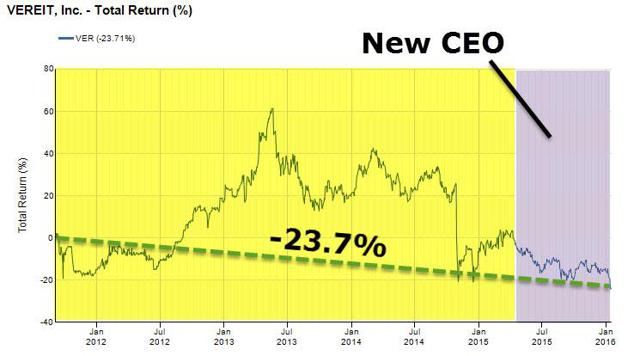 Click to enlarge
In the recent article I reference, the author is seemingly frustrated with VER's CEO since he replaced David Kay on April 1, 2015. Here's how VER performed since the accounting issues were discovered through April 1, 2015.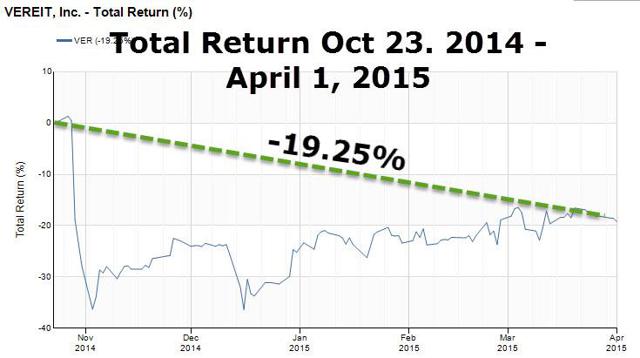 Click to enlarge
Here's how VER has performed since April 1st, when Rufrano became CEO: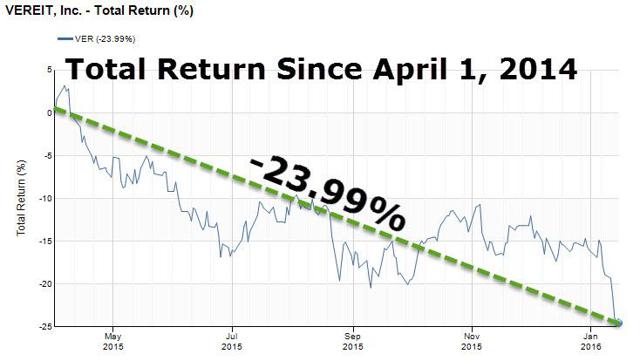 Click to enlarge
Rufrano has been CEO for just over nine months out of around 54 total months (as VER has been a public company) -- essentially he has been CEO for around 17% of VER's time as a public company. That means that for around 83% of VER's time as a public company, Rufrano has had no control. More importantly, the previous management team (led by Schorsch) was responsible for putting VER into its disastrous state that eventually led to a suspension of its dividend payout.
Simply put, it took Humpty Dumpty (NYSE:VER) 54 months to sit on a wall, and one distrusting CEO to have a great fall. It will take more than the King's horses and all the men (i.e., Rufrano) to put this REIT back together again.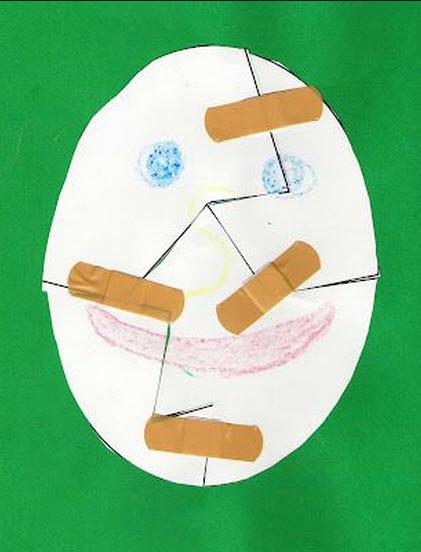 It's No Simple Story
Keep in mind, VER is no simple story. The company owns a diverse platform of properties that include retail, office, industrial, and multi-tenant retail.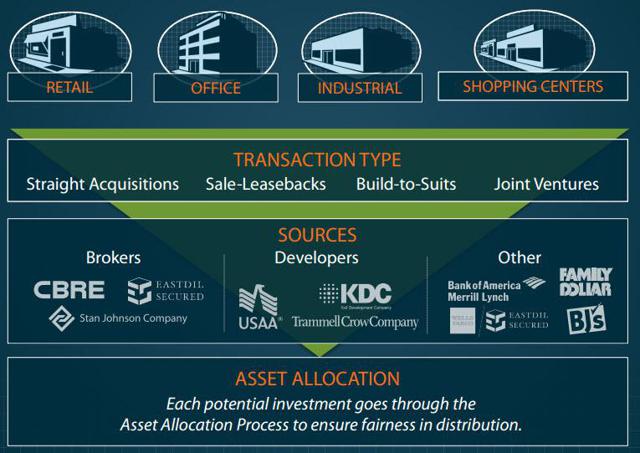 Click to enlarge
Under Rufrano's leadership, VER has commenced a "culling process" to dispose of certain "non-core" properties including flat leases, JVs, and restaurant properties.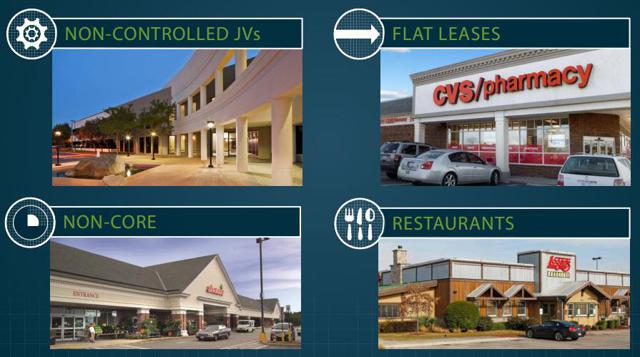 Click to enlarge
To date VER has sold around $415 million of Red Lobster properties to its tenant, Golden Gate. The cap rates for the Red Lobster deals was around 7.78% (cash cap rate) and that validates that the Red Lobster deal was perhaps one of the worst deals ever done by Schorsch while CEO at VER. Golden Gate has all of the negotiating power since Schorsch orchestrated the leases as master leases. Clearly there is no value and the sole purpose for the sale-leaseback deal was to become "the World's largest net lease REIT."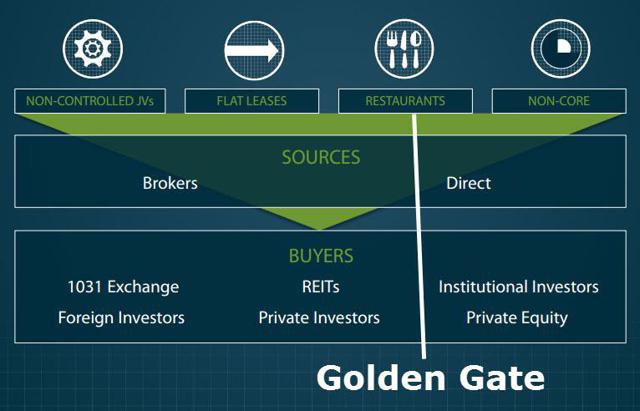 Click to enlarge
Many other acquisitions under Schorsch's leadership were dilutive; take for example this deal with Apollo.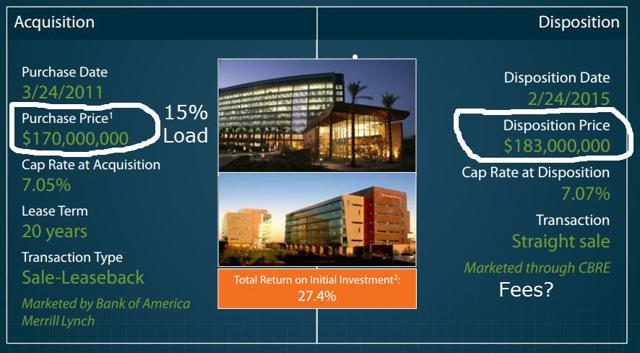 Click to enlarge
One of Schorsch's financial engineering (smoke & mirrors) disguises was to invest in flat-leased drugstore properties. By acquiring traunches of Walgreen and CVS properties, Schorsch would demonstrate its high-quality investment grade acumen, but the company was less prepared for rising rates. As you can see below, around 32% of VER's leases are flat and around 5.3% of income is generated from drugstore properties.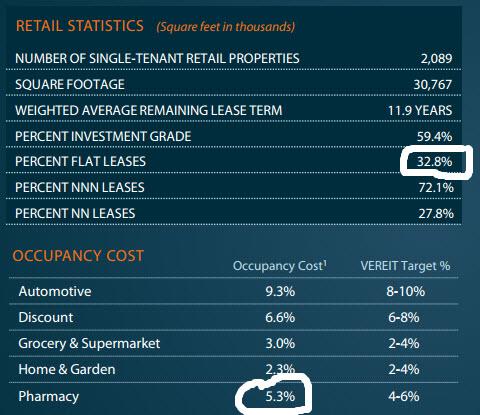 To fool investors, VER's previous management team invested in higher yielding restaurant properties with very little credit. By combining the low yielding drugstores and the higher yielding restaurants, VER's income stream would look appealing. Many of the fast food properties were acquired from GE Capital and VER overpaid substantially.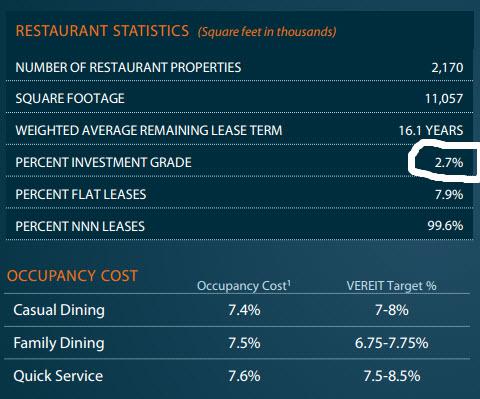 VER's office portfolio consists of many high-quality buildings; however, the average age of the portfolio is 7.4 years. This is not VER's wheelhouse and I consider this a problematic sector and one in which VER should divest.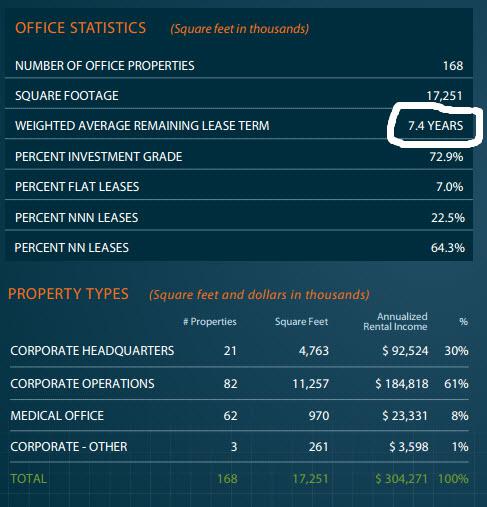 The Industrial portfolio is attractive, but again, VER has around 27.3% of its Industrial assets as flat leases.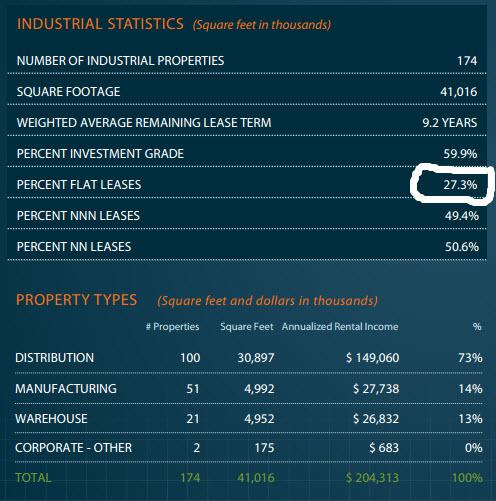 Rufrano is hoping to de-risk the portfolio (again, he has only had 9 months) as evidenced by the key metrics below: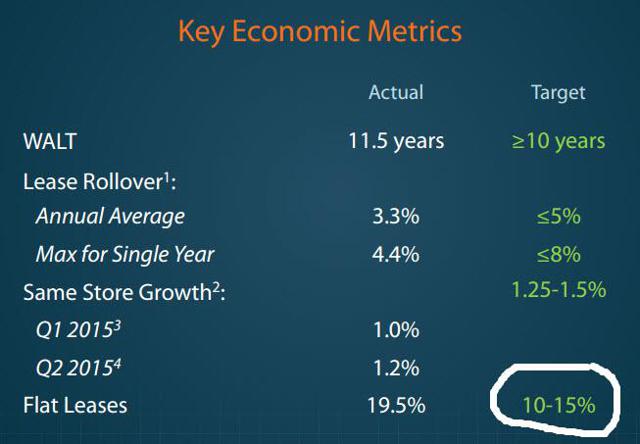 Click to enlarge
Finally, Rufrano provides the road map below regarding diversification. It took Humpty Dumpty 54 months to build this REIT (since Rufrano was hired) and it will take more than 9 months to put it back together again.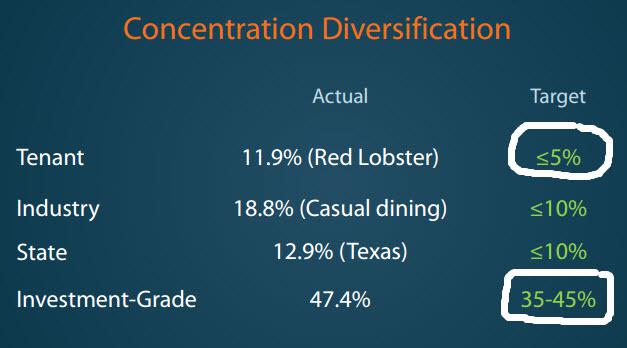 Ole King Cole?
Around a year ago I put together a detailed estimate of VER's Net Asset Value (or NAV) HERE. I arrived at an estimated NAV of $8.48 per share.

Click to enlarge
In the article, I put ZERO value in Cole Capital, VER's non-traded REIT sponsor. Cole has the following companies under its umbrella: CCPT IV (828 properties), CCPT V (109 properties), CCIT II (23 properties), and Cole Income NAV (72 properties). The following chart illustrates Cole's equity raising activities: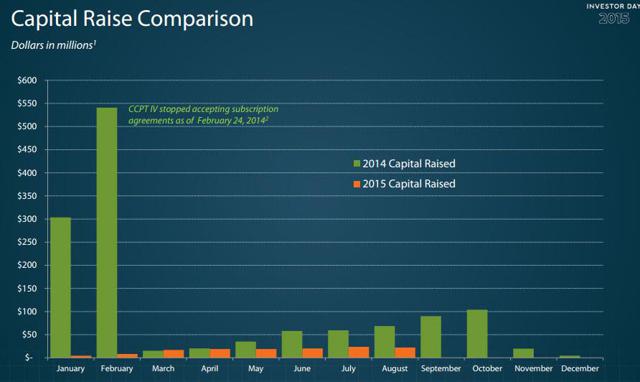 Click to enlarge
As I see it, Cole is a big mess that will have to be untangled, more of a distraction for Rufrano than an asset on the balance sheet.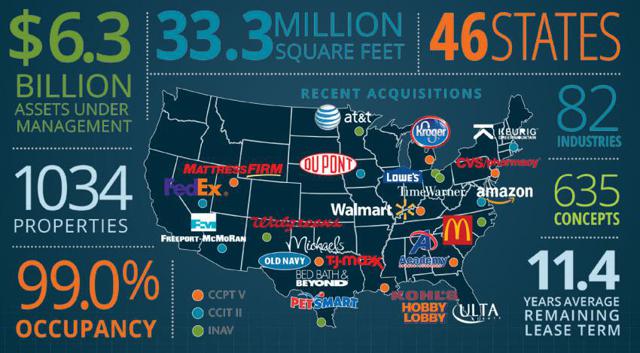 Click to enlarge
Most importantly, remember that Schorsch overpaid for Cole ($11.2 billion) so that he could create the "World's largest Net Lease REIT."
Why Is VEREIT Boxed-In?
VER has said that it hopes to reduce net-debt to EBITDA to a range of 6.0x to 7.0x (excludes preferred). At quarter-end, $1.1 billion remained outstanding on its line of credit and recent asset sale proceeds have reduced that balance. As of Q3-15 net-debt to EBITDA was 7.3x and net-debt-preferred to EBITDA was 8.15x (should be closer to 8x after asset sales).
Keep in mind, O's net-debt+preferred to EBITDA is 5.6x and NNN's is 5.9x. Here's how VER's Total Debt (to Total Cap) compares with the peers:

Click to enlarge
VER's cost of capital remains the biggest risk overall and in my opinion the CEO is doing a good job of reducing tenant exposure while also reducing leverage. VER's leverage remains the second highest in the peer group and well-above the stalwart REITs.
As VER continues to sell assets it will also reduce its earnings (per share). The dividend is currently $.55 per share ($.1375 per quarter) and I consider this adequate given continued asset sales in 2016.Here's a snapshot of VER's AFFO per share (including 2016 forecast):

Click to enlarge
The corresponding payout ratio of 72% for 2016 appears reasonable. I would not recommend a dividend cut whatsoever. In my opinion, VER's Board tagged the dividend payout accurately considering the eroding earnings forecast and uncertainty relating to Cole and the non-traded REIT business model.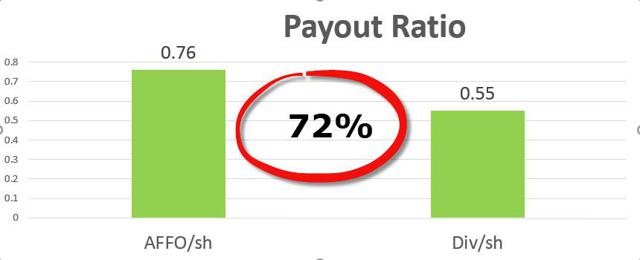 Click to enlarge
In closing: I consider VER a "value trap," at least for now. I believe that the CEO is executing the business plan and it will take time for the company to improve its cost of capital.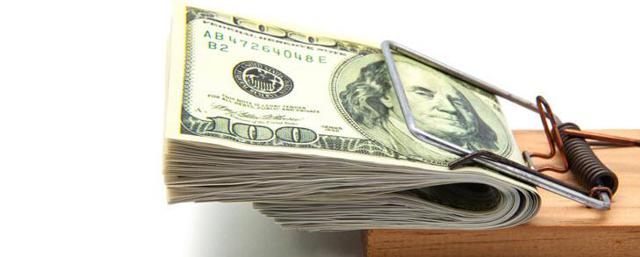 Click to enlarge
I do not believe a dividend cut would benefit shareholders and in fact, it would damage the company substantially if it were cut again. I believe Rufrano is attempting to forge a new path in which VER will become a "trusted brand" and that means it will take time and patience for the seeds that were planted to come to harvest.
For me, I want clarity. There are too many other distractions (i.e., Cole, Office exposure, etc.) and I believe 2016 will be the "transition" year in which VER will gain its footing and prove itself to the rating agencies. Until then, I'm maintaining a HOLD as I watch this one from the sidelines.
Author's Note: I'm a Wall Street writer, and that means that I am not always right with my predictions or recommendations. That also applies to my grammar. Please excuse any typos, and I assure you that I will do my best to correct any errors if they are overlooked.
Finally, this article is free, and my sole purpose for writing it is to assist with my research (I am the editor of a newsletter, Forbes Real Estate Investor), while also providing a forum for second-level thinking. If you have not followed me, please take 5 seconds and click my name above (top of the page).
The only guarantee that I will give you is that I will uncover each and every rock I can in an effort to find satisfactory investments that "upon thorough analysis promises safety of principal and satisfactory return. Operations not meeting these requirements are speculative." (Ben Graham)
Sources: SNL Financial and VER Investor Presentation.
REITs mentioned: (NYSE:EPR), (NYSE:NNN), (NYSE:O), (NYSE:ADC), (NYSE:GPT), (NYSE:WPC), (NYSE:STOR), , (NYSE:LXP), (NYSE:MNR), (NYSE:DEA), and (NYSE:FCPT).
Disclaimer: This article is intended to provide information to interested parties. As I have no knowledge of individual investor circumstances, goals, and/or portfolio concentration or diversification, readers are expected to complete their own due diligence before purchasing any stocks mentioned or recommended.
Disclosure: I am/we are long O, DLR, VTR, HTA , STAG, GPT, ROIC, HCN, OHI, LXP, KIM, WPC, DOC, EXR, MYCC, BX, TCO, SKT, UBA, STWD, CONE, BRX, CLDT, HST, APTS, FPI, CORR, NHI, CCP, WSR, CTRE, WPG, KRG, SNR, LADR.
I wrote this article myself, and it expresses my own opinions. I am not receiving compensation for it (other than from Seeking Alpha). I have no business relationship with any company whose stock is mentioned in this article.