Fear dominated across all assets this week. Oil prices dropped another 11% this week. MLPs sold off en masse as well, finishing down 9.9% this week and 16.8% in 10 days in 2016. MLPs did have a strong rally Thursday of 5.8% (9th best day ever) that appeared to be driven by short covering on a strong oil price day.
But oil prices resumed their decline Friday and the broad stock market was under pressure, leading to another 4.6% decline for MLPs. More than once this week, MLPs rallied in the opening few minutes of trading before getting sold hard. Margin calls, fund deleveraging and uncertainty around the ETE/WMB merger seem to be impacting daily trading action across the sector.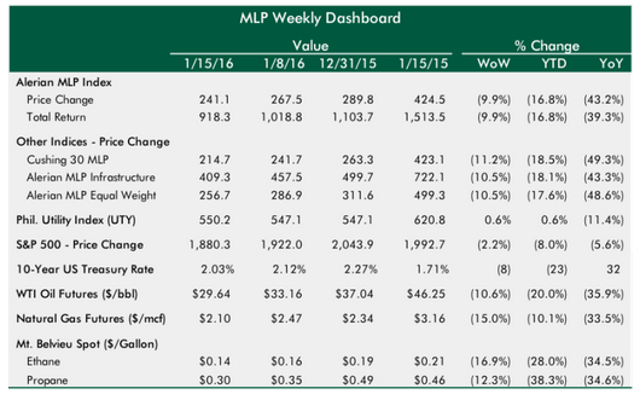 MLPs had four negative days out of five and registered three 4%+ decline days this week. Those three terrible days each was bad enough to be among the 31 worst days ever for the MLP Index. Actually, in just two weeks this year, already 5 days have placed among the 31 worst days ever. In 10 trading days in 2016, and 5 of them have been have been among the worst 0.6% days of all time (31 out of 5046 days). Volatility of this magnitude and frequency is unprecedented and wasn't even seen during 2015. The acceleration of volatility doesn't help entice fresh capital to the sector.
It doesn't seem like it can get much worse for the MLP sector at this point, and after such a brutal start to the year, some upside volatility is warranted. Earnings season starts next week, and those should provide an opportunity for some MLPs to showcase more stability in results than their stock prices would indicate. However, expect earnings to be choppy overall, leading to more differentiation between have and have not MLPs.
Back in Time
Peak to trough, MLPs are down more than 51.5% in 16.5 months, including distributions over that period. Below is a chart of the total return version of the MLP Index that shows if you bought the MLPs in the index in September 2010, you'd have nothing to show for the 5+ years of owning them.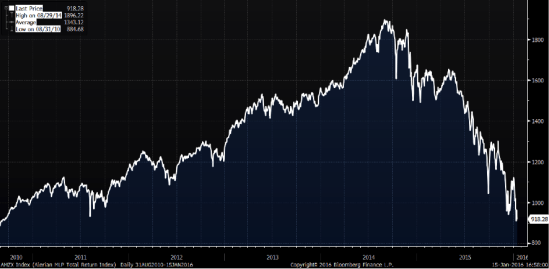 Owning the MLPs in the index over that time period would be difficult, however, given that only 25 of the names in the index back then are still in the index today. Below is the list of MLPs that were at least 2% of the index back then and the returns they've produced since then. Key takeaway: owning the largest midstream MLPs that have survived would have helped you outperform on average.
Total return since 9/15/2010:
Winners & Losers
Only 3 MLPs were positive this week. The perception that OKS has solved its financing issues, coverage issues and leverage issues somehow allowed it to avoid the value destruction across the sector this week. RRMS's announcement of flat distributions and no drop downs (and no capital markets needs) helped it trade a bit higher this week. TLP's new GP is seen as more supportive than NGL has been, driving its price up for the second straight week. AM announced a distribution increase this week, and it finished almost flat. On the downside, there was no news among the losers, but they all tend to have high beta to negative MLP sentiment.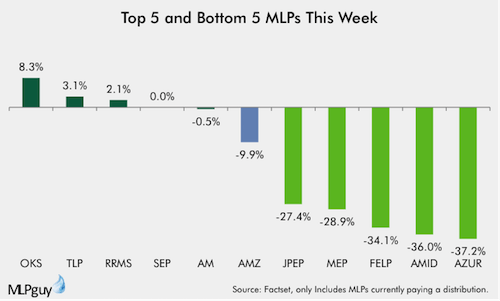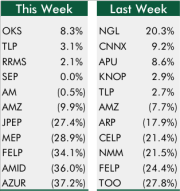 Year to date, only two MLPs are positive, led by TLP. On the downside, 3 of the 5 have already cut distributions and the fundamentals leading to the cuts have not improved.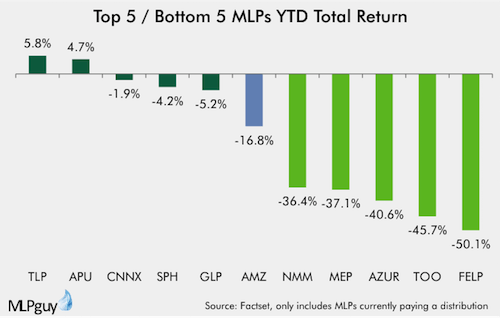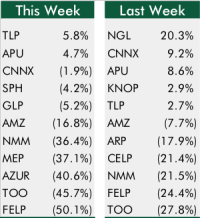 General Partner Holdings Companies
All GPs were down this week and the median decline was 10.5%, underperforming MLPs. SE again led all GPs. WMB received all the attention, but it did better than 3 GPs this week.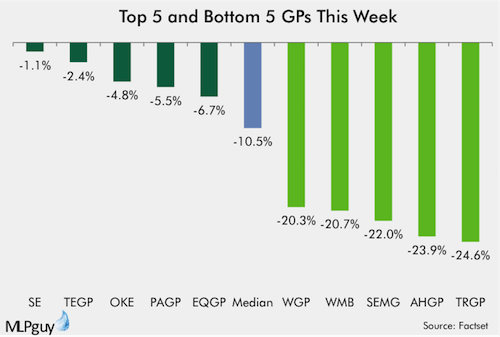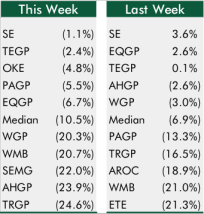 News of the (MLP) World
No new growth projects announced and no M&A, which I guess is a positive thing at this point for MLPs. The market wants to hear about deferral of capex, not fresh projects that need to be financed.

Equity
Plains All American (NYSE:PAA) announced $1.5bn private placement of 8% perpetual preferred units (press release)

After two years, the units are convertible into PAA units on a one-for-one basis
The purchasers included a group of energy private equity firms
In connection with the transaction, PAA's general partner agreed to modify its incentive distribution rights (IDRs) such that PAA will only pay IDR cash for these units for distribution growth above PAA's current distribution, saving $90mm per year
The transaction satisfies all of PAA's equity needs for 2016 and most of 2017, and should provide comfort that PAA can sustain its current distribution in 2016
Distributions
Antero Midstream (NYSE:AM) +7.3% quarter over quarter, +29% year over year
Ciner Resources (NYSE:CINR): +1.2%
Flat distributions: PAA, PAGP, RRMS, KNOP, WPT
Other
Cheniere Energy Partners (NYSEMKT:CQP) announced a delay in first LNG shipment (press release)

LNG exports are happening in 2016, and given the magnitude of the project, its surprising there haven't been more delays and cost overruns to this point, unlike other LNG projects globally

Williams Companies (NYSE:WMB) announced, in response to market speculation, that its board of directors is unanimously committed to completing its transaction with Energy Transfer Equity (NYSE:ETE) as agreed to in September 2015 (press release)

The transaction was structured to be a unit for unit swap with a $6bn cash component, and market speculation is that the $6bn in cash will hurt the combined business because of the decline in ETE's value since the transaction was originally announced.