Economists at Societe Generale recently stated that they believe the fall in oil prices will save U.S. households $700 a year. In fact, since they made this statement the oil price has dropped a further 10%, and some market commentators see it going all the way down to $25 a barrel in the near future.
What consumers will actually do with these savings is of course a matter of conjecture, but we believe home improvements stand a good chance of benefiting.
How often do we sit around and notice things at home that just aren't quite right? Maybe it's the curtains looking a little tired, or cracked tiles in the bathroom, or kitchen appliances whose best days are behind them. Whatever it is, for many of us there's something that needs upgrading or fixing, and often money can be the obstacle, so we dismiss it and try to squeeze out whatever life there still is in that microwave.
But with an extra $700+ finding its way into the pockets of households these upgrades or fixes can finally be done without it straining the finances, and who better to benefit from this than Home Depot, Inc (NYSE:HD).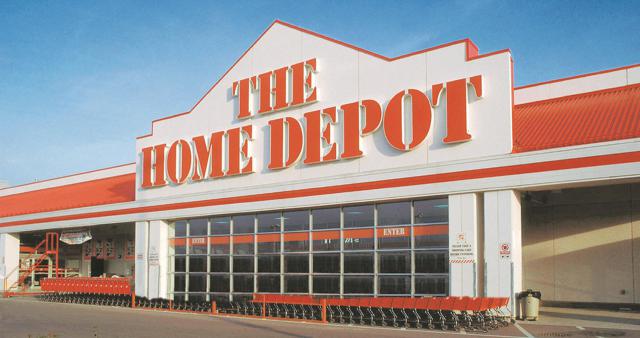 Click to enlarge
Based on sales, Home Depot is the world's largest home improvement retailer, which through its network of 2,269 stores sells a wide range of building materials, home improvement products, and garden products in the United States, Canada, and Mexico.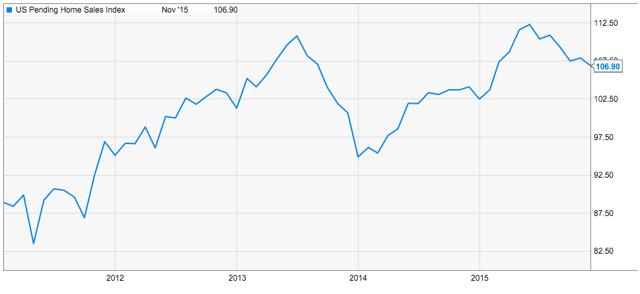 Click to enlarge
Source: Ycharts
U.S. pending home sales declined in November, as shown above, which at first glance could be interpreted as a bad sign for the company. But we are not concerned about this because we feel that the people that may have contemplated buying a new home, could instead resort to improving the one they live in now. Were it to plummet to extremely low levels then we would be concerned, but we believe small fluctuations are okay and to be expected.
The performance of the company in the first three quarters of fiscal 2015 has been fantastic. With sales up by 5.5% and gross profit up by 6% so far this year, we expect earnings to smash analyst expectations and come in at $5.36 per share. That would be a 17% increase on last year's $4.58 per share.

Click to enlarge
Source: Company Q3 10Q
An attractive aspect of the company is its consistent improvement in margins. From the gross margin down to the profit margin we are seeing expansion happening, which is great for the company and its shareholders.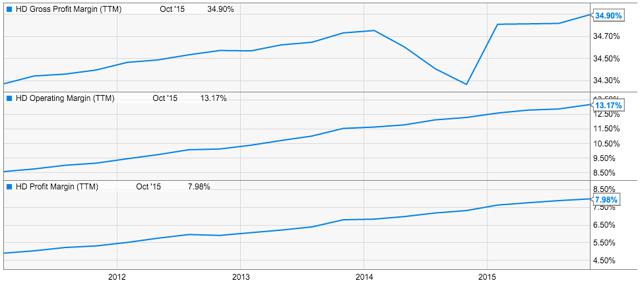 Click to enlarge
Source: Ycharts
Consumers aren't the only ones benefiting from lower fuel costs. Falling fuel costs has helped the company expand its gross margin by reducing supply chain costs, and considering how much further oil has dropped since October, we expect further expansion of its gross margin in the new fiscal year, but not the fourth quarter. In the Q3 earnings call CFO Carol Tomé revealed that a surge in low margin goods being sold would counter any savings made in the supply chain.
Finally, we're happy with the work that the company has put in on the digital side of things. We don't see Amazon (NASDAQ:AMZN) as being a threat to Home Depot. Yes, there might be overlaps in a few items, but generally, the items bought at a Home Depot store are not the type of thing you will expect to be delivered to your door. We feel the company's buy and collect from store feature will be an asset in the long run, as consumers become used to this type of service.
Since the turn of the year the stock has almost dropped 10%, and for us this makes it an attractive price now to make an investment. The truth is we don't know if it will drop further. The volatility we're seeing in the market right now could have ended, or it could carry on for some time. All we can do is look for investments that represent good value presently, knowing that although it could take time, the stock will climb above the purchase price eventually.
Historically the Home Depot stock trades at 21 times earnings on average. Looking ahead to fiscal 2016 we believe the company will achieve earnings per share of $6.20, due in part to expanding margins, share repurchases, and continued revenue growth as a result of factors previously mentioned.
Our one-year price target of $130.20 is based on fiscal 2016 earnings per share of $6.20 and a price to earnings ratio of 21, representing a return of 9.2%.
Takeaway
We believe Home Depot is a great stock that the recent market turmoil has gifted to investors at a great price. Its good levels of liquidity, strong free cash flow position ($1.1 billion), and share repurchase program should make it a key part of most portfolios.
But as we said above, we don't have a crystal ball to say what the market will do next, unfortunately. If the Chinese market continues what it is doing and oil continues its decline, then the whole market could get dragged down a step further, making for even better entry points.
But all we do know right now is that this is a great entry price already and market timing is a game of chance.
Disclosure: I/we have no positions in any stocks mentioned, but may initiate a long position in HD over the next 72 hours.
I wrote this article myself, and it expresses my own opinions. I am not receiving compensation for it (other than from Seeking Alpha). I have no business relationship with any company whose stock is mentioned in this article.