As expected, companies in the tobacco industry have been some of the least affected stocks during this recent market meltdown, and perhaps none more so than that of Reynolds American, Inc. (NYSE:RAI). So far this year the stock is up 3.23% compared to the S&P 500 which is now down by 6.76%.

Click to enlarge
Source: Yahoo Finance
Reynolds American is the tobacco giant that manufactures the Camel, Pall Mall and, after buying out Lorillard last year, Newport cigarette brands.
The tobacco industry has seen a decline in cigarette volumes by around 3% to 4% per year in the U.S. for many years. But recently there has been a surprising uptick and the industry could be set to announce increased volumes for the first time since 2006. Analysts have put this down to falling gas prices creating excess disposable income that is being spent on tobacco products. This bodes well for the company and with oil prices expected by many to drop even further from here sales could yet get an even greater oil-related boost.
What we find appealing about the company right now is the strong earnings growth ahead of it and the fact that its low beta, which is 0.48, does appear to be protecting it from the market drops.
A low beta can be a godsend in volatile markets. Stocks with low betas essentially exhibit much lower levels of volatility and just plod along. They're not completely immune of course. Panic is panic, and rationality often gets thrown out of the window at times like these, so there are still risks here to be considered.
There are a number of low beta stocks on the market so why Reynolds American? Well, as mentioned above, the company has very strong earnings growth prospects. We believe there are a few years of double-digit earnings growth ahead, which should send the stock even higher.
Another factor is the price. The price has to be right and right now while it does look a touch expensive in comparison to its main competitor, when you consider the growth ahead, we believe it is good value.
As demonstrated below the stock looks very cheap. But there was a $3.5 billion gain on divestiture in the last quarter throwing things off a touch. When earnings are announced in February we expect the full year earnings to be at the high end of guidance given by management and come it at the $2.00 per share mark. (An increase of 16.9% year over year). This would put the company at a PE ratio of approximately 23, a slight premium on competitor Altria (NYSE:MO) which is trading at 21.45 times earnings.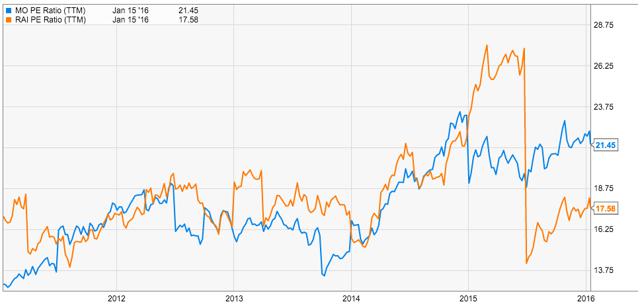 Click to enlarge
Source: Ycharts
But we believe the company's growth prospects justify paying a premium for the stock over its competitor. By doing so we believe it sets shareholders up perfectly to reap the rewards from the company's earnings growth in the next few years, as well as its dividend that is yielding 3%. We feel the company's robust balance sheet and $2.92 billion cash balance further support paying a premium for the stock.
In our eyes the company's price increases for tobacco products will have been easily absorbed by consumers due to the increase in disposable income. This and the increase in offering with the Lorillard buyout is a big win for the company and should contribute to accelerated revenue growth, not to mention the cost synergies estimated to be around $800 million.
The offering that Reynolds American has now covers the whole market extremely well. The menthol, non-menthol, premium and value assortment, along with e-cigarettes and snuff, is extensive and well positioned to capture any growth in each market.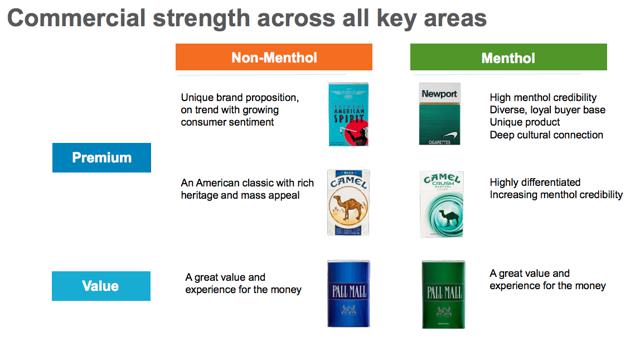 Click to enlarge
Source: Company Presentation
Such is the case we anticipate earnings to grow at an average of 12% per annum for the next five years. We see higher levels of growth for the first three years, then a little slower in the last two.
We are forecasting fiscal 2016 earnings per share of $2.28 and pricing the stock at 22 times earnings gives us our one-year price target of $50.16. This represents a return of 7.5% from the last close price.
Takeaway
Reynolds American has shown to be very resilient to the current market volatility and with such strong growth prospects ahead for the company, it makes for a fantastic and stable investment right now in what has become a very unstable market.
Disclosure: I am/we are long RAI.
I wrote this article myself, and it expresses my own opinions. I am not receiving compensation for it (other than from Seeking Alpha). I have no business relationship with any company whose stock is mentioned in this article.