Goldcorp In Africa?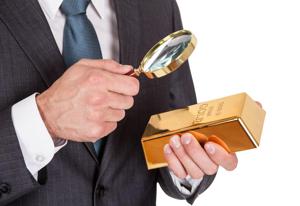 Incoming Goldcorp (NYSE:GG) CEO David Garofalo recently told Bloomberg that the company is looking to potentially expand its portfolio into Europe and Africa. Among major mining companies Goldcorp is alone in avoiding these two continents, and Africa in particular. Despite all of the stigma of investing in Africa most of the world's major gold miners operate in Africa:
Goldcorp is the only non-state-controlled company in the world that mines at least 2 million ounces of gold and doesn't operate a mine in Africa. This is despite the continent's substantial resources and the fact that it has been explored very little relative to its enormous size.
This tradition of focusing on the Americas is likely a product of Rob McEwen, who even today operates only in the Americas. McEwen's success gives his opinion on this matter substantial weight, and we suspect that Goldcorp's successor managers had little reason to deviate from what had been a successful strategy, even if this success hadn't necessarily hinged on the geographic aspect of said strategy.
Now, however, Goldcorp is running out of options. There are only so many projects in the world, and increasingly more of them are in Africa. Furthermore, Goldcorp needs a lot of ounces to move the needle as a 4 million ounce producer. Depending on project economics we can't imagine Goldcorp moving on a project that produces less than 400,000 ounces per year, or maybe 250,000 ounces per year assuming the operating costs are extraordinary. This requires sizable deposits, and there simply aren't too many of them out there. Consequently, company such as Goldcorp can't afford to block itself off from Africa: a continent whose land area is ~20% of the world's and which is home to a tremendous history and culture of gold mining that exists today.
Naturally, investors are concerned about the political risk of mining in Africa. In fact, according to the Bloomberg article, Garofalo believes that Goldcorp is the best positioned company to take on more political risk, suggesting that even he thinks that there is high political risk in Africa.
The concern is justifiable, although grossly oversimplified in that there are specific situations in which mining for gold in Africa is extremely low risk. In many parts of Africa it is encouraged by the government both at a local and national level.
Furthermore, because investors are concerned with the risks of mining in Africa these opportunities are often less expensive than similar ones exposed to Canada or the United States. This means that those opportunities that are sufficiently low-risk although perceived to be high-risk could offer tremendous value.
With this in mind we think that Goldcorp could potentially generate a lot of shareholder value should it diversify into Africa correctly.
Should You Buy Goldcorp on the News?
Goldcorp remains the most valuable primary gold producer in the world after losing more than 80% of its value since the 2011 peak.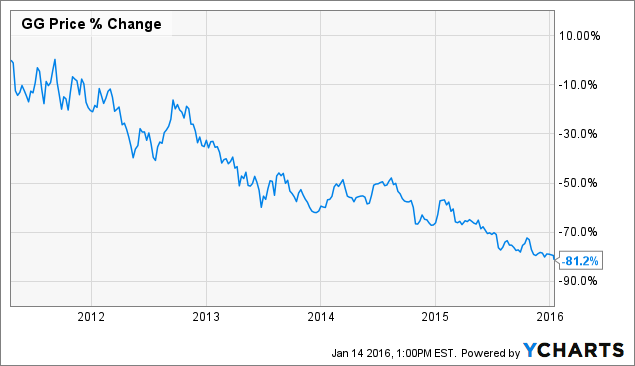 Nevertheless we still don't think the shares are attractive. You're encouraged to look at our 2014 bear case for Goldcorp. This was reiterated towards the end of 2014 when we picked Goldcorp as one of our 4 gold stocks to avoid for 2015. This turned out to be a good call, with Goldcorp underperforming the gold miners ETF (NYSEARCA:GDX) for the year. We recently updated our thoughts on the four stocks mentioned in the article and came to the conclusion that Goldcorp continues to be overvalued. Goldcorp continues to hit new multi-year lows, although the company's ability to generate cash-flow at current gold prices is unimpressive relative to its ~$12 billion NEV. On a trailing basis the company generated in excess of $1 billion in operating cash-flow over the past 12 months, but with gold sitting below $1,100/oz. (or ~$100/oz. lower than the trailing 12 month average), and with production costs around $900/oz. on an AISC basis the company is likely trading at an NEV to operating cash-flow multiple that is around 15.
Buy The Acquisition Targets Instead
Thus despite the decline in Goldcorp shares we are not eager to buy them. There are much cheaper opportunities that are less exposed to political risk than Goldcorp. However, if Goldcorp is going to be acquiring assets in Africa there are only so many opportunities considering that the company needs to purchase large assets in order to move the needle. Many of the biggest and best projects are already in strong hands (i.e. in the hands of other gold majors). It is feasible that the company could form a JV or try to buy one of these larger deposits owned by, for instance, Anglogold Ashanti (NYSE:AU) or B2Gold (NYSEMKT:BTG); however we don't see a trading opportunity here. There are, however, two companies that we think Goldcorp could consider, and both have catalysts that could make them attractive investments regardless of Goldcorp's involvement or not.
Sibanye Gold: Given Goldcorp's size this is the company's best chance of making a meaningful move into Africa. Sibanye Gold (NYSE:SBGL) produces over 1.5 million ounces of gold in South Africa. It was spun off by Gold Fields in its effort to diversify its assets away from South Africa. Gold Fields had done a poor job of reducing costs and increasing reserves, but once the company was spun off the new management could streamline its focus. Now we are seeing falling costs (partly due to a weak South African rand) and rising reserves. Sibanye Gold is now one of the few major gold producers that is consistently generating a profit, not to mention more than $300 million in operating cash-flow in 2014 vs. an NEV of ~$1.9 billion. Goldcorp's value is roughly 6X higher on an NEV basis yet its gold production is ~4 million ounces + by-products. Thus Goldcorp is in a position to increase both its operating cash-flow and its production substantially (~30% for ocf and ~40% for production) along with its reserves (~50%) should it choose to make a bid for Sibanye Gold. Meanwhile it would add a whopping ~80 million ounces of gold in reserves and the downside to this opportunity is that South Africa is seen as a politically unstable mining jurisdiction. Sibanye's phenomenal operational performance over the past few years has countered this so that shares have performed extremely well on a relative basis since the spinoff (they're roughly flat, or up counting dividends). Given this performance, and given that Sibanye Gold is relatively inexpensive for a major gold producer, we think it could be an interesting opportunity even if Goldcorp decides to look for opportunities elsewhere, outside of South Africa.
Asanko Gold: Asanko Gold (NYSEMKT:AKG) has just begun producing at its Asanko Gold Mine in Ghana. Phase 1 should yield ~200,000 ounces of gold per year. The company has the opportunity to expand production to ~2X this rate with the Phase 2 expansion. At 400,000 ounces of production per year the Asanko Gold Mine just makes our cutoff as an asset that can sufficiently move the needle for Goldcorp. At this time we don't think the gold price is high enough for Asanko to justify developing Phase 2, and Goldcorp may be looking for lower opex or higher NPV opportunities. However, Goldcorp could easily finance the Phase 2 expansion. Furthermore, the current NEV is ~$260 million, which is inexpensive compared with Goldcorp's valuation. The company has ~10 million ounces of gold resources, more than half of which are classified as mineral reserves. Thus Goldcorp would be in a position to move the needle on both its production and its gold resources with a relatively small capital expenditure, or very little dilution should management choose to use its stock as currency (as we believe it should).
The Bottom Line
Goldcorp is late to the party in Africa, but there are plenty of opportunities that could create long-term shareholder value. Goldcorp shares remain expensive at the current gold price, and we think investors should continue to avoid them. Furthermore, we could see some investors sell their shares indiscriminately should Goldcorp decide to make an African acquisition. However, Goldcorp is making the right move, and there are opportunities. We pointed out two potential takeover targets, assuming Goldcorp is serious about investing in Africa: Sibanye Gold and Asanko Gold. These are much more interesting investment opportunities than Goldcorp, whose shares would need to fall considerably to trade at an attractive valuation.
Disclosure: I/we have no positions in any stocks mentioned, and no plans to initiate any positions within the next 72 hours.
I wrote this article myself, and it expresses my own opinions. I am not receiving compensation for it (other than from Seeking Alpha). I have no business relationship with any company whose stock is mentioned in this article.