By Hale Stewart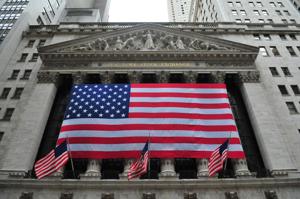 Last week, a number of Fed Presidents made speeches that contained their respective analysis of the economy.
Here is a brief summation of Fed President Lacker's analysis of the US economy:
Consumer spending, residential investment, overall business investment and government spending are likely to contribute to continued GDP growth of about 2.2 percent in the near term. In the next few years, GDP growth is likely to converge to about 1 ¾ percent.
There is no debate regarding consumer spending; while the Y/Y pace of growth is slower than previous expansions, the consumer is spending. And residential investment is a very important harbinger of future growth. However, overall business investment, while positive, has been a bit weaker since 1Q'13 on a Y/Y basis: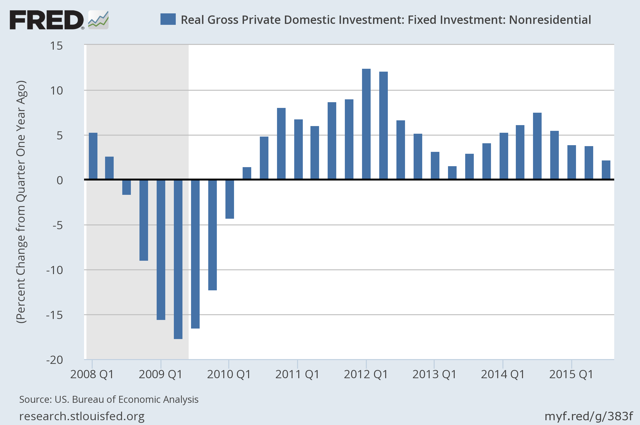 And with overall capacity utilization not only at lower levels than previous expansions but also declining, it's doubtful this type of spending will increase above current levels.
Fed President Lockhart had a similar view of the economy, although, instead of focusing on housing, he based his positive view of the consumer on the healthy state of the auto sales market. He argued the weak state of the oil market caused weak business investment. He also stated external markets (China, emerging economies and weak oil) provided the primary risk to the US. His speech contained the following key points:
The global economic environment is a downside risk to his outlook, but growing domestic investment could provide a potential upside.
Lockhart expects the economy to enjoy enough self-reinforcing momentum to sustain gradually rising interest rates. Monetary policy decisions are not on a preset path and will be data-dependent, he states.
New Dallas Fed President Kaplan offered a very interesting view on the economy. He first noted that his preferred inflation measure was the trimmed mean CPI as calculated by the Dallas Fed, which is currently between 1.6% and 1.7% - a bit higher than other more commonly used measures. He also stated he was concerned about China and emerging economies. Finally, he stated the following areas were his primary areas of focus:
Changing US demographics
The level of debt/GDP


key point: Outside the U.S., high levels of debt to GDP in certain countries are likely to impact these countries' future ability to grow. China and Japan, for example, may find it difficult to stimulate GDP by growing debt beyond levels supported by income growth.

The impact of globalization


key point: One implication of this is that domestic labor slack has to be assessed in a global context. This means that the headline unemployment rate necessary to achieve full employment can likely be lower for a time than we've been historically accustomed to without triggering undue inflation pressures.

The potential impact of a disruptive technology on the economy.
My take is Kaplan has a very interesting and nuanced view about both economics and the economy.
Chicago Fed President Evans speech contained two key points. First, when explaining the reasons for lower trend line growth, Evans first noted an aging population was a primary cause. But to that observation he added this comment on productivity:
As I just mentioned, economic growth over the longer run also depends upon technological progress. Unfortunately, we can't measure technological progress directly. Instead, it is inferred as a residual only after accounting for other tangible reasons for growth in a measure that is referred to as total factor productivity (TFP). By its very nature, TFP is not measured precisely, and it's difficult to discern its underlying trends. Nonetheless, there have been noticeable shifts in estimated TFP growth in the past several decades. From the early 1970s to the mid-1990s, the growth rate of TFP slowed down from its post-World War II highs. With the advances in information technology and their widespread adoption, we experienced a surge in TFP growth from the mid-1990s to the mid-2000s. Since then, however, TFP growth has reverted to its pre-1994 pace.[3] Moreover, there is concern among many analysts that it may now be persistently lower than in the past. If this weaker TFP growth proves to be the new normal, potential economic growth would decline in tandem.
The following chart places his comments in historical perspective: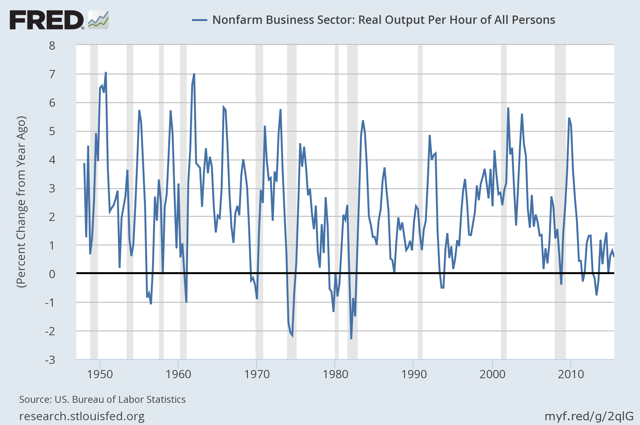 The chart confirms that output per hour is at very low historical levels. However, there is no reason to think the economy won't return to higher output levels in the future. This data series routinely prints at higher levels. But he's not the first person that I've seen make this argument.
Secondly, he makes this point about inflation:
Overall inflation is being held down in part by lower energy prices. The higher dollar is also weighing on both total inflation and core inflation. I expect these effects to dissipate as we move through the year. Further improvements in labor markets and growth in economic activity should also boost inflation. And so I see inflation moving up gradually to approach our 2 percent inflation target within the next three years.

However, there are some downside risks to this forecast. We might see further declines in energy prices or greater appreciation of the dollar. In addition, undershooting our 2 percent inflation target for as long as we have invites the risk of the public beginning to expect persistently low inflation in the future. If this mindset becomes embedded in decisions regarding wages and prices, then getting inflation back to 2 percent will be that much more difficult. Here, I find it troubling that the compensation for prospective inflation built into a number of financial market asset prices has drifted down considerably over the past two years. More recently, some survey-based measures of inflation expectations, which had previously seemed unmovable, have also edged down. So to achieve our inflation target - and to provide a buffer against downside risks - it is appropriate that we follow a gradual path to policy normalization.
Evans isn't the first person to express concern about inflation. And there is ample reason to be concerned. Consider these two charts: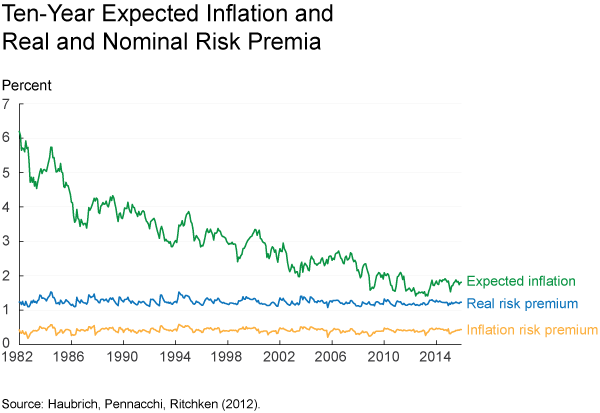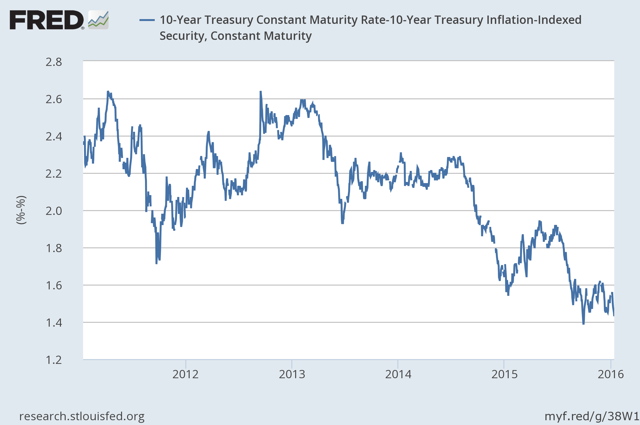 The top chart is the Cleveland Fed's 10-year inflation expectations index. It's below 2% and is moving lower. The bottom chart is the 10-year treasury minus the 10-year TIPs. The spread is currently at about 1.45%, indicating the public sees little potential long-run inflation. Both of these charts confirm Evan's concern regarding longer-term inflation prospects.
Finally, St. Louis Fed Chair Bullard offered the following bullet points regarding the relationship between oil prices and inflation:
The fall in crude oil prices to lower levels, even if maintained indefinitely, has only a one-time influence on the year-over-year inflation rate.
Let's suppose that oil prices had stabilized around the November 2015 level (approximately $40/barrel) and remained at that level for several years.*
Let's further suppose that all other prices had continued to increase at the same pace as they did during 2015.
What would the headline consumer price index (CPI) inflation rate be at the end of 2016 under such a scenario?
Answer: More than 2 percent.
To assess the new situation, let's now suppose hypothetically that oil prices continue to fall and only stabilize around $20/barrel by June 2016 and remain at that level for several years.
Let's further suppose that all other prices continue to increase at the same pace as they did during 2015.
What would the headline CPI inflation rate be at the end of 2016 under such a scenario?
Answer: 0.6 percent, not reaching 2 percent until mid-2017.
Bottom line: The argument is the same, but it takes longer for CPI inflation to return above 2 percent.
Bullard's argument is based entirely on math. Assuming oil prices are the only reason for weak CPI, then his analysis is correct.
The Fed presidents are mostly modestly optimistic. This helps to place last week's market drop in longer-term perspective. While there are concerns - most of which deal with non-US economies slowing down - none see a major problem on the horizon.