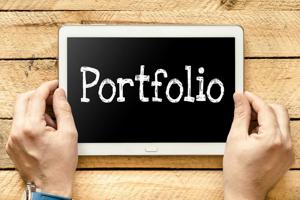 The V20 portfolio is an actively managed portfolio that seeks to achieve an annualized return of 20% over the long term. If you are a long-term investor, then this portfolio may be for you. You can read more about how the portfolio works and the associated risks here. Always do your own research before making an investment. Read last week's update here!
Current Allocation
*Only available to Premium Subscribers
Planned Transactions
*Only available to Premium Subscribers
-------------
The market has continued to decline over the past week as stocks both good and bad sold off. Most of our holdings lost value, mirroring the broad market decline. During the week, the V20 Portfolio declined by 4%, underperforming the S&P 500, which dropped by 2%.
Portfolio Update
Conn's (NASDAQ: CONN)
Conn's has continued on its downward trajectory, surpassing its low in 2015. This is quite strange as the company has hit on almost every single catalyst since the V20 Portfolio took a position in early 2015. The securitization transaction has been completed, more stores have been added, and shares have been repurchased. Of course, we can't count on the market waking up any time soon, but what we can do is continue to take advantage of this opportunity.
MagicJack (NASDAQ: CALL)
Conn's wasn't the only casualty - magicJack was another loser. If valuing Conn's is like riding a unicycle, then valuing magicJack is like riding a tricycle with two extra sets of training wheels. At the end of the third quarter, the company had $80 million in cash (65% of market cap) and no debt. Furthermore, the company is generating around $5 million of cash per quarter and it has entered into multiple partnerships to expand, which will generate incremental cash flow to shareholders at minimal cost. Of course, there is no guarantee that the company's partnerships will bear fruit, but the core of the business remains a stable cash generator.
Spirit Airlines (NASDAQ: SAVE)
Spirit Airlines held up relatively well, vastly outperforming the broad airline index. Below is a chart of the stock's performance since the V20 Portfolio took a position.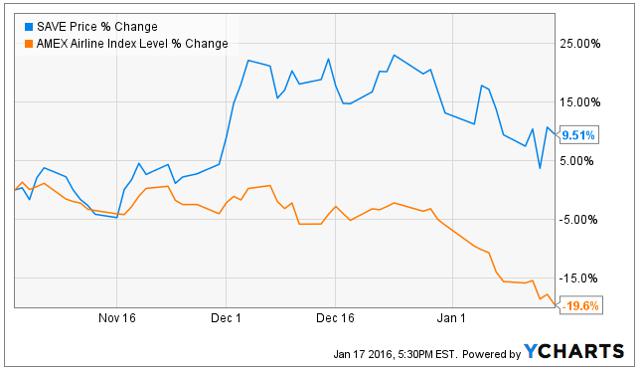 Click to enlarge
It's certainly a crazy world right now. One would expect that lower oil prices (leading to lower fuel prices) will encourage travel and benefit airlines, but clearly something else is on everyone's mind right now. Thankfully, the market seems to be recognizing the company's "cheapness" relative to its peers. Growth remains in place and the company is still one of the most affordable airlines around.
Looking Forward
After exiting one of the positions, the V20 Portfolio ended the week with over 20% in cash. This provided us with plenty of dry powder. Unfortunately (or fortunately), Conn's remains to be one of our biggest positions. Considering retail's cyclical nature, there's certainly room for the stock to fall further purely based on investor sentiment. Furthermore, the company's complicated business model may continue to obscure its value to investors. However, none of the above impacts its intrinsic value in any way. The V20 Portfolio will continue to monitor the situation and pick up shares at opportune times.
Performance Since Inception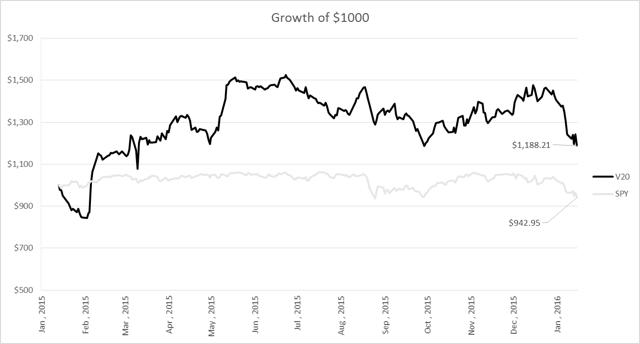 Click to enlarge
Disclosure: I am/we are long CALL, CONN, SAVE.
I wrote this article myself, and it expresses my own opinions. I am not receiving compensation for it (other than from Seeking Alpha). I have no business relationship with any company whose stock is mentioned in this article.