U.S. Home Systems (NASDAQ:USHS) manufactures or procures, designs, sells and installs "custom kitchen and bathroom cabinet refacing products and organizational storage systems for closets and garages" (Q3 10-Q). It does that exclusively through the Home Depot (NYSE:HD). The kitchen refacing segment is by far the most important for the company.
Many of these products are bought on credit, but the Home Depot credit program has a whopping 20.3% decline rate, so US Home Systems is actively looking for financing alternatives.
This one keeps on going but once again, we think that the time has come for some profit taking. We advised on one profitable short side trade in this name a couple of weeks ago (see comment section here), and now do so again. Look at the chart: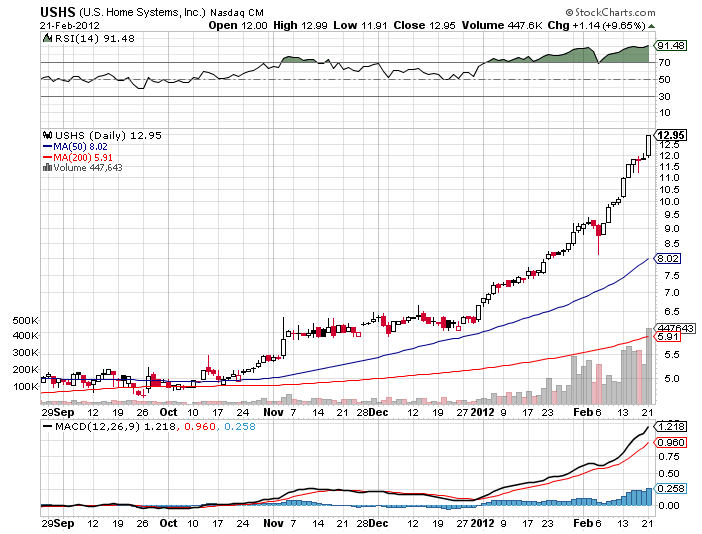 The stock is going almost parabolic. It has doubled this year and is up from $5 a share as long ago as last October. There isn't much new information on the fundamental side of the business, even if the market capitalization has gone up significantly. Their own guidance (per the latest investor presentation at the Q3 figures) is 64 cents per share this year for 2011.
Revenues are growing at 17% (first nine months of 2011 over same period in 2010), while new orders grow at 15% and net income at a whopping 155%. The latter is mainly the result of lower opex, although marketing cost have increased.
Where we have a problem to see further imminent upside is not only the months of parabolic rise already behind us or the terribly overbought technical condition (the RSI is above 90), but the relation this has to the rather linear business model. Yes, the business is growing and 2011 profits jumped (something which they are unlikely to repeat), but we think the share price is getting ahead of itself.
The parabolic rise in the share price must be matched to a similar sort of discontinuous improvement in the business.
One possibility is the discontinuous change in their new SCN program with Home Depot (on top of their existing serves provider and product supply agreements. The additional markets served are some 400 much smaller Home Depot stores through outsourcing to local independent contractors the selling, installation and service of their products. From the 10-Q (Q3 2011):
As of September 30, 2011, our SCN network served approximately 350 The Home Depot stores, 190 of which are in 14 new expansion markets. Within 12 months, we expect to expand into substantially all of the markets encompassing the additional 400 The Home Depot stores identified for our expansion program.
They also have a new DIY program with Home Depot, initiated at the same time. Since these programs were commenced in January 2010, some of their effectiveness can already be gauged (From September 30 last year, there are 50 new stores yet to be serviced). The Home Depot programs give them a bigger market penetration but the ramp-up is a one-off, and while growth has been solid, this is likely to slow down again once the program is in full force.
According to the latest 10-Q, the revenue in Q3 last year attributable to the SCN and DIY programs was 85% over Q3 in 2010. So, we basically have two explanations for the parabolic share price rally:
The one-off quantity jump in eps in 2011 (from 27 cents per share in 2010 to 64 cents a share in 2011)
The expansion through the new Home Depot program.
We would say that both are one-offs and now priced in. Rest the correlation with Home Depot shares (HD), which is quite good. Shares of Home Depot have also risen substantially and virtually uninterrupted since October last year.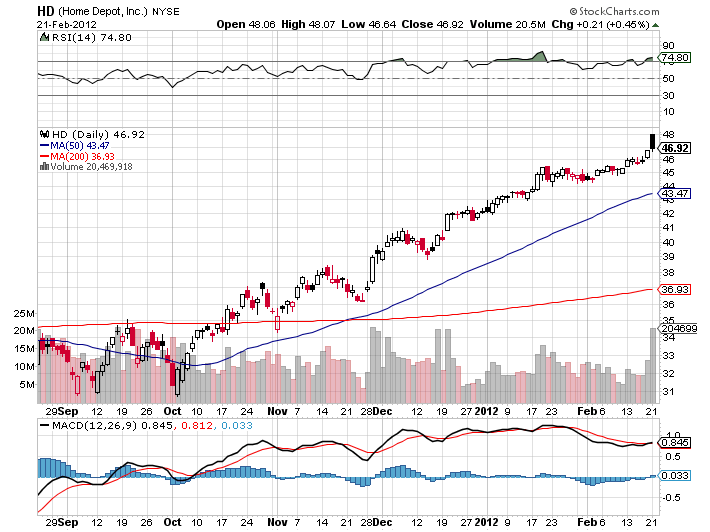 But this rally also seems a bit long in the tooth and due for a breather. HD shares are also overbought, but significantly less so than those of USHS, and they had a pretty significant reversal on Tuesday.
We think that taking a trading short position at $13 or above in US Home Systems offers a good risk-reward for a profitable trade.
Disclosure: I have no positions in any stocks mentioned, but may initiate a short position in USHS over the next 72 hours.