Netflix (NASDAQ:NFLX) has had a pretty wild start to the new year, climbing 9% on January 6 after news broke that it was expanding to nearly every country in the world, and then falling 9% on January 13 after an analyst lowered its Q4 estimates due to a concern about subscriber growth. Netflix reports earnings on January 19, and it's likely to move in a big way, one direction or another - over the past eight quarters, the stock has moved an average of 13% on the day the company releases earnings.
Netflix has a lot working in its favor heading into next week's earnings report. For one, mentions of Netflix on Twitter are up significantly compared to last year, as reported by TickerTags:

Click to enlarge
The first week of January this year (which isn't part of Q4, but does affect guidance) saw the highest number of tweets ever that contain the term "Netflix."
A big part of what's driving up those tweets, and attracting new subscribers to Netflix, is the company's original programming. On November 20, the superhero series Jessica Jones debuted to rave reviews (including a 93% Rotten Tomatoes score). And while its tweet volume (as reported by TickerTags) isn't quite at the level of House of Cards (one of the most successful Netflix originals), it stacks up impressively, with a peak roughly half as high as that of House of Cards:

Click to enlarge
But that's nothing compared to Making a Murderer, the Netflix true crime documentary that's captured the attention of millions (data from TickerTags):

Click to enlarge
Making a Murderer debuted on December 18, but it wasn't until after New Year's that it became a nationwide phenomenon:

Click to enlarge
Individual tweets suggest that Making a Murderer is drawing a lot of new subscribers to Netflix, as everyone wants to see this documentary that their friends are talking about:
Click to enlarge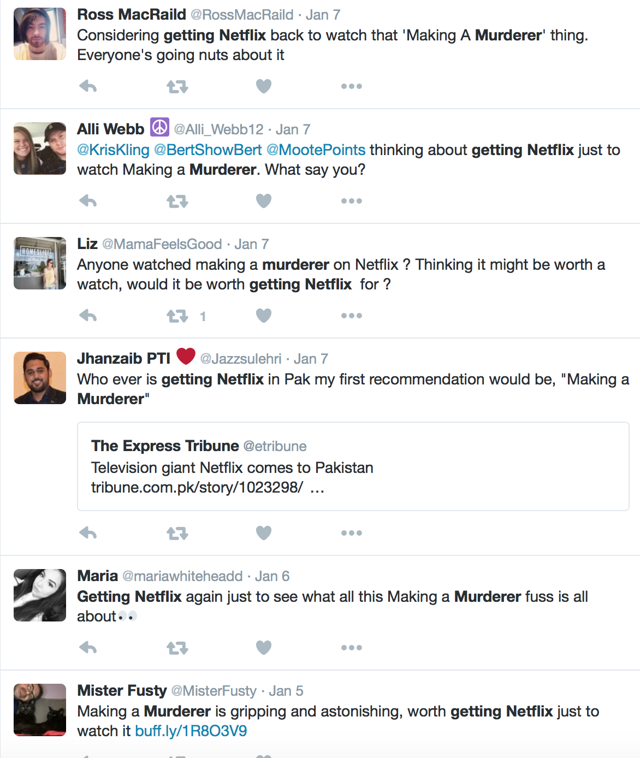 Click to enlarge
Over the weekend, the uber-influential Kim Kardashian jumped on the bandwagon with this tweet: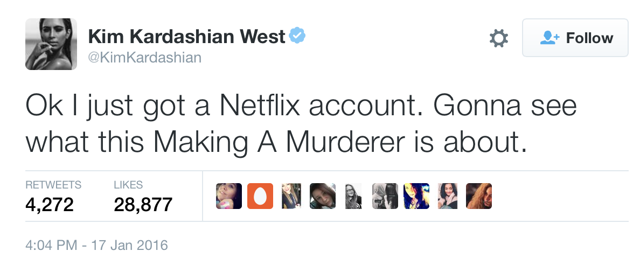 Click to enlarge
Thanks to that Kardashian tweet, the tag "netflix + murderer" had its highest tweet volume yet on January 17, according to TickerTags:

Click to enlarge
And there's more original content in the pipeline that's likely to attract new subscribers, too. Social media monitoring is one way for investors to gauge the relative hype, following, and success of each show -- especially since Netflix doesn't release ratings (which is a huge, controversial subject in the news right now). Future subscriber growth, especially in the United States, is likely to be determined in part by the success or failure of new shows like Making a Murderer, Jessica Jones, the Full House and Gilmore Girls reboots, and others slated to be released in 2016. A repeat of the programming success Netflix had in 2015 is sure to be a momentum driver for the stock in 2016, regardless of its short-term performance after earnings this week.
Disclosure: I am/we are long NFLX.
I wrote this article myself, and it expresses my own opinions. I am not receiving compensation for it. I have no business relationship with any company whose stock is mentioned in this article.