If by any chance you attended this year's Consumer Electronic Show, you would've seen a wide variety of virtual and augmented reality devices all around the exposition hall. And it's not a secret that in the next decade this technology will only increase its presence in our everyday life. So while a lot of companies are jumping into this field and creating their own versions of headsets, there would be a great demand for working components for these devices in the next few years.
Himax Technologies (NASDAQ:HIMX) will play a big role in supplementing these components to major hardware developers. It already has a number of contracts with big-name companies to create and implement its own displays into their devices. And while AR and VR industries are gaining traction, more orders will come in the next few months, as more developers are releasing their consumer versions of the headsets. And when those new orders come, Himax's success will only be a matter of time.
Catalysts for growth
Let's look at the current developments in VR and AR field. Since 2012, when Oculus VR launched its first version of Oculus Rift a lot of changes occurred inside those both industries. The current picture looks like this: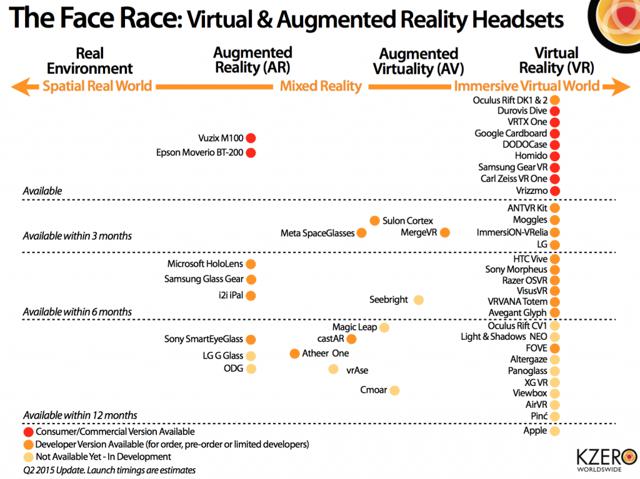 Click to enlarge
Source: kzero
Himax has partnership agreements with at least three companies on the picture above. And it happens to be, that those companies are the biggest players in the tech industry.
First we have a contract with Oculus VR, which is owned by Facebook (NASDAQ:FB), to supply time controllers HX8851 for Oculus Rift devices. Currently there's only a developer version of the device available on the market, but at this year's CES Facebook announced that consumer version of the product will be coming this year with a price point of $500. Then we have a partnership agreement with Microsoft (NASDAQ:MSFT) to develop LCoS microdisplays for augmented reality device HoloLens. According to the corporation's CEO Satya Nadella, the consumer version will arrive only in 2020, but the developer kit will be available this year. And if we look at the AR scene, it's not that populated at the moment as it is with VR. Last but not least is a partnership with Google (NASDAQ:GOOG) (NASDAQ:GOOGL). Both companies have a long history of relations. Back in 2013 tech giant took a stake in Himax and made an order to ship company's displays for its Glass device. Now it's making a second version of its AR glasses which will arrive at the end of this year and will be available as a part of Google's enterprise initiative.
So as we can see, Himax has good relationships with the biggest tech conglomerates on the world. But if we look at its stock price, it stays in the $5 to $9 price range for more than a year: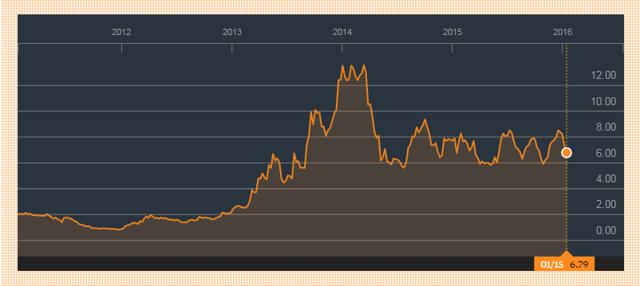 Click to enlarge
Source: Bloomberg
The reason for this stagnation was that 2015 failed to become a breakthrough year for AR and VR technology. Many developers didn't meet their deadlines and most of the devices were rescheduled for 2016. This resulted in a slowing revenues and unit volume for Himax: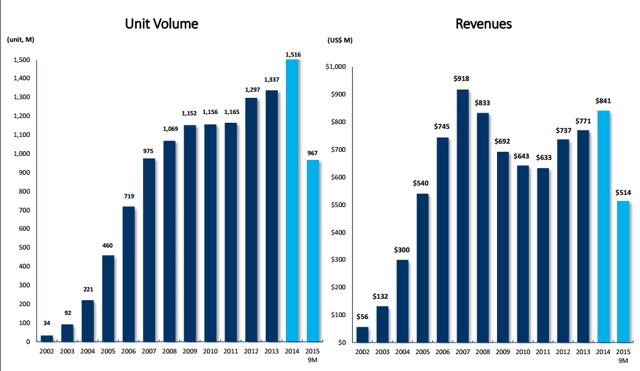 Click to enlarge
Source: Investor Presentation
And while most of the metrics weren't met, the company managed to cut its operating and R&D expenses: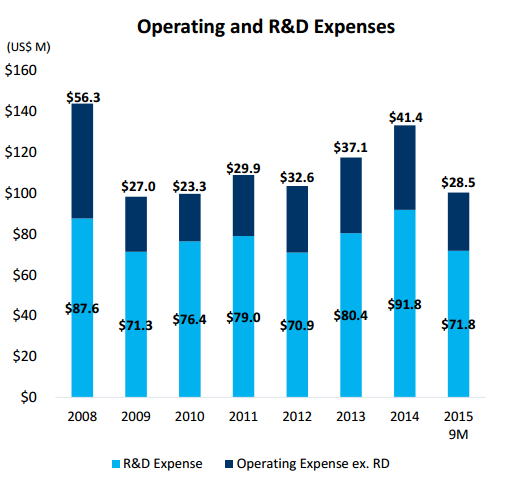 Source: Investor Presentation
There's no doubt that AR and VR industries will play an important role in our life and disrupt everyday activities. 2015 was a false start for the field. But now most of the dates for consumer devices are set and developers are already making sure that everything goes according to the plan.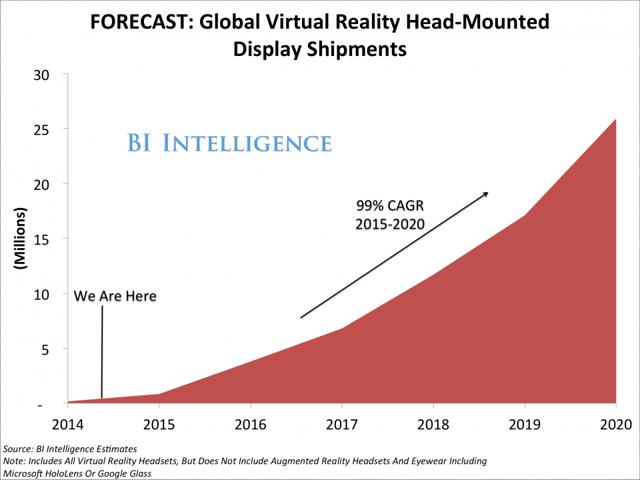 Click to enlarge
Source: BI Intelligence
The potential is huge and Himax is just beginning to accelerate. Himax has a stable cash flow and no debt, so its job in the next year or two will be to refill the coming orders and collect the cash. It also seems that stock is ready to take off as more analysts are becoming optimistic about the company and industries overall.
Currently Himax has three hold and nine buy ratings with a consensus of ~$9. Overall I agree with most of the analysts that say that 2016 will finally be the year of augmented and virtual reality technology. Himax already has all of the instruments it has to succeed and is only waiting for those two industries to take off. And with all the facts stated in this article, I believe the company is a solid BUY.
Disclosure: I/we have no positions in any stocks mentioned, and no plans to initiate any positions within the next 72 hours.
I wrote this article myself, and it expresses my own opinions. I am not receiving compensation for it (other than from Seeking Alpha). I have no business relationship with any company whose stock is mentioned in this article.