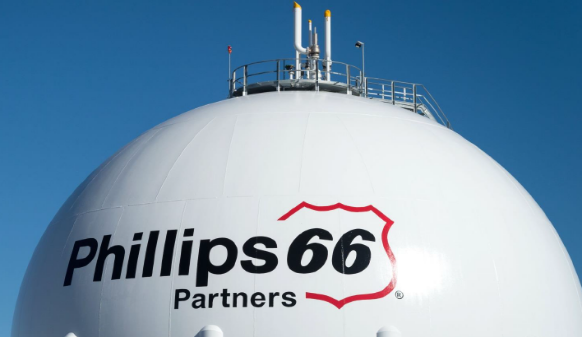 Source: Phillips 66 Partners Presentation
Having a distribution coverage ratio north of 1.10x distributable cash flow is considered a stable level in the MLP (master limited partnership) space. That paradigm is now starting to be tested as interest payments and growth developments eat away at excess cash. Now investors are looking for names with a bigger buffer that provides room for more downside protection.
There is one name in the MLP space that is backed by a major independent refinery operator and sported a distribution coverage ratio of 1.40x as of Q3 2015.
That parent company, Phillips 66 (NYSE:PSX), and its midstream MLP Phillips 66 Partners LP (NYSE:PSXP), are worth taking a closer look at. Phillips 66 Partners has been posting 7%-8% quarterly distribution growth like clockwork, which is equal to a 30%+ annual distribution increase. As Phillips 66 Partners' coverage ratio shot up to 1.40x in Q3 2015 versus 1.15x and 1.14x in the previous two quarters, investors should expect continued distribution boosts.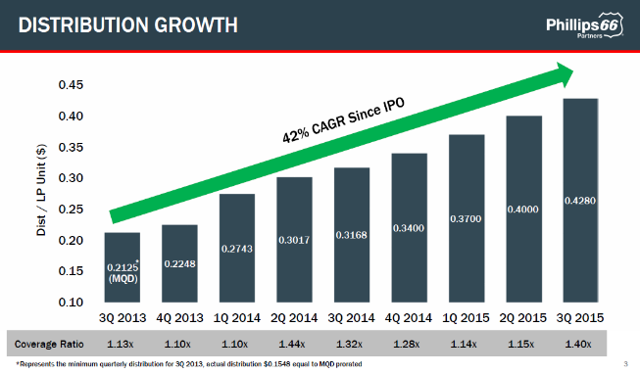 Click to enlarge
Source: Phillips 66 Partners Presentation
Growth can continue
Going forward, a series of organic growth projects underpins Phillips 66 Partners trajectory. Starting in the Eagle Ford, the partnership brought the six-mile long Helena portion of its oil gathering system online back in January 2015, connecting crude production in the region to third party pipelines.
The second part of the project includes building a 17-mile long oil gathering system that ties into Tilden, which is also home to third party pipelines. Operations will be supported by a new oil storage facility at Tilden capable of housing 90,000 barrels of crude. This phase of development was operational in September 2015, and will materially add to Phillips 66 Partners' future DCF streams. Both systems are supported by long term, fee-based contracts with Phillips 66.
Up in North Dakota, Phillips 66 Partners owns 70% of the Palermo Rail Terminal through Phillips 66 Partners Terminal LLC. The terminal will source crude from McKenzie County, home to plenty of prolific Middle Bakken and Three-Forks wells producing significant amounts of oil, through the 76-mile long Sacagawea Pipeline. While the terminal was supposed to be operational by the end of 2015, the Sacagawea Pipeline won't be ready until early 2016 due to minor delays. A joint venture between Phillips 66 Partners and Paradigm Energy Partners owns 88% of the Sacagawea Pipeline. Phillips 66 Partners owns 50% of that JV.
During the first phase, the Palermo Rail Terminal will have the capacity to load and ship out 100,000 bo/d via train, with 300,000 barrels of crude oil storage capacity supporting operations. This is just the beginning, as future expansions could allow Phillips 66 Partners to boost its loading capacity to 200,000 bo/d while also increasing the facility's storage capacity up to 2.4 million barrels of crude based on its current permits.
Another project that was supposed to come online in 2015 is the Cross-Channel Connector Products System down in Texas. Originally slated to become operational in Q2 2015, Phillips 66 Partners pushed back the start-up date to November 2015. The project will connect the Pasadena Terminal, with the ability to store over 18.8 million barrels of refined petroleum products, to third parties with water access via the Houston Ship Channel.
The importance of these organic developments is that when combined with Phillip 66 Partners' 1.40x distribution coverage ratio, the partnerships income growth trajectory looks fairly bullish. Part of the reason why Phillips 66 Partners' DCF streams continue to move higher is due to its huge acquisition back on March 2, 2015.
Phillips 66 Partners issued out $1.1 billion in senior notes back in February 2015 to fund its acquisition of an equity stake in the Sand Hills NGLs Pipeline (33.33%), Southern Hills NGLs Pipeline (33.33%), and the Explorer Refined Products Pipeline (19.46%). The partnership's management team sees the three new assets generating $115 million in EBITDA a year.
Financials and additional growth
At the end of Q3 2015, Phillips 66 Partners had $1.1 billion in debt, $73 million in cash, and an undrawn $500 million revolving credit facility (which could be increased up to $750 million). Considering Phillips 66 Partners plans to spend $314 million on its capex this year, it has more than enough liquidity to cover its $300 million in planned growth capex (remaining $14 million is for maintenance capex).
In Q4 2015, Phillips 66 Partners agreed to buy Phillips 66's 40% interest in the Bayou Bridge Pipeline venture for $70 million in a move that should have closed by December 2015. A combination of common units and cash will be used to fund the purchase.
Like with the Palermo Rail Terminal project, this development offers multiple avenues for growth. The first phase of the project includes building a 30-inch crude pipeline from Nederland, Texas, to Lake Charles, Louisiana. It will link crude stored in terminals and third-party pipelines in Nederland to refineries along the Gulf Coast, and is guided to be operational during the first quarter of 2016.
The second part of the development includes building a crude pipeline from Lake Charles, LA, to St. James, LA. On October 1, 2015, a binding open season was launched to gauge the level of demand for the project, which will be used to determine the capacity of the pipeline. Both developments will also materially add to Phillips 66 Partners' DCF streams.
Final thoughts
Phillips 66 Partners LP is operating in a volatile industry that is possibly somewhere near the bottom of the downturn. However, DCF streams of almost every MLP are coming under fire as low energy prices take a bigger toll than was initially expected. Through a combination of dropdowns and organic growth projects (backed by long term contracts guaranteeing some protection), Phillips 66 Partners has been able to hold its own in the face of dire economic circumstances for the entire upstream and midstream oil & gas industry.
As the partnership enters 2016, it has more than enough financial capacity and a strong growth runway to keep bolstering its distribution payouts. Also, its parent company Phillips 66 has a huge slate of potential midstream developments, many of which could eventually be dropped down to Phillips 66 Partners over the coming years.
With a yield of 3% that is growing by ~30% annually, units at today's price would end up yielding over 5% by the end of 2017 assuming the trajectory holds up. Investors should consider taking a closer look at Phillips 66 Partners, especially considering the relative level of safety and immense growth potential its distribution has.
Disclosure: I/we have no positions in any stocks mentioned, and no plans to initiate any positions within the next 72 hours.
I wrote this article myself, and it expresses my own opinions. I am not receiving compensation for it (other than from Seeking Alpha). I have no business relationship with any company whose stock is mentioned in this article.