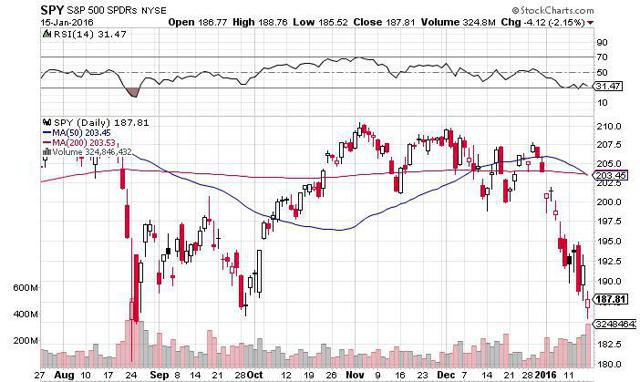 Click to enlarge
SharpCharts.com
Since December the S&P 500 (NYSEARCA:SPY) has dropped 10%, and already there is renewed talk of a bear market. I'm not sure if a bear market is actually coming, but I do know that several dividend stocks which I've been watching for awhile are now reasonably priced. Some are downright cheap. This article goes over my 'shopping list' in the aftermath of this pullback. It explains why I like each company and why I think they are each a buy at this time. All of these companies have a tradition of raising their dividends over the years, making them ideal picks for long-term, income-minded investments, and I believe that each of them could have a good place in your dividend in portfolio.
Medical conglomerate Johnson & Johnson (NYSE:JNJ) is down a modest 5.2% since the start of December. That may not seem like much, but in fact J&J wasn't that bad even before this 'correction.' That's why I think J&J is worth looking at here.
For those who don't know, J&J is really three companies in one: A pharmaceutical, a branded medical consumer goods business, and a medical devices business. Like most US-based multinationals, J&J's earnings have been suffering on account of a high US Dollar. That should ease off when 12-month comparisons come full circle in 2016. These days, the pharma business is the strongest of the three, with several new drugs hitting the market over the past couple years. On an operational basis, J&J expects EPS growth of 6%, and revenue growth of around 5% for the full year of 2015. Although management hasn't given guidance yet, I suspect this growth trend will continue in 2016. That's why I believe J&J is a buy right now. Currently J&J trades at 15.7 times expected 2015 earnings, which I think is a great value for this well-known company.
The next one on my list is Royal Bank of Canada (NYSE:RY). I've written about Royal fairly recently. Royal is down a lot; almost 19% since December 1. Royal is quite inexpensive right here. Over the last ten years it has averaged about 12.5 times earnings, but right now it is only 9.4 times expected 2015 earnings.
Why so cheap? In short, the collapse in crude has stoked fears of a sharp recession in Canada. While 2015 did see Canada briefly enter a recession, most economists predict overall GDP growth of around 1.5% on the year. That's pretty weak, but it's far better than a recession.
The Canadian economy is actually quite diversified, and the country's biggest bank, Royal Bank of Canada, has broad exposure to many industries. In fiscal 2015 Royal achieved same-currency net income growth of 11%, and while next year growth will be substantially lower, I suspect that growth will remain in the mid single-digits at least. For now, Royal's 5.18% yield is more than adequate compensation.
Paychex (NASDAQ:PAYX) is another company I've been watching closely for awhile. Paychex processes payroll for small-to-medium-sized businesses. Paychex also handles human resources and Affordable Care Act compliance for small-to-medium sized businesses. Paychex is an ideal company for dividend investors: The industry has substantial barriers to entry, and Paychex is a capital-light business that can fund its own growth operations.
Speaking of which, Paychex expects net income growth of 8-9%, and service revenue growth of 7-8%. I expect dividend growth to match that. As ACA regulations are quite complex for businesses, Paychex will benefit greatly on the compliance end.
Since the beginning of December, Paychex is down about 14%. While its valuation is high at 24.3 times expected calendar earnings for 2015, that is about the ten-year average of 23.8 times earnings. While you'd be paying up for quality, the price is not exorbitant. Not only that, but Paychex yields a solid 3.6% with high single-digit dividend growth ahead.
Last but not least is WP Carey (NYSE:WPC), a real estate investment trust with properties in nineteen different countries. WP Carey has been round since 1972, and the company typically owns mission-critical facilities in a wide variety of industries. WP Carey owns the real estate of a Google (NASDAQ:GOOG) (NASDAQ:GOOGL) office campus, a factory which produces parts for the Ford (NYSE:F) F-150, the headquarters of the Paris Traffic Police, and many others.
Since December WP Carey has been knocked down 10%, and shares now sit at only 13.3 times FFO, which is just a little higher than the ten-year average valuation of 12.1 times FFO. The great thing about WP Carey is the dividend yield of 6.8%. Even in the depths of the 'Great Recession,' occupancy has never dipped below 96%. There is great reason for confidence in the durability of this business, and I believe WP Carey is also a buy here.
Conclusion
These four certainly aren't the only good deals in the stock market right now, but I do believe that they represent a good cross-section of value and high-quality. Also, this article isn't necessarily a recommendation of any of these stocks as much as it is a 'starting point' for further research to those who are interested.
Disclosure: I am/we are long JNJ, RY.
I wrote this article myself, and it expresses my own opinions. I am not receiving compensation for it (other than from Seeking Alpha). I have no business relationship with any company whose stock is mentioned in this article.