Cummins Inc. (NYSE:CMI) is a global diesel engine manufacturer. The company designs, manufactures, distributes and services diesel and natural gas engines and engine-related component products, including filtration, after treatment, turbochargers, fuel systems, controls systems, air handling systems and electric power generation systems. It has four operating segments: Engine, Distribution, Components and Power Generation. Cummins sells its products to original equipment manufacturers (OEMs), distributors and other customers.
It serves its customers through a network of around 600 company-owned and independent distributor locations and around 7,200 dealer locations in more than 190 countries. In addition, engines and engine components are manufactured by the company's joint ventures or independent licensees at its manufacturing plants in the United States, China, India, South Korea, Mexico and Sweden. Its subsidiaries include Cummins India Ltd. and Wuxi Cummins Turbo Technologies Co. Ltd. Cummins was founded in 1919 and is headquartered in Columbus, Indiana.
Competitors include Caterpillar Inc (NYSE:CAT), Navistar International Corp (NYSE:NAV), PACCAR Inc (NASDAQ:PCAR), and China Yuchai International Ltd (NYSE:CYD).
A Closer Look
Cummins is the market leader in various categories due to its strong technological innovation in diesel engines including 78% market share of North American trucks, 42% of Indian trucks, 35% of global mining etc. The company maintains a closer relationship both as partners and customers with companies such as PACCAR, Dodge Ram, Volvo, Daimler, Ford (NYSE:F), Tata, Hyundai, Hitachi, etc.
Cummins' strength also comes from the geographic reach and its immense supply chain system. The company expanded in emerging markets through acquisitions, partnerships and joint ventures and has been very successful at it. The company has demonstrated good performance through weak periods of the economic cycle and maintains a strong balance sheet.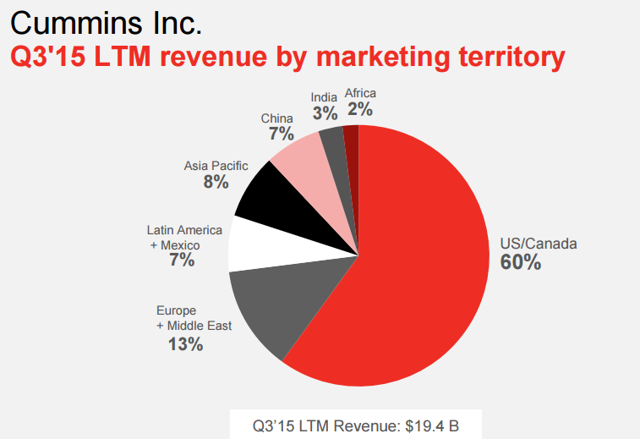 Click to enlarge
(Source: Cummins Inc Investor Day Presentation)
Growth Concerns
Cummins has acknowledged that the business conditions have changed and the industry growth over the past four years have been below expectations. The growth engine came from emerging markets where growth has slowed overall, and coupled with lower investment in infrastructure and commodity prices has resulted in headwinds for the sector. The company continues to believe that the nature of growth slowdown is cyclical and not secular in nature.
The forward guidance from the company has been for a lower revenue (down 5.5% for FY2016) and earnings are also expected to suffer 9%.
Dividend Stock Analysis
Financials
Expected: A growing revenue, earnings per share and free cash flow year over year looking at a 10-year trend. A manageable amount of debt that can be serviced without affecting future operations.

Click to enlarge
(Source: Created by author. Data from Morningstar)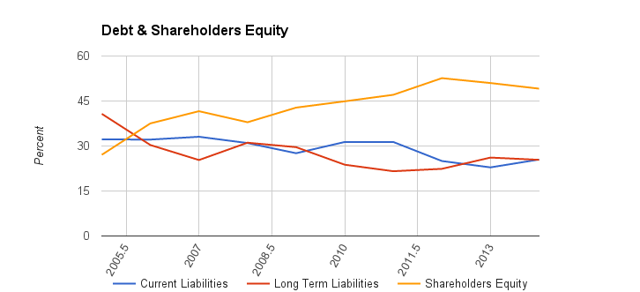 Click to enlarge
(Source: Created by author. Data from Morningstar)
Actual: Revenue and earnings have seen steady increase over the years. Shareholder equity has also increased over the years as management tries to keep a check on the debt level.
Revenue has grown at 9% CAGR (compound annual growth rate), EBIT margin improvement has been 7%, and average ROE has been 22% over a period of 10 years.
The balance sheet remains the bright spot in Cummins' financials. Cummins maintains $1.72B in cash ($9.7 per share), and a debt load of $1.65B and a debt/equity of 0.20. The debt dues is also far away when looking at the debt repayment schedule. The next maturity date is for a 3.65% coupon due in 2023 for an amount of $500M. Following that, the next set of coupons expire in 2027 and 2028.
Dividends and Payout Ratios
Expected: A growing dividend outpacing inflation rates, with a dividend rate not too high (which might signal an upcoming cut). Low/Manageable payout ratio to indicate that the dividends can be raised comfortably in the future.

Click to enlarge
(Source: Created by author. Data from Morningstar)
Actual: Cummins currently yields 4.62% and is a Dividend Contender having raised dividends for 10 consecutive years. The 1-, 3-, 5-, and 10-yr dividend growth CAGRs are 24.9%, 28.5%, 32%, and 25.1%. The company has a very manageable payout ratio of 35.40%.
Outstanding Shares
Expected: Either constant or decreasing number of outstanding shares. An increase in share count might signal that the company is diluting its ownership and running into financial trouble.

Click to enlarge
(Source: Created by author. Data from Morningstar)
Actual: Cummins has reduced shares consistently after a slight dilution during the financial crisis. The last share repurchase announced by the company was in July 2014 authorizing a $1B program. Cummins did not renew or announce a new program in 2015.
Book Value and Book Value Growth
Expected: Growing book value per share.

Click to enlarge
(Source: Created by author. Data from Morningstar)
Actual: The book value has steadily increased after a slight drop during the financial crisis, but maintains a nice upward trajectory.
Valuation
To determine the valuation, I use the Graham Number, Average Price-to-Earnings, Average Yield, Average Price-to-Sales, Dividend Discount (Gordon Growth Model) and Discounted Cash Flow. For details on the methodology, click here.
The Graham Number for Cummins with a book value per share of $43.63 and ttm EPS of $9.35 is $95.81.
CMI's 5-year average P/E is 15.7 and the 10-year average P/E is 14.15. Based on the analyst earnings estimate of $9.20, we get a fair value of $144.44 (based on 5-year average) and $130.18 (based on 10-year average).
CMI's average yield over the past five years was 1.43% and past 10 years was 1.37%. Based on the current annual payout of $3.90, that gives us a fair value of $272.73 and $284.67 over the 5- and 10-year periods, respectively.
The average 5-year P/S is 1.36 and average 10-year P/S is 1.00. Revenue estimates for next year stand at $104.33 per share, giving a fair value of $141.89 and $104.33 based on 5- and 10-year averages, respectively.
The Gordon Growth Model is a quick way to calculate the fair value of a company using the current dividend, the expected dividend growth rate, and our required rate of return or discount rate. Using an expected rate of return of 10% and a dividend growth rate of 6%, we get a fair value of $105.
The consensus from analysts is that earnings will rise at 5.7% per year over the next five years. If we take a more conservative number at 5% and assume that CMI is growing its earnings by 4% thereafter, running the three-stage DCF analysis with a 10% discount rate (expected rate of return), we get a fair price of $137.58.
The following charts from F.A.S.T. Graphs provides a perspective on the valuation of CMI. For details of how to read the graph, click here.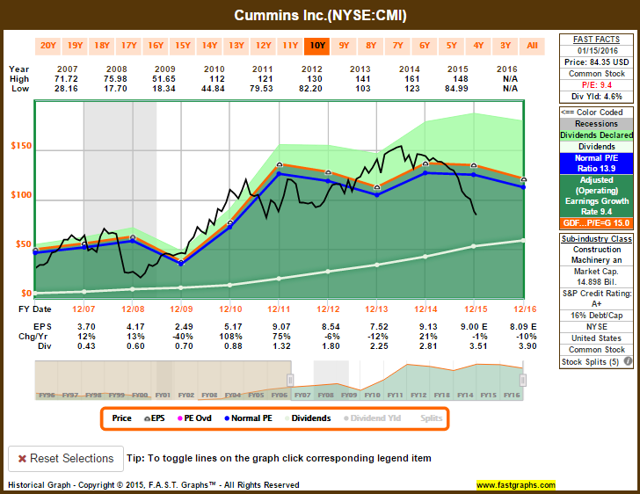 Click to enlarge
(Source: F.A.S.T. Graphs)
The chart above shows that CMI is severely undervalued, falling off from its trend as the stock got overly punished due to lackluster quarterly earnings in second half of 2015. The stock has fallen from a high of $143.83 and currently trading close to its 52-week low of $84.35. The Estimates section of F.A.S.T. Graphs predicts that at a P/E valuation of 15, the 1-yr return would be 113%! That makes this $15B industrial giant a value find that has the possibility of doubling investment in one single year.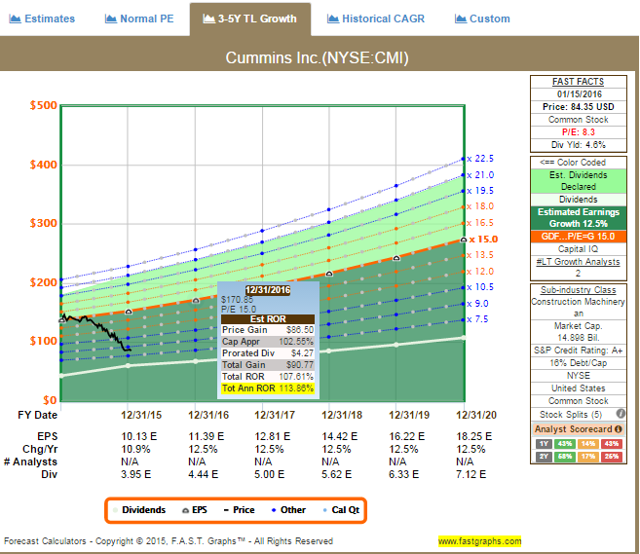 Click to enlarge
(Source: F.A.S.T. Graphs)
Conclusion
Cummins Inc is a well-diversified global diesel engine manufacturer. The company boasts huge market shares around the globe and has grown its business via acquisitions, partnerships and joint ventures. The technical leadership and supply chain system gives it an edge over its competition. While the industry faces cyclical weaknesses, the company firmly believes future growth to come from emerging markets and remains focused. The stock has been punished severely and is down 38% since a year ago. The forward guidance has been for a slightly lower revenue (down 5.5% for FY2016) and earnings are expected to suffer 9%. While this is bad news for investors, the market, as it usually does, over-punished and the stock remains primed for a delicious return. FAST Graphs predicts a rate of return of 113% if the company returns to its normal P/E of 15. Based on the combination of valuation metrics described above, the fair value calculated is $155.16, indicating the stock is undervalued by 45%.
Full Disclosure: None. My full list of holdings is available here.
Disclosure: I/we have no positions in any stocks mentioned, and no plans to initiate any positions within the next 72 hours.
I wrote this article myself, and it expresses my own opinions. I am not receiving compensation for it (other than from Seeking Alpha). I have no business relationship with any company whose stock is mentioned in this article.