Regional banking giant PNC Financial (NYSE:PNC) is one of the rare stocks in the banking space that I've been outright bearish on in the recent past. In a sector where I see lots of value, PNC has stood out to me as an average bank with a premium valuation, certainly not a good combination. Back in October I echoed this sentiment as PNC's quarterly reports continued to roll in as lackluster but the stock kept its premium multiple of both earnings and tangible book value. The massive selloff in the past couple of weeks has sent PNC shares down again but only after another very strong rally that took them back near their highs in December. Q4 results certainly did not help matters for the bulls so in this article I'll take a fresh look at PNC to see if 2016 looks better than the first two weeks have for PNC.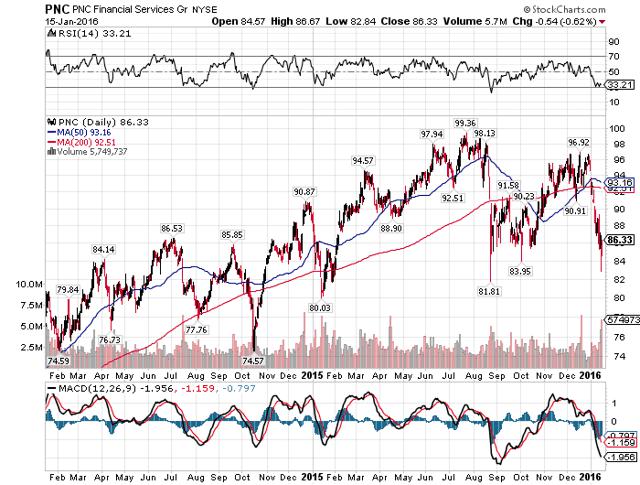 Click to enlarge
The fact that PNC has been crushed in January is not something anyone should read into - the entire market has been decimated. This obviously includes the financials as investors have now begun to ignore the fact that the Fed is sticking to its guns on rate hikes and seemingly they don't like any news - everything is a reason to sell of late. PNC has certainly been hammered but still even after the first two weeks of this year it hasn't made new lows. PNC is holding up much better than some other financials and there is something to say about that to be sure.
PNC beat earnings expectations in Q4 handily as revenue slightly exceeded estimates. But if we look a little deeper, PNC's total revenue fell almost four percent during Q4. While flat is the new "up" in banking, negative 3.5% revenue growth is more bearish than the other financials that have reported so far this earnings season, something I'm not surprised by with PNC but something that is a problem considering PNC's premium valuation.
PNC's revenue problems were widespread during Q4 with both net interest income and non-interest income falling markedly during the quarter. Net interest income was down 5% - a huge number for a large bank - as the company's net interest margin continued to deteriorate to 2.7%. That drop of 19 bps against last year's Q4 is sizable and much larger than other regional or bigger financials that are mostly seeing NIMs flat or slightly down against last year's Q4. PNC's NIM certainly does not appear to have bottomed like I believe many other banks' NIMs have and that is a serious issue for PNC's 2016 -how will it break out higher if its NIM hasn't finished declining yet? At a time when other financials are poised to see upside from NIM in 2016, PNC seems to be doing exactly the opposite.
On the expense side, things certainly aren't much better. Non-interest expense moved down 6% during the quarter but only due to lower legal and compliance costs, items that are volatile and often consist of one-time charges. While lower legal costs are great, the largest recurring portion of non-interest expense - personnel costs - flew 7% higher during Q4. That's a terrible result at a time when the company's revenue stream is shrinking due to lower revenue on both the interest and non-interest income fronts. That causes shrinking profit margins and that is exactly what we saw with PNC in Q4 as costs rose and revenue shrank.
PNC is doing a nice job of gathering deposits - up 8% Y/Y - but it is also having a hard time doing something productive with them. Average loans were up just 2% Y/Y, indicating that PNC is hoarding deposits at this point, certainly part of the reason why NIM was down so sharply in Q4. Gathering deposits is great and core to the company's business model but it has to be productive with them eventually. Otherwise, they are simply another rising expense as the company's revenue dwindles. I will certainly be keeping a watchful eye on PNC's loan book in 2016 - will it continue to hoard deposits or is it gearing up for a run at a significantly larger loan book? The answer to that question is very important and hopefully the Q1 report will provide us some clarity.
At 10.5 times forward earnings PNC certainly is not cheap in terms of its peer group. Regionals always trade at a premium to the mega banks which have been hammered down to the seven to eight times forward earnings area after the first couple of weeks of January. However, PNC is much cheaper than it has been in the past when it sported forward multiples of 13 or more and the same story applies to tangible book value as well. At a time when Bank of America and Citi are trading at sizable discounts to tangible book value, PNC is still trading near 1.4 times that metric. In other words, despite the fact that PNC's fundamentals are deteriorating at a time when other large financials are stabilizing or improving, it still trades for a premium valuation.
At this point I simply can't understand why investors continue to pay so much for PNC shares when it has shown no ability to even perform at an average level. All of the mega banks and just about every regional financial is performing better than PNC but it continues to trade well in excess of tangible book value and with an upper tier earnings multiple. There is absolutely no way PNC has earned the right to trade at those levels and I think that at some point it won't any longer. Eventually investors will see PNC as the also-ran that it is and the stock should trade down to the valuation it has earned. I still think PNC is a short here as it is clearly the weak link in the regional financials but isn't yet trading that way - Q4 was more proof of that.
Disclosure: I am/we are short PNC.
I wrote this article myself, and it expresses my own opinions. I am not receiving compensation for it (other than from Seeking Alpha). I have no business relationship with any company whose stock is mentioned in this article.