Once again welcome back! In the first and second articles of the series we hit the wave tops of some good, and some bad companies. In those I found Chicago Rivet and Machine (NYSEMKT:CVR) and Garmin (NASDAQ:GRMN) to be pretty compelling businesses and worth a deeper look, Fastenal (NASDAQ:FAST) was a close second to GRMN. In this installment we will take a look at Orion Engineered Carbons (NYSE:OEC), Paychex (NASDAQ:PAYX), PetMed Express (NASDAQ:PETS), Safety Insurance Group (NASDAQ:SAFT), and finally Unilever (NYSE:UL). I'll provide a very general outline of their business, cover their dividend and a basic breakdown of their current financials using their last reported quarter and consider the safety of the dividend. For the sake of the article, I will consider debt to be reported on their balance sheets as "Short Term Debt" and "Long Term Debt" and their cash amounts will be "Cash and Cash Equivalents." The balance sheets will be the consolidated balance sheets of all parts of the business. Some of the businesses may be based outside of the US and the dividend taxation implications should be researched by the individual investors. Let's get started.
Orion Engineered Carbons
This $676M market cap manufacturer of carbon black has only been listed on the NYSE since July of 2014. Carbon black is used in the manufacture of rubber products such as tires and as a pigment in coatings, paints and ink. Although it is traded on the NYSE the company itself is based in Luxembourg so currency exchange rates and taxation of the dividends must be considered by each investor. The dividend yield comes in at 6.4% thanks to a drop in price over the year caused by manufacturing slowdown. The company has paid a total of 5 dividends thus far and has settled on a EUR .17 payout which varies in USD due to exchange rates. Their financials are decent, having earned EUR .20 per share the last reported quarter and .55 TTM. The dividend isn't quite covered with that and currently the payout is 123%, but they have steadied their EPS to cover the dividend after their rough start to 2015. Their FCF comes in at EUR 21M giving the dividend a measure of safety. With EUR 106M cash on hand and no debt the company has the ability to weather the current trough in the industrial cycle without having to take on debt. Their performance compared to the S&P since being listed on the NYSE has been poor, having only outperformed for a brief period.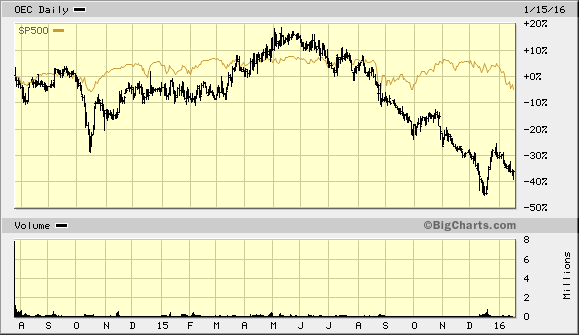 While the company provides a necessary component in a wide variety of industries I am concerned with the performance over the short period. Without an uptick in global manufacturing OEC will continue to underperform. The company itself possesses a great balance sheet and a generous and safe dividend but is too risky for my taste. Having just started paying the dividend it is not out of the question for them to reduce or suspend it especially as they face significant headwinds.
Safety Insurance Group
The $816M market cap insurance provider is based in Massachusetts and provides policies in New Hampshire as well. They currently yield 5.2% with quarterly cash payments of $.70. Their current cash hoard sits at $13M with no debt at the moment. Without the cash their dividend would be at risk, having earned just -.$89 EPS TTM. They have taken in $734M in premiums the last twelve months while paying out $611M in claims and benefits, an important consideration when looking at an insurance company. The dividend, while somewhat threatened by negative TTM EPS, has risen fairly steadily over time. The increases do not come yearly as most would like but income investors can take comfort in knowing that even the dark days of the last recession SAFT did not reduce or suspend their dividend. When the increases do come they are significant, the last one coming in Q3 of 2014 was $.10/quarter. Overall the 10 year performance of the stock when compared to the S&P has been pretty consistent. Through 2015 they underperformed but should be helped out with the uptick in short term interest rates. Unfortunately those seem threatened as the market gets crushed and fear is rampant.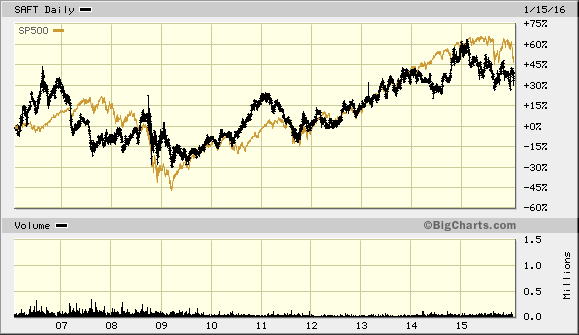 Safety Insurance may be a good high-yielding investment if one wants or needs exposure to the financial services sector. If the economy in the US continues to do well and short term interest rates can continue to rise then Safety will do well. The insurance industry is relatively stable and the .93 beta of SAFT can shore up a portfolio that may have some risk exposure. Another concern I have is that state legislators can present obstacles for insurance companies in their states by increasing regulations. For my own portfolio I'll keep ORI for my insurance exposure for now but will keep an eye on SAFT. If they can stabilize their EPS this could be a great way to raise the overall yield of my portfolio in a safe manner.
PetMed Express
PETS is a $339M market cap nationwide animal pharmacy boasting to your door delivery of a wide variety of animal prescription and over the counter medicines. They pay out $.18 a quarter giving them a 4.25% yield which is safely covered by their TTM EPS of $1.00. The dividend has been increased on a fairly regular basis since 2009 and management has kept it conservative and it sits at 72% payout. The company boasts a wonderful $58M cash on hand and of course no debt. Their FCF for the last twelve months comes in at $22M while their dividends paid is only at $14M giving even more security to the dividend should earnings slide south. Their performance when compared to the S&P is pretty poor for the last few years. An encouraging view is taking a look at 2009 where Petmeds outperformed by a huge margin. It seems when the economy does well, PETS does not follow suit for some reason.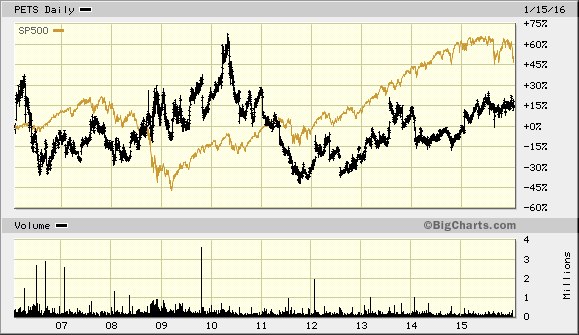 The pet industry in the United States has been steadily growing for years, from $28.5B in 2001 to an estimated $60B in 2015. It is no secret that people in the US love their animals and are prepared to spend considerable amounts of money on them, especially when it comes to keeping them alive. For this reason alone PETS can be a solid investment with a well protected and regularly increasing yield. As e-commerce grows and more people go to the internet to order everything, pet medications will be no different. I'll be adding this to my watchlist as I dig deeper into the company.
Paychex
PAYX is a well-known payroll services company with a $16.9B market cap. The company provides payroll services to large and small customers and have been doing very well lately. They pay their shareholders $.42/quarter which results in a generous 3.4% yield. That dividend has been raised regularly and they've been on a yearly schedule since 2010, it is protected by their recent $.52 EPS and their $2.01 TTM EPS resulting in an 83% payout. The company has $476M in cash with no debt and their FCF for the last twelve months is $805M. Overall the income and balance sheet for PAYX is very healthy and quarterly growth is stable with increasing revenues. The stock has lagged behind the S&P since 2010 but has recently begun to close the gap.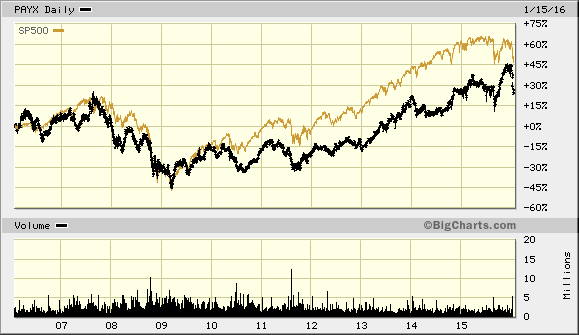 The business that PAYX operates in will only continue to grow in line with the growth of jobs in the United States. Should that growth cease or go backwards then PAYX will suffer as well. Given their well protected yield and cash stash the company still presents a nice opportunity for a long term investor and there is significant opportunity for growth by acquiring new clients. The company is considered somewhat expensive with a forward P/E of 21 but is still worth a deeper look.
Unilever
I was surprised to find this business on the screen I ran. I'm familiar with them based on their recognizable logo on so many of the things my family purchases. For this analysis I've chosen their UL traded shares. Being a foreign company based in both the UK and Netherlands they use two classes of stocks much like RDS-A and RDS-B. For US based investors the UL shares are simpler as they don't carry a foreign tax, you still may opt for the UN class of shares based on your own personal tax preferences. The company pays a 3.3% yield quarterly, the amount can vary based on currency rates but sticks around $.34. The dividend is volatile and varies due to the currency but it is covered by their TTM EPS of EUR 1.69. What is most impressive is their huge cash hoard EUR 3.5B, they currently have two bonds issued in the UK that total EUR 949M. When you look at the cash on hand, outstanding bonds and their A+ credit rating they are already a great company to invest in for most. The TTM FCF of EUR 5.9B and their dividend payout ratio of 68% can help you sleep at night as well. They have outperformed the S&P since 2007 and should continue to do so.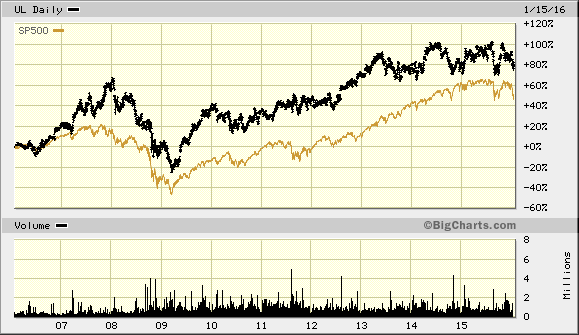 The global slowdown will hurt the company but their diversity and healthy balance sheet will allow them to not only survive but grow by acquiring smaller competitors and additional brands. The dividend is safe but can be hurt by currency fluctuations which could present problems for retirees relying on the income generated.
Out of the five companies I covered here I think I'll be looking at Unilever a lot closer. PETS is a very close second as that niche of the pet industry will continue to grow and expand and they are well entrenched with a solid business and good reputation. Beyond the fundamentals of Unilever they appeal to me based on their business practices. The management is focused on their customers and sustainable practices which will help them grow their presence worldwide. They own a wide variety of very well-known brands and are a company that will continue to grow for decades and could prove a worthwhile addition to my portfolio. While Unilever may work for me, it may not work for others. I just want to remind the readers that these companies aren't good or bad investment because of their cash and debt. This is just an introduction into these companies and I urge you all to perform your own research and make an informed decision based on your needs as an investor. I've enjoyed writing these articles as they have brought companies to my attention that I normally wouldn't look at. I'll continue this series of articles with a new one every two or three weeks. If you all have any ideas you'd like to see included please leave them in the comments. I look forward to continuing this discussion there with you all. As always good luck to everyone and thanks for reading!
Disclosure: I/we have no positions in any stocks mentioned, and no plans to initiate any positions within the next 72 hours.
I wrote this article myself, and it expresses my own opinions. I am not receiving compensation for it (other than from Seeking Alpha). I have no business relationship with any company whose stock is mentioned in this article.