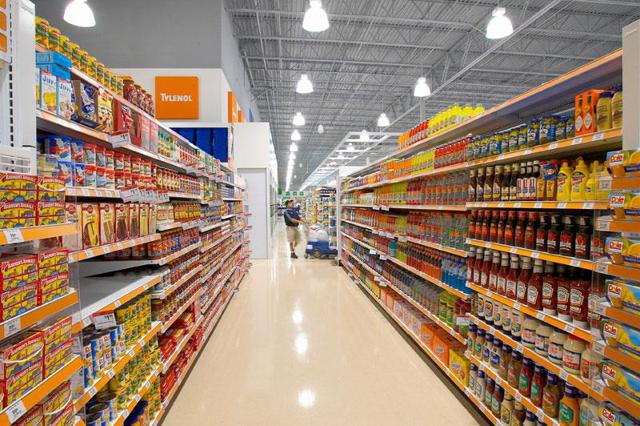 Click to enlarge
2016 has already been a vicious year for investors - the S&P 500 is down 8%, China and oil have the media in a tizzy, and global growth forecasts are quickly turning over. What normally serves as a jolly time for stocks has turned into a month people can't wait to look past.
What should we do when markets get dicey? Pull out the shopping list. There are always stocks that don't deserve the pain markets can dish out at any given moment, and if investors are patient with their money, they can snag stocks worth buying at prices they know - after due diligence - to be attractive.
One such stock is a company that's been on my shopping list, and is nearing a level where I'm considering starting a position. That company is SunTrust (NYSE:STI), a regional bank that's worked hard to improve its efficiency and create value, and that's been taken down with the major averages to an unfair level. When I see value on my shopping list, I capitalize on it, and I think others should, too.
Overview
SunTrust, a large regional bank headquartered in the Southeast, works through operations in 11 states with a $187 billion balance sheet. The company creates value for its shareholders by efficiently managing and growing its asset base, generating income through interest on its portfolio of loans or through fees on a wide range of financial services the company provides. A general breakdown of revenue can be seen below: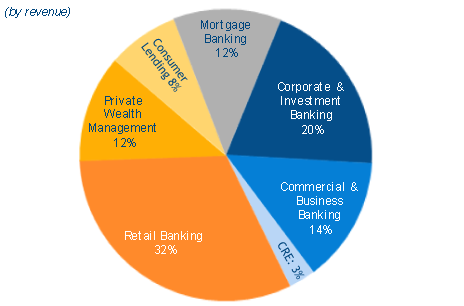 SunTrust's revenue stream is heavily dependent on loan performance, with a large portion of revenue coming from net interest income. Commercial lending is the main pillar of the company's portfolio, with real estate a distant second: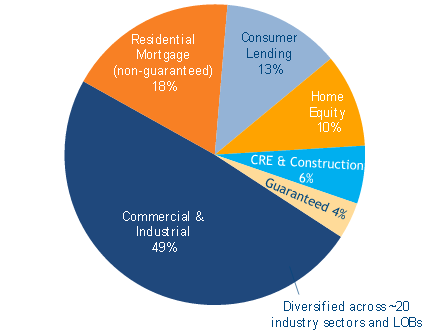 SunTrust's decision to go overweight Commercial & Industrial comes from healthy business activity in the Southeast; in the states where STI operates, average unemployment stands at 5.3%, generally on par with the national average of 5%. If business growth continues its slow, steady progress, SunTrust will be exposed to the benefit this growth creates. An important point to keep in mind is the level of energy loans in STI's portfolio, and the risk these loans carry given current global commodity chaos. Recent management comments reveal that only 2% of SunTrust's total loans are in the energy sector, with less than half of these loans in the E&P space. Company insiders aren't worried about this part of its business long-term, and investors shouldn't be worried, either. When oil price swings cause markets to waver, I think SunTrust is being unfairly taken down with other banks that might have greater energy exposure and risk.
Earnings
When the company reported quarterly results back in October, adjusted earnings came in at $.89 per share, up 10% from 2014. Net interest margin improved by 8 basis points, and the company maintained strong efficiency on its operations through the year. STI's adjusted tangible efficiency ratio improved to 62.9%, showing healthy progress towards management's long term goal of a sub-60% efficiency ratio. The lower this ratio is, the less expense SunTrust incurs to make money on is loans, which means returns on assets and equity should improve over time. In reaction to the energy selloff in the U.S, management began building reserves to offset the 2% of its portfolio that is exposed to the carnage. As long as the company takes a cautious approach when reacting to commodity volatility, it can shield itself from major losses.
SunTrust beat analyst expectations in Q3, continuing its streak of 4 consecutive quarters of upside surprises. Below shows the earnings trend analysts predicted over the last 2 years vs. what the company actually reported; when visualized, it becomes easier to see how the company is performing above what Wall Street has come to expect. STI has been able to beat analyst estimates by an average of over 8% over this time frame:

Click to enlarge
When Wall Street comes out with estimates about STI in the future, it might be wise (and consistent with the past) to predict a more positive outlook for the company than what conventional wisdom might be touting.
Management
SunTrust is led by an experienced and competent management team, with the C-suite averaging more than 11 years of experience at the company. At the helm of SunTrust is William Rogers Jr., who joined the company back in 1980 and worked his way into the top spot in 2011. Under Rogers, STI has seen balance sheet health improve dramatically, with tangible efficiency down more than 900 basis points and still improving every quarter. Debt levels have also been cut in half under Rogers' leadership, which has freed up capital and taken a lot of burden away from the company. If operations continue to improve, under the CEO's guidance, benefits should be seen in the stock's performance as efficiency flows through to the bottom line.
Another positive factor when looking at management is the team's tie to the Federal Reserve, and the effect this connection has on the performance of the company. In addition to operational duties at SunTrust, Rogers serves on the board of directors of the Federal Reserve Bank of Atlanta, helping shape monetary policy through research and observations in his financial spheres of influence. With close ties to the Fed, SunTrust can be better prepared for interest rate changes and general policy shifts at the national level. When your CEO influences monetary policy in the area where your business operates, there's going to be an overlap in information and strategy, and this overlap should pose an advantage for the company, especially going into a tightening cycle. Management even revealed in Q3 that they were ready for monetary tightening through shifts in the balance sheet:
"…we continue to manage the balance sheet to where net interest income would benefit from a rise in short-term rates…"
In an environment like the one we're in today, it pays to be close to the Federal Reserve, and SunTrust has such an advantage.
Valuation
When looking at bank stocks, a key metric to take into account when doing analysis is the company's book value, as well as its market price relative to the value of these assets on its balance sheet. Generally, a company's book value is a proxy for its liquidation value, or the amount shareholders would receive if the company sold everything it had and paid out the proceeds. In SunTrust's specific situation, I like to use book value as a good measure of margin of safety in a purchase. A large part of SunTrust's book value involves the value of its asset base (including loans) - if the company is using assets efficiently and generating sufficient return on investment, I think it's safe to use book value per share as a measure of intrinsic worth. The better STI uses its assets, the more it deserves to trade at or above book value. In spite of operational efficiency and results that have beaten expectations in recent quarters, STI currently trades at a discount to book value, seen below: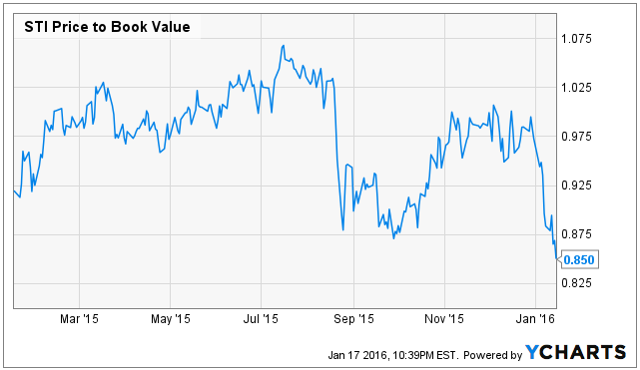 Click to enlarge
A reason behind this undervaluation - besides general market volatility in 2016 (which could be reason enough) - may be jitters about the bank's energy loans on its balance sheet. With oil fears so prevalent in mainstream headlines, investors may be magnifying the negative impact of STI's energy loans on its overall business, which I think buyers can use to their advantage. With book value as a general price target, SunTrust can be bought through market selloffs and held over the medium to long-term, benefiting from rising interest rates and better operational efficiency. STI's book value stands at just under $44 - 17% above where the stock trades today. Book value has risen consistently since 2012, and can rise further if loan growth stays strong.
Conclusion
I'm using this market drop as an opportunity to consider going long SunTrust, and I think others should do the same. The company has a large base of assets (98% of which aren't in the energy space), and these assets are being used highly efficiently to generate returns for investors. Management has reacted well to control risky energy loans on its balance sheet, and is focused on improving efficiency even further. With ties to the Fed, a strong geographic presence in the Southeast, and prices that trade below the value of its assets, I'm finding STI to be more attractive as the market selloff continues each day. Q4 earnings come out before the market opens on January 22nd - If there are no red flags during the quarter, I think shares are going to have a strong 2016, and investors will have a chance to put their shopping list to good use.
Disclosure: I/we have no positions in any stocks mentioned, but may initiate a long position in STI over the next 72 hours.
I wrote this article myself, and it expresses my own opinions. I am not receiving compensation for it (other than from Seeking Alpha). I have no business relationship with any company whose stock is mentioned in this article.