According to Forbes Edward Lambert is worth around $2.1 billion and he is ranked #246 on Forbes billionaire list. The "hedge fund titan" is best known for his big bet in Sears Department Stores in which has undertaken a key role as the CEO (since 2013) hoping to deliver outsized value by spinning off the retailer's assets.
By breaking apart the pieces, Lampert has become an investment banker of sorts, unloading businesses such as Lands End, Sears Canada, and Sears Hometown, More recently he decided to create a REIT that serves like a bank - essentially obtaining $2.7 billion in capital for Sears in return for a promise to pay in the form of a large-scale sale/leaseback.
Billionaire Lampert and his hedge fund have essentially created a bank for Sears, except instead of securing the Sears-owned real estate, he has created a vehicle - Seritage Growth Properties (NYSE:SRG) - to generate liquidity to keep Sears afloat for a period of time. At the time of the SRG announcement Lampert said,
Today's announcement demonstrates our ability to unlock a small portion of Sears Holdings' vast and valuable real estate portfolio, and represents an important step in the continued transformation of Sears Holdings.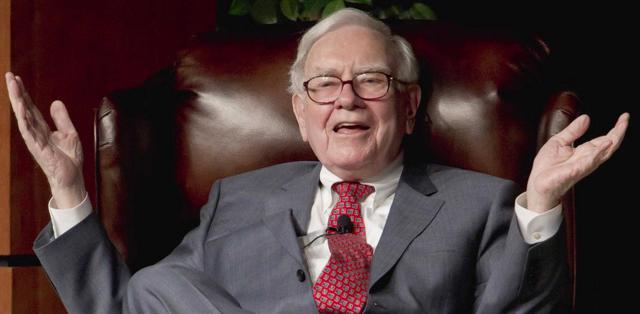 Click to enlarge
One December 10th SRG shares jumped more than 12% in early trading as billionaire investor Warren Buffett disclosed an 8.02% stake in the REIT (in a Schedule 13G filing the same day). Buffett's stake of 2.0 million shares is valued at roughly $70.6 million, based on the stock's $35.29 closing price Dec. 9. Here's how SER shares have responded since December 10.
Click to enlarge
Buffett, a prolific "value investor" is worth $59.5 billion according to Forbes and he ranks #13 as the wealthiest billionaire on the Forbes list. As an investor in SRG, Buffett has no control over SRG as he is in the simplest form, a shareholder looking to generate outsized returns.
Conversely, Lampert is also a shareholder in SRG (according to Yahoo Finance he owns 531,558 shares or around 2% of the company) and he also has 444,000 shares (around 1.78%) in an entity called ESL Investments. Unlike billionaire Buffet, Lampert has significant control in SRG as he is the Chairman of the Board.
I find it interesting that these two billionaires have skin in the same game, and unlike Buffet, Lampert is calling the shots. More interesting though is that Buffett is on the sidelines watching, seemingly contrarian to his lifelong emphasis of "picking out associates whose behavior is better than yours". Buffett once said, "it's better to hang out with people better than you" and I simply can't wrap my arms around these two investors playing on the same team - one a value investor and the other a value destroyer.
Let's Start With The Value Destroyer
I'm glad Dylan Street Capital has recently started covering Sears Holdings (NASDAQ:SHLD) on Seeking Alpha. There is no way that I could cover this retailer in such microscopic detail and I take my hat off to the analyst for helping us all break down the pieces. I have reviewed most of the author's research and I want to offer a few excerpts:
Eddie could have chosen not to spin off the real estate. But the cash Sears pays for rents is a real cash expense as the slide notes, and this represents a real business expense. The footnote on the slide says rent expense was $52 million. Thus, adjusted EBITDA loss is understated by this amount. The actual adjusted EBITDA was a loss of $332 million or an increase of almost 12% year over year. This ends Sears's five quarters of consecutive improvements in adj. EBITDA. It also suggests that things are getting worse at Sears despite management's assurances. (source: here).
In another article, Dylan Street Capital wrote:
There are many investors who believe that Sears is the vehicle by which Eddie Lampert will create his own personal Berkshire Hathaway…Sears is no Berkshire Hathaway.
I thought this comment is relevant to my article:
Buffett admits from day one that the textile business is not attractive and that he knew very little about it. This ultimately would lead to the biggest difference between Berkshire Hathaway and Sears. Buffett let his managers run the textile business, and quickly began focusing on redeploying capital to businesses other than textile. Mr. Lampert has done neither.
Dylan Street summed up the article:
In the 1989 letter to shareholders he said the following, "I've said many times that when a management with a reputation for brilliance tackles a business with a reputation for bad economics, it is the reputation of the business that remains intact." Sadly, Dylan Street Capital believes that this is the current situation of Mr. Lampert and Sears Holdings.
Dylan Street Capital has written several other articles related to Sears on Seeking Alpha and while it's clear that the retailer is doomed, the analyst offers a more recent glimpse of the pension fund assets and burn rate for the company (source: here):
The (pension) deficit is $2.2 billion. And Sears management tells you that a 1% change in the discount rate would reduce the liability by $600 million. So if Sears' liability is $5.874 billion, then 85% is $4.992 billion and Sears has $3.616 billion in assets. If we subtract the two, we can see that Sears would need to contribute $1.376 billion to become 85% funded (4.992-3.616 = 1.376). Sears as of its last 10Q had only $294 million in cash, and was burning cash on a quarterly basis, so how can they fund the deficit?
There is little evidence to support the argument that Sears has created shareholder value, in fact, I consider Lampert a "value destroyer". Just take a look at the stock performance since 2013.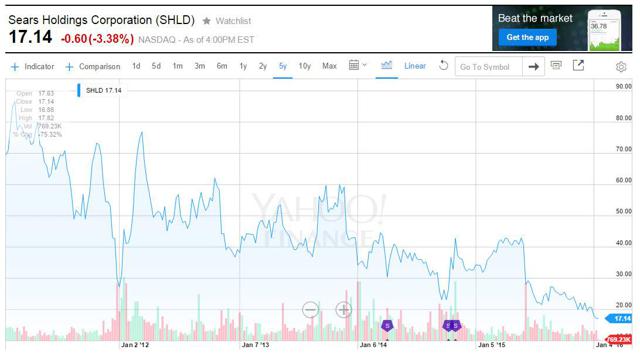 Click to enlarge
What About The Value Investor?
As I said Buffett is now a shareholder in Lampert's bank, Seritage Growth REIT. I find it interesting that Buffett would invest in this particular REIT given the higher risk profile of Sears.
Nonetheless, I wanted to take a deeper dive to see if perhaps Buffett sees something that I missed. It stands to reason that Buffett picks more winners that losers and maybe SER is a holding that deserves a place setting.
First, let's take a look at the portfolio that consists of 266 retail properties totaling over 42 million square feet across 49 states. 235 of the properties are wholly-owned and 31 are structures as joint ventures with three leading mall REITs.

SER's NOI (net operating income) is around $196 million and each of the sites owned by SER averages ~13 acres (a total of 3,000 acres). As illustrated below, SRG has a substantial presence in high growth markets such as California, Florida, and the Northeast.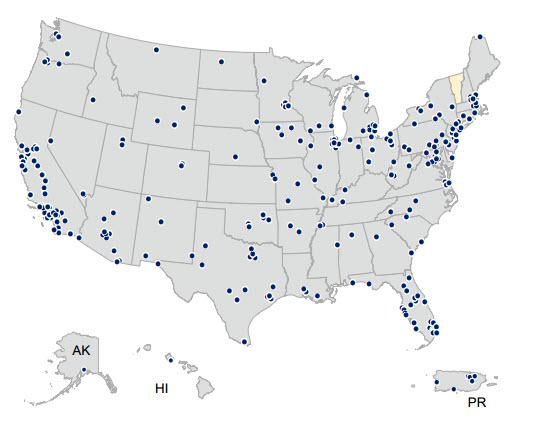 Around 50% of the buildings are attached to regional malls and around 50% ate free-standing or in shopping centers. Here's a snapshot of the wholly-owned property geographic concentration: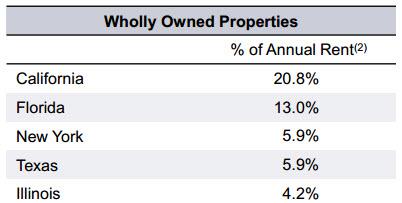 Here's a snapshot of the JV concentration: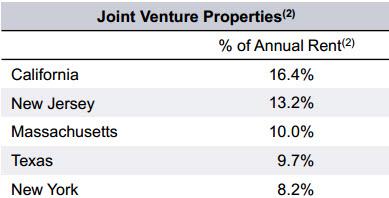 Here's a snapshot comparing the number of SRG Sears-leased properties compared with other REIT peers:

Click to enlarge
Unlocking Value Through Recapturing Space
In a broad sense, Lampert is both the landlord and tenant. By controlling Sears and SRG Lampert has essentially created a "non-recourse" bank such that he can monetize the Sears real estate while also enabling SRG to recapture space and lease it to other retailers at superior terms.
SRG has the right to recapture at least 50% of space at each property leased to Sears, totaling over 22 million square feet. Currently SRG's portfolio generates around 78% of annual rent from Sears and 22% from other 3rd party tenants.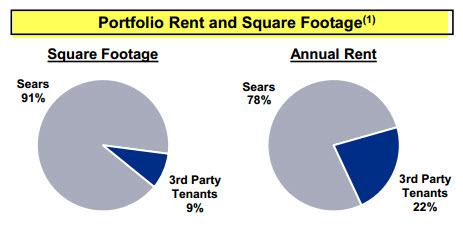 The biggest value opportunity for SRG (and Buffett) is to recapture the Sears space and re-lease the space at significantly higher rents while also diversifying the tenant base.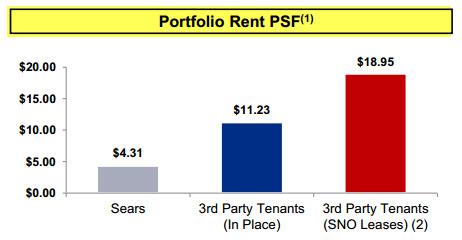 No other Mall-based REIT comes close to the high-level of tenant concentration at SRG:

Click to enlarge
SRG has a pipeline of "signed but not open" (or SNO) tenants that total 614,650 square feet. This pipeline will generate around $11.65 million of annual rent (at an average rent PSF of $18.95).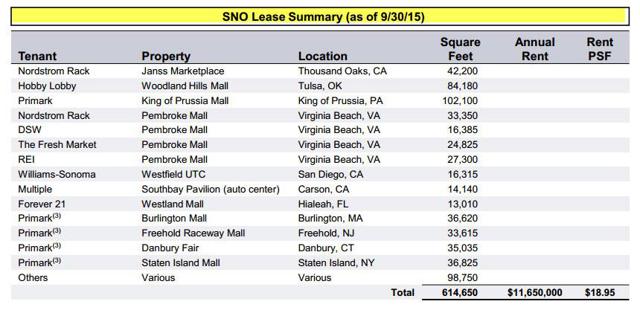 Click to enlarge
Several representative redevelopments include:

Click to enlarge

Click to enlarge

Click to enlarge
In Virginia Beach SRG is under construction on the project below: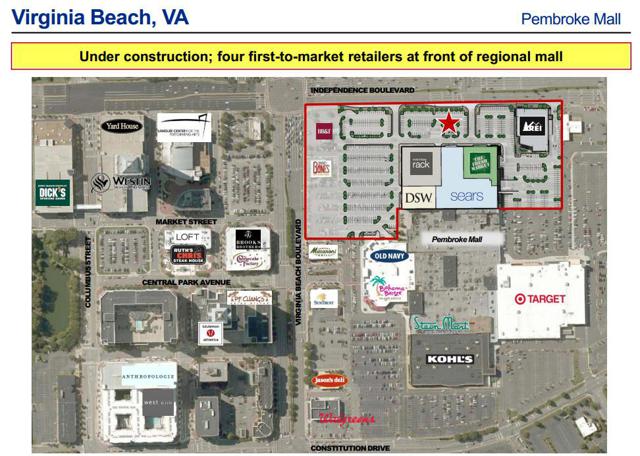 Click to enlarge
Here's a BEFORE picture of the Virginia Beach property:

Click to enlarge
Here's an AFTER rendering of the Virginia Beach project (3rd party rent in excess of $18.00 PSF):

Click to enlarge
In Thousand Oaks, CA SRG recently completed a free-standing project in close proximity to the "A" mall: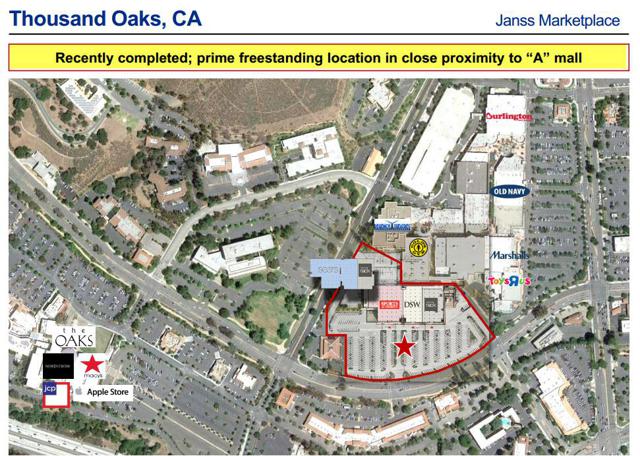 Click to enlarge
Here's a BEFORE picture of the Thousand Oaks property:

Click to enlarge
Here's a picture of the completed project in Thousand Oaks:

Click to enlarge
In King of Prussia, PA SRG is substantially complete on this redevelopment: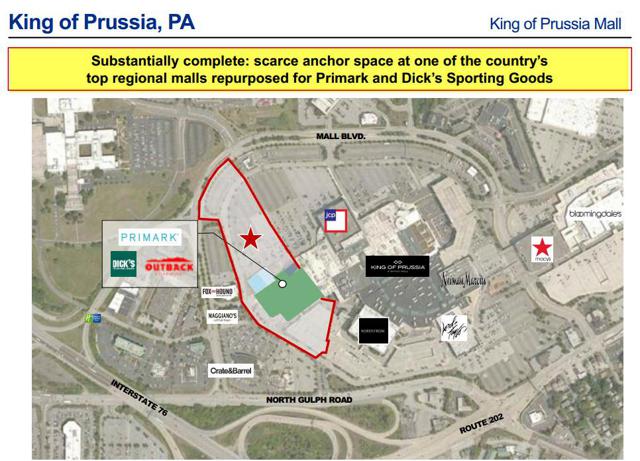 Click to enlarge
Here's a BEFORE picture of the King of Prussia property:

Click to enlarge
Here's an AFTER picture of the King of Prussia project (3rd party rent in excess of $25 PSF):

Click to enlarge
A Slice Of Cheesecake Sounds Good To Me
While reading over Dylan Street Capital's research I uncovered an interesting tidbit relating to Sears Auto Center real estate. As the analyst wrote,
What we want to note is that Seritage has the right to recapture ALL of the automotive care center space. This language we believe investors overlooked or glossed over could make it a lot harder for Sears to sell the Auto Centers or spin that unit out. How can you sell a business (Sears Auto Centers) if your locations can be seized at any time by the landlord?

It appears that the Auto Centers aren't subject to any limitation in the amount being able to recapture in any given year, as we can see the following language from an 8-K announcing the Seritage deal.

Seritage will not be permitted to recapture all or substantially all of the space subject to the recapture right at more than 50 Acquired Properties (other than certain Sears automotive care centers and other spaces) during any lease year.

We have been unsuccessful in finding any section or wording that prevents Seritage from taking back the Auto Center locations or limiting their number in any given year.
Wait a minute! As an investor in SRG you get 164 auto centers (owned by SRG) but also another +/-675 (owned by Sears) that can be monetized (recaptured) by SRG. That's a sweet deal (for SRG) and I'm sure that Buffett knew that when he was salivating over his cheesecake and coke.
As a net lease developer in a prior life I can attest to the strong demand in outparcels in front of A and B malls. I live in a smaller town with a Sears Auto Center (the mall is owned by CBL) and whenever I drive by the Mall I visualize the Sears Auto Center being ripped down and replaced by a Cheesecake Factory. Here's a snapshot of the Sears Auto Center in my hometown: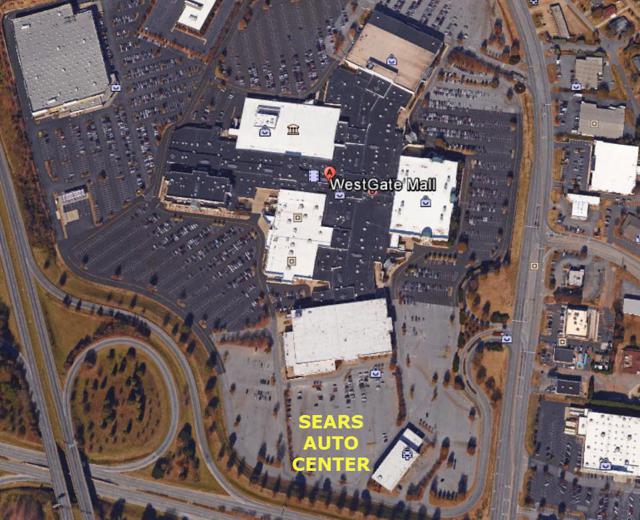 Click to enlarge
The Sears Auto Center portfolio (owned by SRG) consists of 164 auto center properties (3.6 million SF) and they consist of 89 free-standing buildings and 75 attached (end-cap) sites. There is strong demand from a number of fast casual and sit down restaurants as well as wireless retailers and other free-standing users.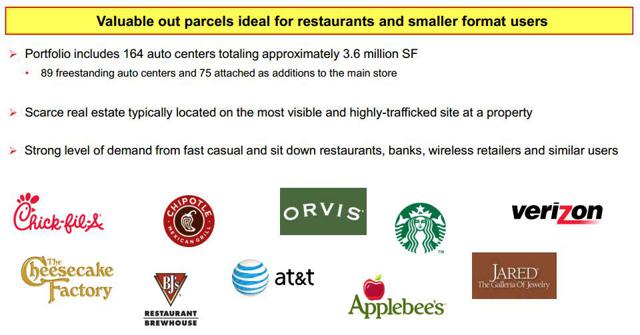 Click to enlarge
In Carson, CA SRG has one such property under construction: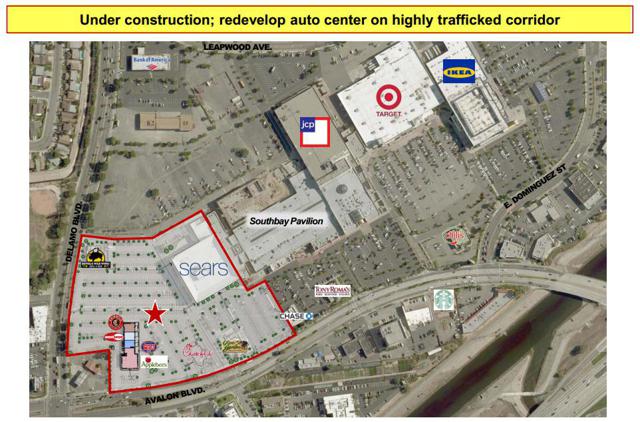 Click to enlarge
Here's a BEFORE snapshot of the Carson property:

Click to enlarge
Here's an AFTER rendering of the Carson property (3rd party rental income greater than $45 PSF):

Click to enlarge
What About The Balance Sheet?
SRG funded its roughly $2.8 billion acquisition of Sears real estate assets in part with a roughly $1.03 billion CMBS loan from JPMorgan Chase Bank NA. The loan was secured by SRG's fee simple interests in 234 properties, a leasehold interest in one property at the King of Prussia Mall and a pledge of SRG's equity interests in three joint ventures (SPG, GGP, and MAC) that own a total of 31 retail properties
The loan includes a $925.0 million initial funding provided by JPMorgan Chase and as part of the fully-funded loan, the borrower issued an A-2-1 future funding note in a maximum amount of $50.0 million to JPMorgan and an A-2-2 future funding note in a maximum amount of $50.0 million in favor of affiliates of H/2 Capital Partners.
The loan requires interest-only payments, has a four-year initial term with two one-year extension options. Its interest rate is based on one-month LIBOR plus a spread of 3.99% for the $925.0 million trust loan, and LIBOR plus 4.65% for the future funding notes.
Proceeds from the loan, along with $236.2 million of mezzanine financing and $1.6 billion of sponsor equity, were used to facilitate the portfolio acquisition, fund $97.6 million of up-front reserves, provide $31.3 million in cash for general corporate purposes, pay loan closing costs and pay $55.0 million in transactions costs.
Mr. Market and now Mr. Buffett have created liquidity for SER to operate its higher risk business model with more conservative financial footing. As illustrated below, SRG has around $1.16 billion in debt (as of 12-15) and a Total Market Cap of around $3.24 billion. Here's how SRG compares with other REITs in terms of Total Debt to Total Capitalization:

Click to enlarge
The troubled history of Sears (and the company's speculative grade credit) makes SRG a higher risk REIT as the struggling department store franchise has been unprofitable since 2012. The only quarter that Sears has made a profit was in Q2-15 and that was solely because of the SRG spinoff.
Sears under-funded retirement pension (referenced above) will add pressure to the company's cash flows that could result in declining performance. At some point, Sears may not be able to pay rent and fund operating costs (i.e. taxes, insurance, and maintenance) and SRG could be left holding the bag to fund its on-going REIT business. Here's a snapshot of SRG's current liquidity:
Here's a snapshot if SRG's estimated annual cash from operations: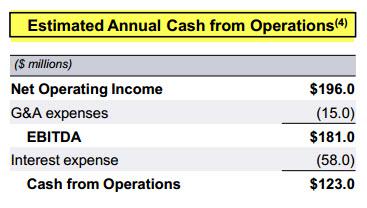 While SRG's Total debt per square foot is low, the REIT could essentially become a land business if Sears ceases to pay rent. As a friend once told me,
Land is a Rich Man's Game

But I'm Not A Rich Man
Buffett, Lampert, and the billionaire in my upcoming book - Donald Trump - are all rich. But in case you didn't know, I'm not.
After carefully researching Seritage and its value-oriented business model, I have concluded that this is a highly speculative REIT that could generate outsized rewards. However, the key to unlocking value in SRG is predicated on the number of rent checks that Sears is able to generate over the next few years. It appears that SRG has a number of projects underway hoping to diversify away from the struggling retailer and the real question is whether or not SRG will be able to reduce its exposure in time for the final nail in the Sears coffin.
A safer way to play the game, in my opinion, is to invest in one of the REITs that have JV relationships with SRG.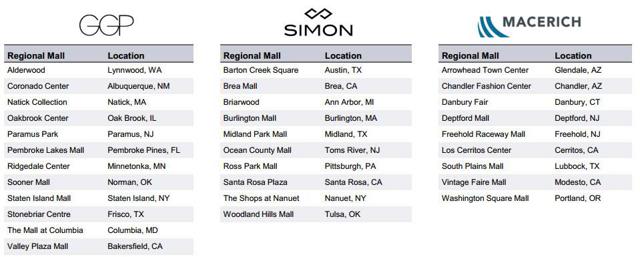 Click to enlarge
SRG has a modest dividend yield, further validating the argument that this REIT is not meant for everyone. On Dec. 17 SRG declared a special dividend of $.50 per share (an irregular distribution). In Q3-15 SER generated $4.8 million in FFO or $.09 per share. Normalized FFO was $29.0 million, or $0.52 per diluted share.
The Company makes certain adjustments to FFO, which it refers to as Normalized FFO, to account for items it does not believe are representative of ongoing operating results, including transaction costs associated with acquisition and disposition activity, changes in fair value of interest rate derivatives, amortization of deferred financing costs and other non-recurring and non-cash items. Adjusting for the July 1-6, 2015 period prior to the commencement of the Company's operations results in Normalized FFO of $31.0 million and Normalized FFO per diluted share of $0.56.
The 2016 dividend policy has not been announced so I used the run-rate for the recently declared distribution:

Click to enlarge
We know that Buffett is not a huge fan of dividends as his prize fish, Berkshire Hathaway (BRK-A) does not pay them. Besides, given the fact that SRG has strong organic growth prospects in its redevelopment pipeline, it seems logical that SRG could earn substantial returns through converting its speculative rent checks into more profitable ones (through redevelopment).
Other billionaire's, including Bruce Berkowitz's Fairholme Capital Management are hoping to benefit from the "rich man's game". The hedge fund manager is the second largest owner in Sears and he also owns around 10% in SRG.
Look, I'm no rich man but I know a value destroyer when I see one, and based upon the "lopsided spin structure" of Sears, it's obvious that Lampert is sucking Sears dry and all that will be left are two worthless trademarks: Sears and K-Mart.
Besides, investing in a Sears bank called Seritage seems to be flawed, even if the real estate represents the bargain of the century. As Warren Buffett remarked,
Long ago, Ben Graham taught me that 'Price is what you pay; value is what you get.' Whether we're talking about socks or stocks, I like buying quality merchandise when it is marked down.
Mr. Buffett, there's a catch. It will be hard to reap the value in the so-called bargains that are being offered when the blue light special is out of business. Remember TG&Y, Montgomery Ward, and Blockbuster Video? As you famously said,
In the business world, the rear view mirror is always clearer than the windshield.
Mr. Buffett, I applaud you for selecting a REIT and tomorrow I will be writing on a deeply discounted REIT that has "all of the ingredients of something special."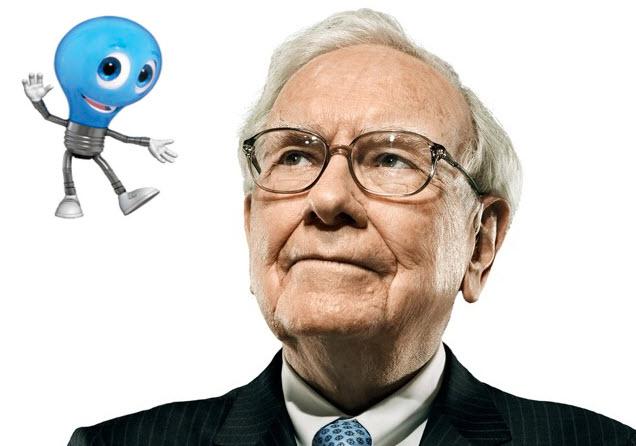 Author's Note: I'm a Wall Street writer, and that means that I am not always right with my predictions or recommendations. That also applies to my grammar. Please excuse any typos, and I assure you that I will do my best to correct any errors if they are overlooked.
Finally, this article is free, and my sole purpose for writing it is to assist with my research (I am the editor of a newsletter, Forbes Real Estate Investor), while also providing a forum for second-level thinking. If you have not followed me, please take 5 seconds and click my name above (top of the page).
The only guarantee that I will give you is that I will uncover each and every rock I can in an effort to find satisfactory investments that "upon thorough analysis promises safety of principal and satisfactory return. Operations not meeting these requirements are speculative." (Ben Graham)
Sources: SNL Financial, Yahoo Finance, and SRG Presentation.
Disclaimer: This article is intended to provide information to interested parties. As I have no knowledge of individual investor circumstances, goals, and/or portfolio concentration or diversification, readers are expected to complete their own due diligence before purchasing any stocks mentioned or recommended.
Disclosure: I am/we are long O, DLR, VTR, HTA , STAG, GPT, ROIC, HCN, OHI, LXP, KIM, WPC, DOC, EXR, MYCC, BX, TCO, SKT, UBA, STWD, CONE, BRX, CLDT, HST, APTS, FPI, CORR, NHI, CCP, WSR, CTRE, WPG, KRG, SNR, LADR.
I wrote this article myself, and it expresses my own opinions. I am not receiving compensation for it (other than from Seeking Alpha). I have no business relationship with any company whose stock is mentioned in this article.