By Kristina Hooper, Steve Malin and Greg Meier
Originally published January 8, 2016
Robust US Labor Market
Jobless measures fall well below historic norms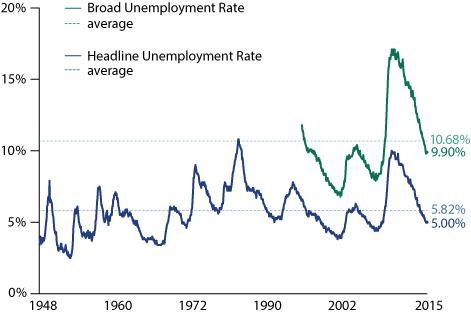 Source: US Labor Department; Allianz Global Investors. Data as of 12/31/2015.
The US economy delivered yet another blockbuster month of job gains in December. Employers added 292,000 workers, with backward revisions tacking on an additional 50,000 in October and November. The report crushed the consensus Wall Street estimate of 200,000, bringing the three-month moving total to 851,000, the most since January 2015.
Who's hiring?
As usual, most hiring came from the private sector, where services companies added 230,000 positions. Within that cohort, the largest contribution came from the professional and business services sector, which added 73,000 jobs. Nearly half of those came from temp hiring, reflecting, perhaps, either difficulty finding talent or caution as employers match headcount with the medium-term business outlook.
Construction companies also turned in a strong showing, hiring 45,000 workers - not a surprise given tightness in the housing market and warmer-than-usual El Niño weather. The only reported drop in hiring was in the mining and logging sector (which includes energy companies), which shed 8,000 jobs, the twelfth straight monthly decline. Again - not a surprise given the collapse in global commodities - oil dived below $34 per barrel yesterday - and sluggishness in China and other emerging economies.
Scars from Great Recession remain
Broader measures of job market health were mostly strong. Unemployment held steady at 5.0% for a third month, matching the lowest level in seven years. Labor force participation increased to 62.6% - a five month-high - as improved hiring prospects drew people into the workforce. Still, scars from the Great Recession remain.
For instance, the percent of part-time workers unable to find full-time jobs for economic reasons is at 2.2% - much higher than the long-run average of 1.6%. Also, at 27.6 weeks, the average duration of unemployment remains close to double the pre-recession norm, suggesting a persistent mismatch between workers' skills and employer needs. This is partly what Federal Reserve Chair Janet Yellen is talking about when she refers to labor market slack.
Importantly, wages last month showed no signs of firming. In fact, average hourly earnings fell $0.01 to $25.24. Earnings increased on an annual basis-up 2.5% compared to December 2014, but acceleration was tied to a low reference point twelve months ago.
Further fuel for Fed
Healthy job market momentum that supports economic growth should impress a Fed eager to elevate interest rates to more normal, more neutral levels. Even though wage growth remained subdued in December, the strong job gains and tightening labor markets point toward higher wages in 2016. That's the Fed's expectation. In sum, there was little in today's report that should derail policymakers as they prepare to withdraw monetary accommodation this year. This may mean continued volatility in coming months, as markets adjust. Fasten your seatbelt - it might be a bumpy year!