The SPDR S&P 500 ETF (NYSEARCA:SPY) has fallen from $210.68 at the close on December 1, 2015 to $187.81 at the close on January 15, 2016 (-$22.87 or -10.85%). Many pundits think it has a lot farther to fall. Further as of January 8, 2016 nearly half of US equities were in a BEAR market (down -20%+); and the US markets have fallen farther since then. The iShares Russell 2000 ETF (NYSEARCA:IWM) has fallen from $129.01 at the close on June 23, 2015 to $100.12 at the close on January 15, 2016 (-$28.89 or -22.39%). It is already in BEAR TERRITORY. We have already seen an earnings recession develop with negative blended earnings growth for both Q2 and Q3 in 2015 for the S&P 500 stocks. The US railroad statistics seem to be confirming a slowdown with their slowdown in total traffic of approximately -2.4% in FY2015. The data is even worse when you look at the more commodity related "total carloads" data. It was down -6.6% in FY2015.
The above makes one worry about the US economy. According to the Atlanta Fed's latest forecast the US GDP Growth was only +0.6% in Q4 2015. Morgan Stanley (NYSE:MS) pegged it at a mere +0.1% in Q4 2015. These numbers could easily turn negative. When you consider that Q1 is often a weak quarter for the US economy, it seems likely that the US economy will see negative GDP Growth in Q1 2016. If Q4 2015 turns out to be negative, we will then have a recession. If Q2 2016 turns out to be negative, we will also have a recession. The government already fiddled with the GDP calculation numbers last year. They cannot believably do that again; and I am not sure they were believed when they did it in 2015. That probably leaves a stimulus program from the US Congress as the main possible savior of the US economy. Such stimulus measures would have to be enacted soon in Q1 2016 for them to have much effect in Q2 2016. Perhaps now people are beginning to see why I came out so strongly against a Fed Funds rate raise in December 2015.
The two year chart of the SPDR S&P 500 ETF (SPY) below shows the technical story.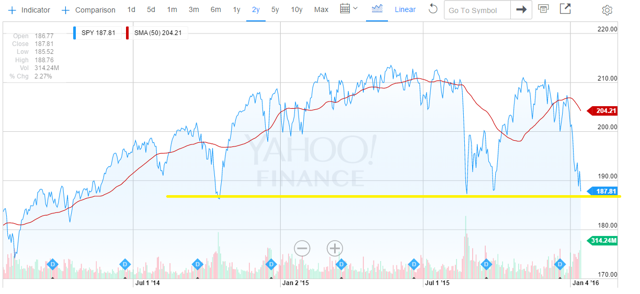 Click to enlarge
As readers can see from the yellow support line above, the SPY is close to breaking through a major support point. If it does, the SPY could fall considerably farther before it rallies. On the other hand, we could also logically see a rebound upward in the near term. How can one invest in this environment?
One way is to enter PAIR TRADES. Typically you buy one stock; and you short another stock. Usually these stocks are in the same industry. You bet that one stock will outperform the other whether the market goes up or down. You buy the same dollar amount of each stock, when you enter the trade. Then you profit from the outperformance of the better stock. At least that is the hope.
For a railroad or "train" stock pair trade I have selected CSX Corp. (NASDAQ:CSX) to go long on and Kansas City Southern (NYSE:KSU) to go short on. This does not mean I hate KSU, it merely means I believe CSX will outperform KSU. I hope to profit from the outperformance of CSX over KSU during a time when the market may be very volatile. It won't hurt that CSX pays a higher annual dividend at 3.16% compared to KSU's 1.95%. Remember you are responsible for paying the dividend when you are short a stock. Still you should benefit by +1.21% in dividend total return on the combined position. The two year chart below shows the last two years of relative performance of the two stocks.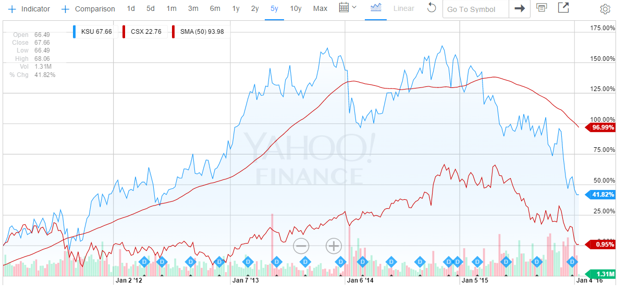 Click to enlarge
Over the last two years, CSX has outperformed KSU by +40.87%. CSX does seem to have fallen a bit more rapidly than KSU recently; but it had a lot farther it could fall.
Why should an investor believe that the recent relative rate of fall will change? The fundamentals seem to dictate this. The table below contains some of the relative fundamental data for the two stocks.
| | | |
| --- | --- | --- |
| Company | CSX | KSU |
| PE | 11.38 | 15.38 |
| FPE | 10.89 | 14.52 |
| Price to Book (mrq) | 1.94 | 1.93 |
| Operating Cash Flow (TTM) | $3.37B | $895.40M |
| Levered Free Cash Flow | $682.00M | -$133.70M |
| Total Cash (mrq) | $1.44B | $116.60M |
| Total Debt (mrq) | $10.70B | $2.34B |
| Next 5 Years EPS Growth Est. per annum | +4.75% | +5.63% |
| Total Debt/Total Capital (mrq) | 46.43% | 35.91% |
| Quick Ratio (mrq) | 1.14x | 0.98x |
| Interest Coverage (mrq) | 6.86x | 4.69x |
| EPS Growth Rate | 9.89% | 2.13% |
| Net Profit Margin | 16.31% | 19.77% |
Note1: CSX has already reported Q4 2015 earnings, while KSU has not. Therefore the FPE data refer to different years (2017E and 2016E respectively). The MRQ refers to Q4 2015 for CSX and Q3 2015 for KSU.
Note2: The above data are from Yahoo Finance and from TD Ameritrade.
As readers can see from the above, the statistics are close. If one were expecting a rapidly rising BULL market, one would probably not want to bet against KSU. The stock might outperform CSX in that situation. However, most pundits are expecting a volatile sideways market or a down US equities market in FY2016 (and possibly in FY2017). This likely means that the bigger, more stable company will do better. It does have the better cash flow statistics. It has slightly better Quick Ratio and Interest Coverage statistics, which can be important in a troubled environment. CSX also has much lower PE and FPE statistics. This usually means that it is unlikely to fall as fast as a slightly faster grower in a troubled environment. In sum it would appear that CSX should outperform KSU in a sideways to down market (and perhaps in any market). CSX's larger dividend should also tend to buoy its stock price. Admittedly KSU's lower Beta of 0.91 versus CSX's Beta of 1.23 argues against this thesis; but there are other factors such as the relative PE's and FPE's that may have more impact on the respective stock prices.
As I pointed out earlier, the railroad carload statistics trended downward in FY2015. However, the Intermodal statistics were still up nicely at +4.1%. CSX is ideally positioned to take advantage of the growth of Intermodal (the truck and train combination) as most of its approximately 21,000 miles of track are in 23 of the easternmost states and the District of Columbia. Many of these states are high traffic areas. That tends to make train transportation that much more economical compared to trucking alone for the shippers. On top of that CSX announced on January 14, 2016 that it is planning a new $272 million Intermodal rail terminal for Johnston County, North Carolina. It will be called the Carolina Connector (or CCX); and it will serve the metro-Raleigh area. This should help CSX further expand its profits from its growing Intermodal business. It shows good management. Remember this will serve the Research Triangle area and the many businesses that have sprung up around it.
On the plus side for KSU, it owns about 6500 miles of track from essentially the Canadian Border down through the central US and Texas. It even services Mexico along one line to Mexico City. After the NAFTA trade agreement, trade with Mexico has been growing rapidly. This has benefited KSU. However, in a slowing world economy or in a recessionary Mexican economy, we are more likely to see downtrends. In fact we are seeing downtrends across the whole of the US railroad business. However, the more established trade will be expected to be affected less. Mexico will be more likely to go into a deeper recession than the US. The old expression was, "when the US sneezes, the rest of the world catches a cold". This is less true in the more global economy of today; but there is still enough truth in the saying to make one think that the rapidly growing trade with Mexico will be effected more than the more established trade on the East Coast, whether that trade is US only trade, European trade, or other trade. That old saying (in addition to the many previous factors mentioned) makes CSX the likely outperformer over KSU for the next 1-2 years. It makes the long CSX and short KSU pair trade a likely winner.
Some may say this sounds like a weak trade. Perhaps it is. However, you will make a little bit of money on the difference in the dividend payments. Plus CSX's greater dividend will start to buoy its stock price. Further the institutional investors are sticking by CSX more. They have net sold only 0.79% of their CSX stock in the last six months. In comparison institutional investors have net sold 3.97% of their KSU holdings in the past six months. My expectation would be for this pattern to continue; and that should help this pair trade succeed. Finally one of the reasons you are getting into this trade is to protect your portfolio from large downward moves in the US equities markets. With this pair trade position, you should achieve that. In the better case scenario, it will also bring you a good profit, when CSX outperforms KSU as I expect it will. Remember if Mexico does flounder economically in 2016-2017, the KSU growth expectations are sure to flounder with Mexico. I don't believe the current analysts' estimates reflect this growing likelihood. Again this leaves more room for KSU to underperform.
NOTE1: A lot of the fundamental fiscal data above is from Yahoo Finance and TD Ameritrade.
NOTE2: I did not include a Q4 2015 comparison of the two companies because KSU has not reported earnings yet. Comparing Q3 results to Q4 results is often misleading. Providing older results when newer results are available, also seemed inappropriate.
Good Luck Trading/Investing.
Disclosure: I/we have no positions in any stocks mentioned, but may initiate a short position in KSU over the next 72 hours.
I wrote this article myself, and it expresses my own opinions. I am not receiving compensation for it (other than from Seeking Alpha). I have no business relationship with any company whose stock is mentioned in this article.