With stocks in the US now after experiencing their third week of losses and with crude oil now trading at under $30 a barrel, picking stocks for an income portfolio becomes increasingly difficult. Our first pick was Wal-Mart (NYSE:WMT) which has sound fundamentals, a low valuation and technical momentum. Wal-Mart doesn't pay its next dividend until April which brings its own income constraints but protecting the downside is my number 1 priority at the moment. Present volatility in the markets has decimated many sectors since the start of the year so risk management is imperative at present.
Our next "potential" position in McDonald's (NYSE:MCD) which is another dividend aristocrat presently paying out a 3.05% dividend yield and is announcing earnings for its latest fiscal quarter on the 25th of this month. The consensus EPS forecast is $1.22 a share which is precisely the same number the restaurant chain printed in the same quarter last year. The stock really got some momentum from its third quarter earnings when the company beat EPS estimates by over 10%. US sales rose for the first time in years sparking off a violent rally in the company's stock since October last (see chart)

Click to enlarge
Source : Google Finance
The question is - can the stock keep powering ahead? Well looking at the stock's performance over the last few years, it's quite obvious the stock generally trades at a premium. The company's trailing twelve month earnings per share is currently $4.62 which is almost a full dollar lower than 2 years ago but you still have the stock price presently trading at all time highs. Furthermore analysts really became bullish on this stock after the company's investor meeting in November when the restaurant chain announced that it would be increasing the dividend by 4.7% and would also be borrowing $10 billion to fund the above mentioned dividend and promised buyback scheme ($30 billion over 3 years) into 2016. The REIT spin-off transaction is now firmly off the table which is why the company has decided to leverage its balance sheet in the near term to keep its large shareholder base happy.
The "all day breakfast" initiative is certainly another big growth trigger the company can leverage for growth going forward. There is no doubt that this initiative is going to bring both new and former customers through the doors. The real question though is whether this initiative is a short term trend or will it significantly improve the restaurant's chain's top line going forward. Well we will get a good idea in its next set of earnings as the last quarter will be the first full quarter where all day breakfast was being served. However here is what we know for sure.
More than 15% of food consumed at McDonald's outside of breakfast hours included something from the all day breakfast menu
Research group NPD reported in December that the uptake among customers at lunch time (the chain's busiest time of the day) was high which resulted in average order prices also being higher.
The roll-out for such a huge initiative only took a little over 4 months which is really impressive when you consider the 14,000+ restaurants the company has in the US. This is bullish for other initiatives the company spots as growth triggers it wants to roll out in the future as now investors believe it can roll out with speed due to its supply chain seemingly improving meaningfully. If one thinks back to pre-2014 when things were looking bleak for the company, it was unimaginable to believe McDonald's could execute on a major initiative so quickly. That story is changing.
Another growth trigger for McDonald's turnaround plan is its re-franchising goals which will mean lower capex requirements and continued strong cash flow numbers going forward. The company is looking for 4,000 units to be re-franchized by 2018 coupled with a long term goal of over 95% units franchised. Objectives are lofty also in China where the company wants the rate to get to 25% i the near term which again should bring stronger margins to the equation.
Cash flow levels in the present environment are crucial in my opinion when determining the value of this company. Even though earnings per share estimates are well down since 2013, free cash flow has risen which explains why the stock has remained elevated since 2013. As I always elude to my articles, protecting the downside is key. The US usually has a recession every 6 years which means we are way overdue one. If the US has to stop its tightening cycle and ease once more because a recession hits, we only have to look at McDonald's record in the great recession to see what a great recession proof stock this is. Its EPS more than doubled between 2007 and 2009 (from $1.98 to $4.11) and free cash flow leapt by more than $800 million in the same time period
However let's look at the stock's valuation which historically is definitely on the high side. The company is trading with a present price to earnings ratio of 24.9 whereas its 10 year average is 19.5. Furthermore its more accurate valuation metrics such as price to book, price to sales and price to cash flow are also all trading above their 10 year averages which confirm the stock is not cheap on a historical basis. The leveraging of its balance sheet means that its debt to equity ratio has spiked to 2.17 which again is much higher that its 10 year average. The one metric that stands out as eluded to earlier is this company's cash flow which is well ahead of the company's average but is it enough to consider owning this stock right now? Furthermore its pay-out ratio has spiked to 73.6 and dividend hikes have been slowly decreasing as was demonstrated by its latest increase back in November when the dividend increased to $0.89 a share which was a 4.7% hike.
On the technical side, the long term weekly chart shows that the 50 day moving average has rarely been further away from the trading price and the RSI is definitely in overbought range. In saying this, a pullback in the share price could be brief (which will give the 50 day moving average time to catch up) before the stock price begins its ascent once more. Nevertheless a sustained move above $120+ per share in the near term looks unlikely even if earnings provides another momentum trigger for the stock.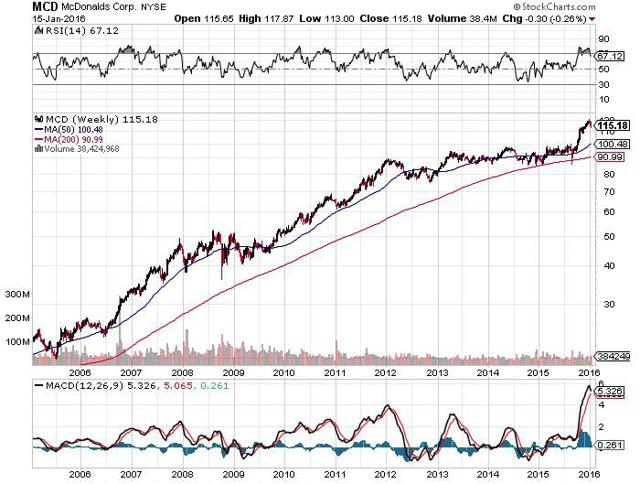 Click to enlarge
Therefore with earnings coming up on the 25th, I have decided to go with a short put option (7 strikes in the money) which will expire 4 days later on the 29th. The probability of not being assigned is extremely high and we also have the advantage of the option expiring worthless on the last Friday of this month. The best time to put on this trade is the evening before as volatility will continue to expand which will make option prices more expensive which is what we want as premium sellers. If you look at McDonald's option chain now (as if tomorrow was earnings), the 108 put is worth around $106. In the unlikelihood that we get assigned, we will take ownership of the stock and keep the premium collected. If we don't get assigned, we will keep the premium of $106 which we can then deploy into more favorable dividend growth stocks.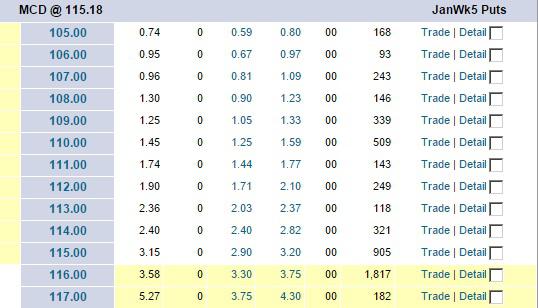 Source : Optionsxpress.com
To sum up, this portfolio will be all about increasing trade activity amongst some overvalued dividend growth stocks so that over time we can pump more capital into our lower valued dividend growth stocks who by nature should be paying higher dividends. We need to do this to keep the portfolio diversified This increases our reward potential going forward as income portfolios are all about share count which we will increase substantially over time
I'm going to be adding a good few Dividend Aristocrats to the elevation portfolio over the next several weeks. It's imperative that they are not correlated and don't all have similar valuations to ensure income is brought in every month to over time increase our share count. Follow along by pressing the "Follow" button above. Action: Initiate the selling of 1 put option in McDonald's on the 24th 7 strikes in the money. Let's see how quick we can get this to $20k in annual income.
Disclosure: I/we have no positions in any stocks mentioned, and no plans to initiate any positions within the next 72 hours.
I wrote this article myself, and it expresses my own opinions. I am not receiving compensation for it (other than from Seeking Alpha). I have no business relationship with any company whose stock is mentioned in this article.