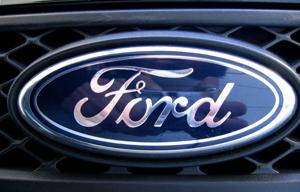 Ford (NYSE:F) execs recently announced a special dividend and positive guidance for the coming year. The news was good yet caused share prices to fall to the lower end of the 3 year trading range. This move is counter to the company's fundamental outlook and providing an attractive entry for Ford investors. This is a look at 7 reasons why the market has Ford wrong and why it is still headed to $17 in 2016.
US Auto Market Is Strong
The US auto market is strong and expected to remain so at least through the end of the year. Total US sales topped record levels in 2015 and are projected to do so again in 2016. 2015 saw total US sales grow by a rate of 5.7%, 2016 sales are expected to slow to a rate near 5% but remain steady. Ford's 2015 sales grew by 5.3% with market share holding steady near 15%.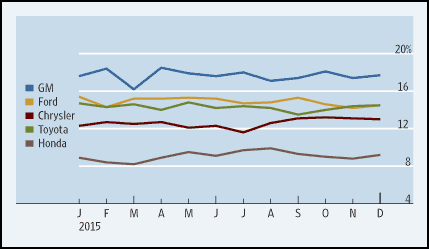 European Auto Market Is Strong
The European auto market is strong despite sluggish growth in the economy. December data shows new car registrations rose 16.6% in the month, topping 1.1 million and bringing the annual total to +9.3% and a 6 year high. Full year outlook for total EU auto sales growth in 2016 is 2.5% to 3% and another new high.
Ford was able to increase its market share during the year, an increase that will help drive top and bottom line earnings in 2016. Market share is now 7.2%, up 3% from the previous year and closing in on Renaults 9.6%. SUV sales drove gains with sales increasing more than 31%, possibly aided by lower gas prices.
Chinese Market Is Strong
Chinese auto markets are much stronger than expected. Ford posted a 3% increase in 2015 China sales despite earlier predictions the entire market would see negative sales for the year. This was driven by a 27% increase, year over year, in December sales and 49% increase in 2015 Changen Ford JV sales. Estimates for 2016 have Chinese auto sales, for the entire market, in a range between 2-8%.
Low Energy Prices
Oil and gas are trading at long term lows that are going to have a positive effect on Ford's bottom line in one form or another. They may not be directly responsible for an increase in sales but could easily contribute to an increase in vehicle upgrades among consumers, as well as a reduction in input costs for the company.
This is by no means a reason a reason to get bullish on Ford or the auto sector but is a positive factor that should be considered when looking at this stock. Current outlook is for oil prices to remain at or near current lows through 2016. JP Morgan has recently released new estimates calling for prices to average only $31.50 for the year.
Solid Dividends And Dividend Growth
Ford pays a solid dividend for an S&P 500 company with a high degree of dividend health. At current levels annual distributions of $0.60 are just over 5%. Add in the $0.25 special dividend recently announced and that yield jumps to over 7%, well above the average S&P 500 yield of 2.25%. The special is payable to shareholders of record as of January 29th.
Current year earnings are more than double distributions; 2016 full year earnings are nearly 3 times distributions, more than covering expected requirements. This amount of coverage is likely why the company issued a special dividend and why it likely another could come in 2016.
Robert Jacobson does a great job discussing why the company issues a special rather than raising the dividend in his article What Should Your Expectations Be If You Are Looking To Invest In Ford. He touches base on company ownership, stock classes and family control of the company. One of his conclusions; regardless the reason the increase is paid with already earned money and comparatively safe.
Outlook Is Good
Ford recently issued profit guidance raising 2015 full year earnings to the upper end of the previously stated range. At the same time execs also issued guidance concerning 2016 profit outlook, which they expect to be at least equal if not higher than 2015. This will result in year over year earnings growth and not only covers current distributions, $0.60 annually, but also allows for another special in 2016.
Analysts expectations are good and rising. Average earnings estimate for 2016 is $1.95, a near 14% gain over 2015's projected total and well ahead of the 7% projected for the entire S&P 500. Over the past month projections have seen a net increase of bullish estimates for EPS for the current quarter, the next quarter and full year 2016. Revenue is projected to grow at a rate near 5%, down slightly from 2015 but only slightly, but steady near 5%.

Ford Is Undervalued
At current levels, near $12, the business and sector is undervalued relative to both the broad market S&P 500 (NYSEARCA:SPY) and the blue chip Dow Jones Industrial Average (NYSEARCA:DIA). Ford's trailing P/E of 8.49 is less than 50% of the S&P 500's 17.22 and nearly 50% the Dow Jones 15.51 and the same is true on a forward basis. Forward looking P/E for Ford is 6.25, S&P 500 is 15.77.
Ford shares are even undervalued relative to themselves. The companies average P/E over the past 5 years is just shy of 10 with a low near 2 and high near 20. Low analyst estimate is $14, average analysts estimate for the stock is near $17. Even if Ford only rises to be in-line with average P/E it stands to trade near $15, a gain near 30%.
Risks Are Present
As rosy as I would like to think the outlook is there are some risks present. The biggest is the chance that increased incentives will cut into profits. The industry has begun to rely on these incentives once again and the effects are already being seen. While robust, the December US auto sales figures were below expectations in terms of revenue due largely to said incentives. Other risks include global market instabilities and sluggish economic growth, both of which have yet to have a noticeable impact on global auto sales.
My Thoughts
There are several reasons to like Ford at current levels. For one, it's just plain undervalued relative to the broad market and itself, providing plenty of room for share prices to rebound. For another, the company has a sound balance sheet, growing sales and steady earnings growth. Yet another reason is because it pays a solid dividend that is both healthy and above average for the asset class. Another is the chance for dividend growth, if not in the form of distribution increases, then in the form of a repeat special dividend at the end of 2016. What it all adds up to me is a great value and income with a chance of income growth and significant capital appreciation over the next 12 months.
Disclosure: I am/we are long F.
I wrote this article myself, and it expresses my own opinions. I am not receiving compensation for it (other than from Seeking Alpha). I have no business relationship with any company whose stock is mentioned in this article.