Introduction
As the sugar price seems to be bouncing off its multi-year lows, I wanted to have a look at which companies might benefit from this. I decided to dig into Suedzucker's (OTCPK:SUEZF, OTC:SUEZY) performance to find out if we can expect some sort of improvement in the company's financial results after seeing its revenue fall for four consecutive years.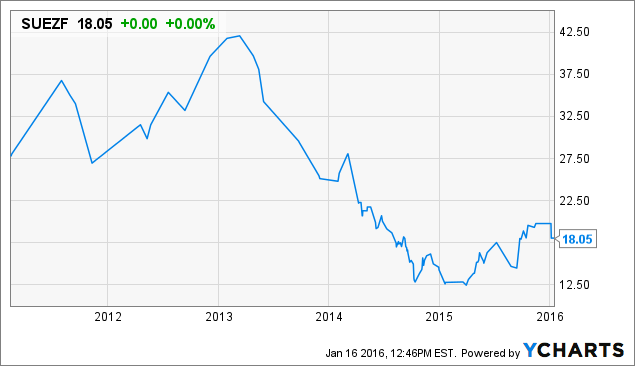 Suedzucker has its main listing in Germany and I'd recommend that you trade in this German company's shares through the facilities of the Deutsche Boerse. The ticker symbol is SZU and the average daily dollar volume is almost $7M. It's a pretty big company and the current market capitalization of Suedzucker is approximately $2.6B.
A much higher EBITDA on a lower revenue indicates Suedzucker's operations are improving
After several years of feeling the pain, Suedzucker is starting to have turned the corner as the company's recently released update of the first nine months of its financial year 2016 are pointing out there's hope after all… But it won't come from the sugar division.
The revenue from sugar sales fell by another double digit percentage (10.7%) to 2.26B EUR ($2.46B). That means sugar sales now account for just 45% of Suedzucker's consolidated revenue as the export volumes were lower while non-quota sugar also fetched a lower sales price, which has had quite an impact on revenues.
Fortunately Suedzucker is more than just a sugar producer, and even though the total revenue for the first nine months of the year was 4.95B EUR, a 5.4% decline, I'm not unhappy with the overall performance. After all, revenue doesn't really paint a correct picture of a company, and I think Suedzucker's financial results are proving my point. As said, the revenue was down by 5.4% to 4.95B EUR ($5.4B), but the company's EBITDA actually increased by 9.7% to 410M EUR ($447M). That's a very nice achievement considering this boosts the EBITDA margin from 7.1% to 8.3% (and the third quarter of FY 2016 was even stronger with an EBITDA margin of 10.7%). So, yes, it does look like Suedzucker's performance is improving despite the problems in 'sugar-land' (see later).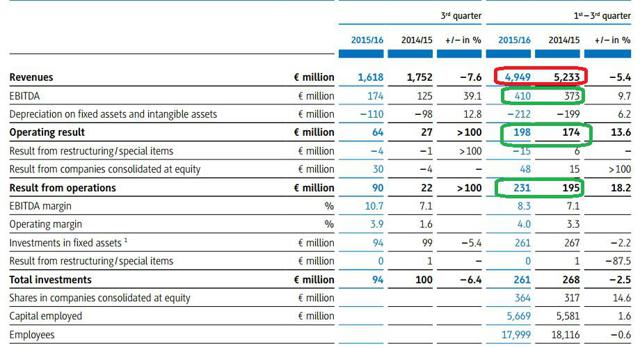 Click to enlarge
Source: financial statements
The cash flows are also stabilizing and the adjusted operating cash flow in the first nine months of the year was approximately 340M ($371M) EUR. Yes, that's still an 11% decline but that has been partly compensated for by a 3% lower capital expenditure. It's now looking like the full-year operating cash flow will be approximately 450-475M EUR ($490-518M), and after deducting the approximately 400M EUR ($436M) in Capex, Suedzucker should be free-cash-flow-positive again.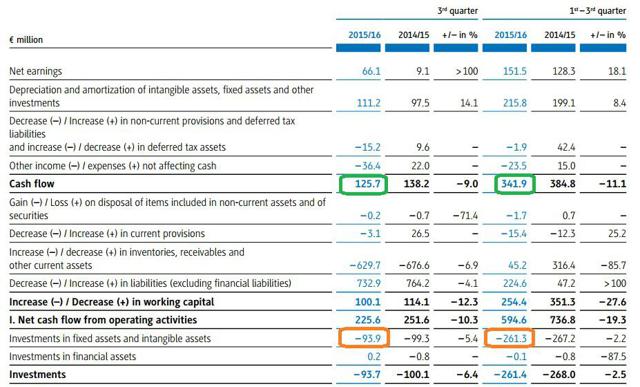 Click to enlarge
Source: company presentation
Okay, I agree a free cash flow of 50-75M EUR ($55-83M) is pretty marginal for a company with a market capitalization of $2.6B, but the free cash flow yield should more than double in the next financial year. Even if you'd completely exclude the possibility of seeing a higher operating cash flow, the strongly reduced Capex - from 400M EUR ($436M) to 300M EUR ($327M) - could easily double and probably even triple the company's free cash flow to a more healthy and respectable 150M EUR ($164M) per year, for a free cash flow yield in excess of 5%.
But the sugar division will remain a drag on the company's performance
The literal translation of Suedzucker's name is South Sugar, and indeed the sugar business is actually dragging the consolidated entity down. It still represents a large part of the company's revenue, but will actually be posting an operating loss this year. Whereas Suedzucker's sugar business generated an operating income in the past year, it's now expected to post an operating loss of 70M EUR ($76M).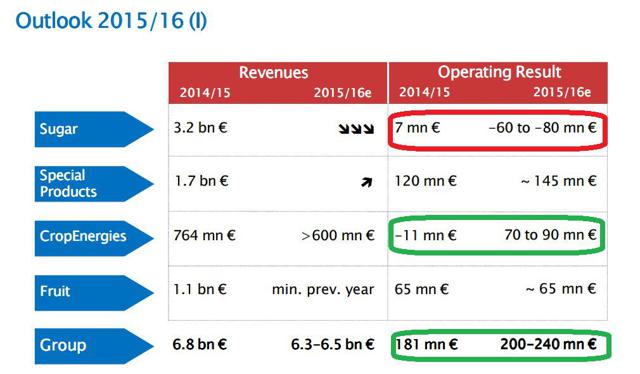 Click to enlarge
Source: company presentation
That's painful, because Suedzucker's other divisions are performing much better and will be able to save the day. The "Special Products" part of the company will see the operating income increase by approximately 20%, but the real positive driver which will lead to a consolidated increase in the company's operating income will be the "CropEnergies" division which will be able to convert an operating loss of 11M EUR ($12M) into a positive operating income of 80M EUR ($87M). Taking all the different divisions into consideration, Suedzucker should be able to increase its operating results by 10-30% in the current financial year, despite the abysmal performance of the sugar division.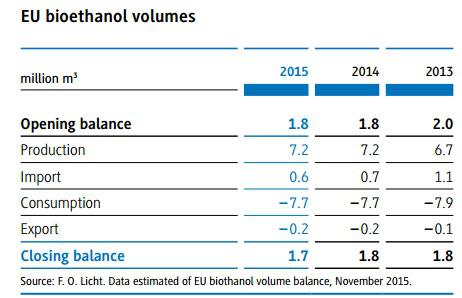 Source: financial report
The CropEnergies performance was boosted by a "recovery in ethanol sales revenues" while the company was able to take advantage of a lower raw material cost. As the EU is pushing for new blending initiatives and directives after the original ideas in 2003, the recovery of the CropEnergies performance should be sustainable.
The junior subordinated bond would be a good investment, but only at the right price
As Suedzucker's financial results will remain volatile in the foreseeable future, it might be better to focus on the company's bonds instead of the common shares despite the improving outlook. In fact, a blend of shares and bonds might be the best way to gain exposure to Suedzucker in the near and mid-term future.
The company has two bonds in the market. One is a senior unsecured bond maturing in 2018, carrying a fixed interest rate of 4.125%. As this bond is trading at approximately 107% of the par value, the yield to maturity is less than 1% and thus isn't really an attractive value proposition right now.
I'm more interested in the second bond, a perpetual junior subordinated bond that was issued in 2005. The coupon was fixed at 5.125% in the first 10 years, and has since then been reset. Each quarter, the coupon is calculated as the 3-month EURIBOR + 3.10%. Unfortunately the 3-month Euribor rate is now negative, and the coupon for the current quarter has been fixed at just 2.968%. That's pretty low for a junior bond, especially as the debt is deeply subordinated; (and in fact has been registered on the balance sheet as 'equity' instead of debt!) Fortunately the bond is trading at just 92% of par which means the current yield (assuming the bonds won't be called) is approximately 3.22%.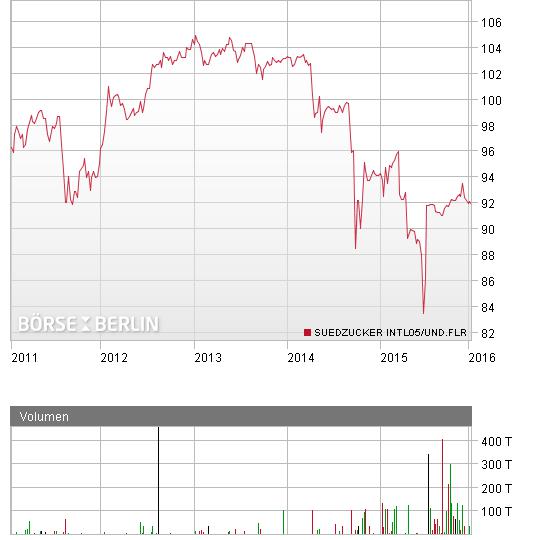 Source: Boerse-berlin.com
That's a bit better but still might not be good enough for bond investors considering the equity-like status of this bond. That being said, it is a more attractive way to gain some income from Suedzucker as the dividend yield on the common shares is just 1.8%. As an additional sweetener, there should be no German tax due on the interest payments of this hybrid bond, whereas Suedzucker's dividends will remain subject to a German dividend withholding tax.
On the negative side, as a bondholder you will not participate in a potential improvement of the company's share price, so your upside is pretty limited, and that's why I think the current value of the bond (92% of par) isn't attractive enough to warrant an investment and I'd like to see a further drop to 80-85% of the par value.
Investment thesis
Suedzucker's financial performance is improving, and the company's free cash flow should actually enable the company to retire a 400M EUR bond in 2018 without having to refinance that bond, which would save the company $18M per year in interest expenses. This would have a direct impact on the company's bottom line.
It looks like the current financial year is the last year before a clear improvement in the company's free cash flow will be visible. The capital expenditures should fall by 25% in the next financial year, and this could easily triple the free cash flow to $0.85-0.90/share for a free cash flow yield of 5-6%. This could also enable Suedzucker to increase its dividend again, but I still think a blend of the common stock and the junior subordinated debt might be a good idea (unless the 3-month EURIBOR rate falls even further). I will revisit Suedzucker once it reports on the full financial year 2016 as that's also the time it should be able to provide guidance for FY 2017, which should confirm my expectations.
Disclosure: I/we have no positions in any stocks mentioned, and no plans to initiate any positions within the next 72 hours.
I wrote this article myself, and it expresses my own opinions. I am not receiving compensation for it (other than from Seeking Alpha). I have no business relationship with any company whose stock is mentioned in this article.
Editor's Note: This article discusses one or more securities that do not trade on a major U.S. exchange. Please be aware of the risks associated with these stocks.