Wal-Mart (NYSE:WMT), the world's largest retailer, reported its fourth-quarter earnings, which disappointed Wall Street and sent the stock down nearly 4%. The company's fourth-quarter earnings are as follows:
Fourth quarter diluted earnings per share from continuing operations (NYSEARCA:EPS) of $1.51, which included net benefits of approximately $0.07 from certain tax matters and real estate transactions. The company's EPS guidance for the quarter of $1.42 to $1.48 did not include these net benefits. This EPS compared to $1.41 last year, which included net tax benefits of approximately $0.07.
Consolidated net sales for the fourth quarter were $122.3 billion, an increase of 5.8 percent from last year.
Walmart U.S. reported positive comparable traffic, and comparable store sales rose 1.5 percent in the 13-week period ended Jan. 27, 2012.
Sam's Club comparable sales, without fuel, increased 5.4 percent for the same period.
Walmart International delivered $35.5 billion in net sales for the quarter.
Consolidated operating income for the quarter was $8.4 billion, up 5.0 percent from last year.
These earnings are evidence of weakness, but they do not point to strength in earnings or margin that investors would like to see from WMT. This is the company's second quarter of same-store sales increases after experiencing nine quarters of same-store sales decreases. These results by no means are indicative of a company growing or expanding like its largest counterpart Target (NYSE:TGT). For a long-term investor the company's yearly earnings, profit, sales, etc. are more pertinent. These results are as follows:
Full year EPS was $4.54, compared with last year's EPS of $4.18. EPS included approximately $0.05 in net benefits this year and $0.11 last year.
The company leveraged operating expenses for the full year and the fourth quarter.
Consolidated net sales for the full year were $443.9 billion, an increase of 5.9 percent.
Consolidated operating income for the full year was $26.6 billion, up 4.0 percent from last year.
Walmart ended the year with free cash flow of $10.7 billion.
Return on investment (NYSE:ROI) for the fiscal year ended Jan. 31, 2012 was 18.6 percent.
The company returned $11.3 billion to shareholders through dividends and share repurchases.
Again, these yearly results point to a company that is in a similar situation to many other blue-chip companies: just nowhere to go. Jason Raznick of Forbes offers this: "Walmart appears to be facing the same problems as Microsoft. The company is a large cap cash cow whose stock offers little to no growth." For WMT to avoid the continued flat lining in sales, the company will need to prove it can do what it did twenty years ago and that is adapt and expand. Unless the following five results commence, investors should stay away from WMT due to its currently small upside potential and ability to continue to flat line, reducing margins.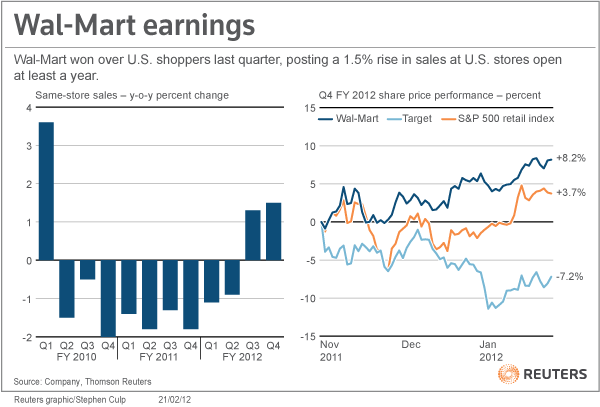 Click to enlarge
(The Wall Street Journal)
Meet the demands of a globally fickle customer:
For WMT to stay at the top in the long-term time horizon the company will need to find its sweet-spot for pricing, customer perception, etc. In recent years WMT tried to become something it was not - a higher-end retailer. By making its stores more upscale and reducing the item count within each physical location, WMT abandoned its core audience and drove same-store sales down. Mike Duke, WMT CEO, stated today in the company earnings release: "We continue to earn that trust when we deliver on our commitment to EDLP [every day low prices]." This may be becoming true, but with only two quarters of same-store sales growth, WMT has a lot to prove before its stock price moves higher. Until the company can deliver strong and consistent earnings, investors should stay on guard.
Rise to the occasion on e-commerce:
In today's every changing world, the internet is slowly but surely eating into WMT market share in nearly every sector of its sales. Amazon (NASDAQ:AMZN) is reporting record sales and for WMT to continue to dominate the market on a global scale they will need to capitalize on e-commence. Mike Duke states:
Walmart has a tremendous growth opportunity in e-commerce. Customers today want continuous shopping channels and they want price transparency. We're bringing together our stores, logistics expertise and systems to create an integrated shopping experience that moves seamlessly with the customer from the store to web-enabled devices.
Though if WMT gets it right with e-commerce it could greatly impact its business, the company has not delivered upon this key initiate yet. WMT is taking a majority stake in one of China's leading online retailers, Yihaodian. Investors need to wait to see if this proves to be a successful effort by the company, and if so, it could drive incremental sales abroad.
Successfully expand globally and drive incremental profit:
For years WMT has been expanding into new markets and growing its geographic footprint. Today, this effort to continue to grow becomes more difficult due to rising competition and penetration within many markets. Mike Duke states,
I continue to see tremendous opportunity in the emerging markets like Brazil. Last month, I spent a week traveling to three cities in Brazil where I visited 25 stores. I believe that the transition under way to EDLP is right for our customers, though it will take time to shift the culture and improve the profitability.
The type of growth Duke is speaking of in Brazil is what needs to happen successfully for the company's earnings and sales to avoid flat lining. Though WMT sits in a fantastic position internationally, it will need to prove it can both continue to capitalize on its existing stores abroad, as well as entering new markets with success.
Secure its US region:
As Duke speaks of above, the switch to EDLP will require a shift in culture. Though America's same-store sales increased by 1.5%, this is not indicative of the strategy truly taking hold. For WMT to succeed, it will need to drive further sales and ultimately further profit. The difficulty lies in the fact that margins are shrinking due to rising competition and commodity costs. The next several years will be key for WMT to prove that it can survive a changing economic landscape. Until solid results are delivered from EDLP and the changing consumer, investors should be wary of WMT.
High-Debt:
WMT is currently sitting on over $50 billion in debt. This marks a surprising contrast to Apple's (NASDAQ:AAPL) reported $100 billion in cash. For WMT this means it must keep revenue, profit, and margins on the rise. It does not take substantial declines in revenue to drive down profit and put the company in further debt. This is not something investors should be actively worried about now, but should make sure the company's cash/debt ratio does not get out of hand.
Financials:
Forward Price/Earnings: 12. 26
PEG: 1.43
ROE: 23.11%
Dividend: 2.30%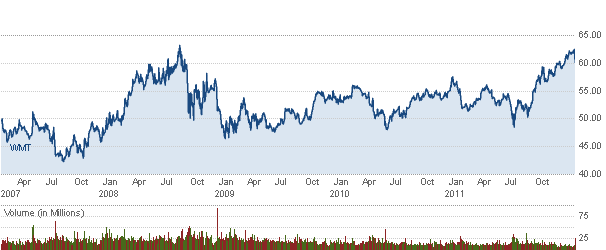 Click to enlarge
(NASDAQ:CNBC)
In conclusion, WMT is not performing poorly, but is in danger of revenue flat lining due to the aforementioned reasons, and this puts the company's future profit in danger. Until the actions stated above commence, WMT has far more downside than upside. If an investor waits for these results, little upside will be missed, but security will be gained.
Disclosure: I have no positions in any stocks mentioned, and no plans to initiate any positions within the next 72 hours.