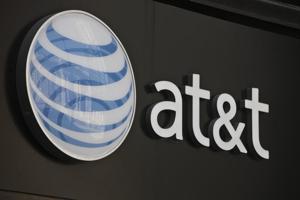 AT&T (NYSE:T) has outperformed the S&P 500 by 11.1% (from $32.80 to $33.99, outperformance excludes January's $0.48/share dividend) the since I wrote "Why I Am Buying AT&T" on November 17, and has outperformed by 8.1% over the past month.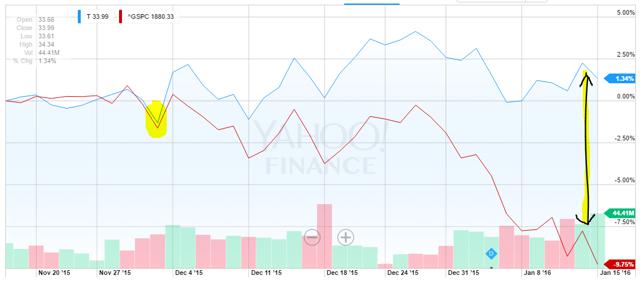 Click to enlarge
Source: Yahoo!
Though I have recently become bullish on T, I am concerned, on a relative basis the stock has become expensive. Please note that I say "relative" not "absolute". Over an extended period of time, I believe the reduction in price-oriented competitive actions by Sprint (NYSE:S) and T-Mobile (NASDAQ:TMUS) as well as cross-selling opportunities from the acquisition of DirecTV will provide material value. However, in the short-term, it appears that T is, shall we say, "under-sold".
While T is prized for its dividend yield, the equity does not exist in a vacuum; it trades at a relative value to other stocks in the market. Originally, I was looking for T to make a short-term high of $35, with the potential for $38-$40 after Q4 earnings). Adjusting for the market's recent fall, T has essentially hit this range.
T (Jan. 14 close)- $33.99 / .9025 (Market Underperformance) = $37.66
Dividend of $0.48
Net "Relative Value" of $38.14 if S&P 500 had remained constant
If you are a long-time/long-term holder of T, the above is a bunch of esoteric nonsense. Stay put, collect your dividend and enjoy the ride. However, if you are an investor who seeks relative value and moves in an out of positions, the above may be highly relevant.
My thesis is essentially, T, while doing the right things and benefiting from reduced/weakened competition has become increasingly attractive; perhaps too attractive. The Company's stock has become relatively more expensive when compared to other US equities. In considering this thesis, I tested the logic against a five "random" successful, profitable stocks that lack material exposure to ex-US markets (like T). To put it another way, how did T compare to other successful, US oriented stocks during a material market decline. Is T's relative success a function of the Company's US orientation (had other US oriented stocks performed comparably), a realization of the merits of the Company's strategy or simply a case of the stock outperforming (and by extension, becoming overvalued). The five stocks selected are US-focused and are major competitors in their market space (JPMorgan (NYSE:JPM)- banking, Lennar (NYSE:LEN)- homebuilding, Sinclair Broadcasting (NASDAQ:SBGI)- US television stations, Southwest Airlines (NYSE:LUV)- domestic-focused air travel, Whole Foods Markets (NASDAQ:WFM)- high-end grocery store). While I am not claiming the review represents a scientific study/sample (down an average of 15.2%), it does suggest T's performance in the last month was "something special". In the last month, T has even outperformed Verizon (NYSE:VZ) by 3.3%.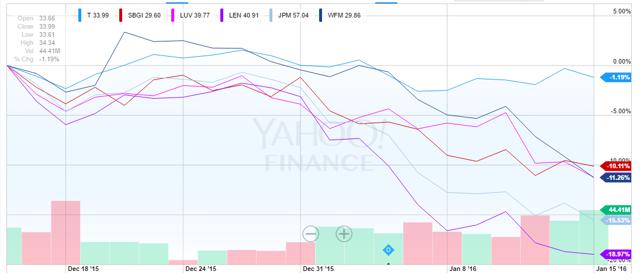 Click to enlarge
Source: Yahoo!
I am not currently holding a T position, though I expect to enter at some point in the next six months. In the interim period, I expect T to become less "undersold" and/or the broader market to recover.
Disclosure: I am/we are long SBGI, JPM.
I wrote this article myself, and it expresses my own opinions. I am not receiving compensation for it (other than from Seeking Alpha). I have no business relationship with any company whose stock is mentioned in this article.