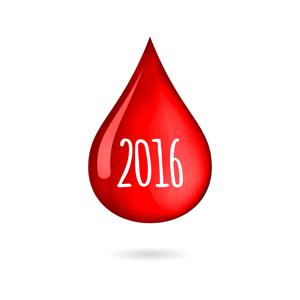 If you look at the pharmaceutical and biotech market in 2016, it's a sea of red. The IBB is already down 16% in 10 trading days and 29% below the 52 week high (Figure 1). Biotech's are clearly in bear territory at this point and unlike most years, the JP Morgan conference didn't result in a biotech rally. Even companies with positive results were sold off like stale day-old bagels.
Figure 1. 2016 IBB

Click to enlarge
After the carnage of last week, let's look how big pharma and big biotech held up (Figure 2 and Figure 3). Big Pharma held up relatively well in comparison to the IBB as investors rushed into more secure holdings paying a dividend. The best performer in the class, Merck (NYSE:MRK) was only down 3.1% during this rapid correction. Is this a fluke? No. Merck has a catalyst pdufa date for its expected HCV combo at the end of the month and Ken Frazier, CEO of Merck, outlined at the JP Morgan conference that Merck was hungry for additional acquisitions in 2016 to boost their pipeline. This news spared Merck over the last week.
Figure 2. Big pharma 2016

Click to enlarge
Big biotech did not fair nearly as well. The four horsemen of biotech: Gilead (NASDAQ:GILD), Biogen (NASDAQ:BIIB), Celgene (NASDAQ:CELG), and Regeneron (NASDAQ:REGN) all roughly fell double digit percentages. The best performer of this group, Gilead, still fell more than the worst big pharma over the past two weeks with a loss of 9.2%. To the experienced biotech investor, this is unbelievable based on the fact that Gilead pays a 1.8% dividend, has a $10B buyback already approved, and a P/E of 8.5. In reality, when the bear roars, everything goes down no matter what the fundamentals. In contrast, Regeneron got spanked as the worst performer in the group with a 14.7% loss mimicking the IBB (-16%). Although Regeneron is an excellent biotech with an exceptional pipeline for the future, it doesn't pay a dividend and has the highest P/E in this group (91) (Figure 3). In addition, there is doubt about the uptake up Regenerons's recently approved PCSK9 inhibitor Praluent based on numerous PBM deals with Amgen and the use of Repatha.
Figure 3. Big Biotech 2016

Click to enlarge
So what? What's the take home message? Where are the deals and where are the potential disasters if this market goes full fledge bear?
Even in these uncertain times, there are companies with good upside potential based on catalysts and pipeline. I will profile my top pick from each category to buy with clear rationale and my predicted worst performer in the group.
Big Pharma best performer for 2016: Bristol Myers-Squibb (NYSE:BMY)
If you haven't been sleeping, you've seen that pharmaceuticals and biotechs alike have gone after cancer with a vengeance. Among them, immuno oncology approaches have gained the most steam and are showing spectacular results in multiple forms of cancer. The two current therapies approved are Bristol Myers-Squibbs Opdivo and Merck's Keytruda. Both have a retail price of $150k per regimen. Despite Merck's Keytruda being approved first, Opdivo currently has a larger market share and is predicted to be the market leader in this area with 2020 estimates of over $40B for the class. BMS in highly invested in this area and has over 100 clinical trials ongoing using Opdivo both a lone and in combination with other anti-cancer agents for many different forms of cancer. Currently, Opdivo is approved for non-small cell lung cancer and metastatic melanoma. BMS has also acquired a hand full of smaller oncology based companies and boasts a stacked pipeline in oncology (Figure 4.)
Figure 4. Bristol Myers-Squibb Oncology pipeline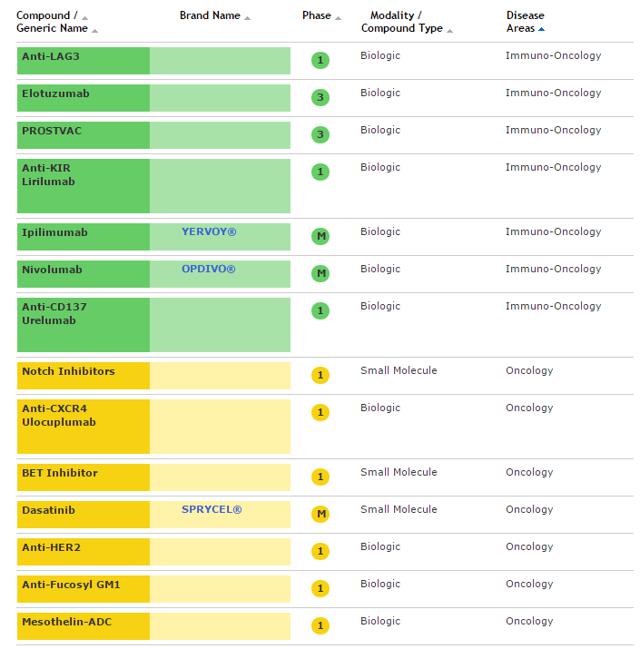 Click to enlarge
Looking at the fundamentals, BMS has a high P/E ratio of 59 based on its pipeline potential but has the stability of a 2.4% dividend. Bristol Myers is currently 11.5% off the 52 week high and has support around the $57.50 level, the crash in late August and October (Figure 5). In the near-term, BMS has rolling data coming in from Opdivo-based regimens and HCV regimens which can provide upside potential. For BMS, look for the largest probability positive break out running up into the ASCO conference in May, where BMS will clearly try to showcase Opdivo in many different clinical studies.
Figure 5. Bristol Myers-Squibb

Click to enlarge
In spite of the current correction, I see BMS as the best large cap pharmaceutical company in 2016 for potential profits with a price target of $75, representing 19% upside from the current price.
Biotech best performer for 2016: Gilead
In spite of all of the drama around Gilead and the flat nature of the stock in 2015 relative to its peers, Gilead is my pick in big biotech for a multitude of reasons. First, Gilead has very strong product sales and a ridiculous profit margin of >95%. Gilead has a P/E of 8.5 at the current level and pays a dividend of 1.8%. For share stability, Gilead already has a $10B buyback approved to mitigate a heavy selloff and has a war chest of $25B and growing for potential acquisitions to boost value. Gilead currently dominates the HIV and HCV markets bring in over $22B annually in these two therapeutic areas alone. Much of the resistance to run has come from future competition in both therapeutic areas and predominantly HCV. To combat this, Gilead's latest pan-genotypic combo is expected to win approval in June which will give Gilead a huge lead over competitors boasting a 95%+ SVR rate in all genotypes. Although, this will not excite investors. The big question is: where is the growth going to come from as HCV combos are a cure and profits are not sustainable? The answer is their new TAF-based regimen in Hep B and multiple acquisitions probably in oncology and virology to go along with its deep pipeline. With the biotech market getting crushed in 2016 and Gilead boasting a $25B and growing war chest, Gilead can afford to go on a shopping spree at clearance prices. Watch for this. Gilead management is extremely intelligent and may have been waiting for this correction in biotech to acquire new assets at a discount. In 2015, valuations of new technology were sky high and Gilead management stated they were looking for a good value. At a current share price of $91.84 and strong expected resistance at $86 from the August crash, there is low downside speculation of 6.7% from here and a relatively large upside potential 25% ($120 price target) based on excellent profits and a strong balance sheet. My most recent article on Seeking Alpha outlining highly lucrative trading yields on Gilead for 2016 is still my recommendation and best trade for the 4-horsemen in 2016.
Figure 6. Gilead

Click to enlarge
Bearish opinions:
The company I am most bearish on from this list is Biogen. Biogen has already been crushed in the last year falling nearly 43% from $480 to $273 based on negative results from its Alzheimer's program. Biogen is known as a powerhouse in Multiple Sclerosis (MS) but recent potential competition in this area from Novartis (NYSE:NVS) and Sanofi (NYSE:SNY) could be reason for concern. Biogen sports a reasonable P/E of 18 based on their growth prospects, however more negative news in this hard to treat area could cause an additional 25% decline. Best case for Biogen in 2016 is through a positive acquisition to show potential growth in a large market. Until then, I don't see Biogen's floor as the 52 week low of $254. Beware.
Disclosure: I am/we are long GILD, MRK, BMY, CELG.
I wrote this article myself, and it expresses my own opinions. I am not receiving compensation for it (other than from Seeking Alpha). I have no business relationship with any company whose stock is mentioned in this article.