Our recent article on selling puts to buy AT&T (NYSE:T) at a level you like garnered a lot of interesting comments from the readers. Some beginners loved the introduction to puts, while some presented other ways to boost returns. In addition, that article set a personal best in terms of the numbers of followers per article.
That brings us to this writing on another income favorite, Altria Group (NYSE:MO). The stock really took off in the last two years as it went from the $30s to more than $61 at one point. However, it is down nearly 8% from its highs as of this writing. That doesn't make it a screaming buy yet but how about selling puts on turbulent down days when the premium is usually higher?
When you sell a put:
You are taking a bullish position on the stock, contrary to the misconception that when you do anything with "puts" you are being bearish.
You get a premium in your account right away for the obligation to buy the stock at the price you want on the date you want. So, you decide the date and the price you want to buy and they pay you for it.
But you are taking a "risk" in that if the stock drops well below your strike price, you still have to buy the stock at the price you chose, not current market price.
You believe a stock will not drop below a certain level, and if it does, you want to be a buyer.
An Example: Below is Altria's option chain that expires on Jan. 20, 2017. Let's pick the $50 put for example. For selling one contract (one contract = 100 shares) you need to have a cash balance of $5,000 in your account. The premium on this particular put is at around $2.79 per share, that is $279 for a contract.
The Scenarios:
#1: Altria is well above $50 at the time of expiration. Your option expires worthless and you net a cool 6% for about a year for your willingness to put aside $5,000 on this contract. Remember, your $5,000 is not locked up with Altria beyond this point.
Risk: If Altria really rockets up from here, your option returns will be lower than the stock returns. This didn't seem all that possible a few years ago but Altria has a new wave of momentum behind it making this risk viable.
#2: Altria is at or below $50, you are obligated to buy 100 shares at $50. Remember, you already netted $2.79 per share when you sold the put. So, your cost basis is essentially $50-2.79 = $47.21. As long as Altria is above this $47.21, you will have a net positive return when this option chain expires.
Risk: The risk in this scenario is that if Altria really tanks in the next 12 months and trades below $50, you will still have to buy your shares at $50. While no stock is immune to crashes and corrections, Altria is one of the last names you'd expect to completely lose it.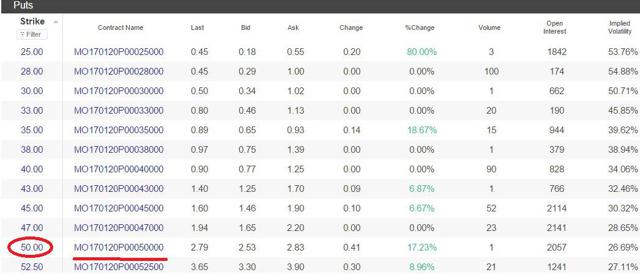 Click to enlarge
Source: Yahoo Finance
Why this particular strike price?
The $50 price is significant for the following reasons. With a high of $61.74, a sub-50 price would represent a 20% correction. This is considered by many value investors as a good entry point. This is true for Altria especially given its run in the last few years.
The $50 price will also be very close to the 5% yield point, assuming Altria increases its dividend by 8% in 2016 as well. That will push the annual dividend to $2.45 per share, which would be close to the 5% yield point. Altria's average yield over the past five years stands at 4.81% as shown below.

Click to enlarge
Source: YCharts.com
Learning from the previous article:
The AT&T article generated quite a few interesting comments, concerns, and alternatives from the readers. We wanted to share those in this piece, so we can accumulate these points going forward in this series.
1) Not all brokers seem to require you to set aside the entire $5,000 to be able to sell one contract at the strike price of $50. Some readers commented that their brokers let them execute the trade by subtracting the premium. For example, if the premium for the contract is supposed to be $300, some brokers allow you to sell one contract if you have $4,700 in your account. Our experience has always been to set aside the full amount but its important to note this feedback from the readers.
2) Some readers suggested buying/selling "closer" chains than one year out. That is, a chain that expires in 3 months for example. Yes, it can be done for a lower premium but the option to use your capital elsewhere after the chain expires. In short, may ways to do it, pick the one you are most comfortable with. We like 6 months to one year contracts as it gives us more wiggle room.
3) Covered calls seem to be preferred by some readers as well. SA Author Richard Berger is one of the biggest proponents on SA about supplementing retirement income with covered calls. We don't do this as often as selling puts and do not feel comfortable preaching something we don't do often.
4) Some prefer just buying the shares outright and not mess with options. Obviously this is the most used method but not every investor likes to buy a stock at any price the market gives. Some prefer a particular entry point even if it's the best stock and this strategy works for such investors to pick a time and price for their shares.
Forward thoughts:
All said and done, Altria's business must be strong to deliver strong results to investors, whether through options or shares outright. Earnings are expected to grow at a remarkable 8% per year over the next 5 years. And Altria did deliver the same annual growth the last 5 years as well according to Yahoo Finance. Altria's pricing power and brand value allows it to increase prices as and when required. Being #1 in about 280 choices does increase your clout! Another big factor in Altria's favor is its magical ability to cut costs continuously.
The Anheuser Busch (NYSE:BUD)-SABMiller merger is one of the major reasons the stock had some momentum in 2015. That is also another reason to be positive about Altria's future. SABMiller's volume is still growing and more importantly, is expected to grow as one of the biggest reasons for the mega-merger was to go after the promising African market.
From the stock perspective, given the turbulence in the first two trading weeks of 2016, expect more investors and even funds to seek Altria's relative safety.
Conclusion:
Let us recap some key points from the previous article: 1) While options are nothing to be afraid of, stay away if you aren't comfortable with it. Learn it before implementing it. 2) going on margins isn't recommended for most. 3) selling puts on days where the stock is down usually gets you a bigger premium.
What do you think Altria as an investment in general, and as a candidate for selling puts? Please leave your comments below.
Disclosure: I am/we are long T, MO.
I wrote this article myself, and it expresses my own opinions. I am not receiving compensation for it (other than from Seeking Alpha). I have no business relationship with any company whose stock is mentioned in this article.