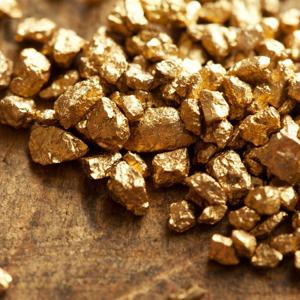 The second trading week of the year turned out to be a woeful one for Yamana Gold (NYSE:AUY) as the stock has lost over 22% of its value in the past five trading days and trades near its 52-week low. This is in stark comparison to how Yamana had started the year. This recent weakness in Yamana shares can be attributed to the series of downgrades that the company has seen from the likes of Barclays and Raymond James, which downgraded the stock citing weak fundamentals.
However, I believe that Yamana is well placed to make a comeback going forward on the back of a possible improvement in gold prices. In fact, this year, gold prices have made a comeback due to instability in the global equity markets, as shown below, but the negative analyst sentiment has kept Yamana from registering gains on the stock market.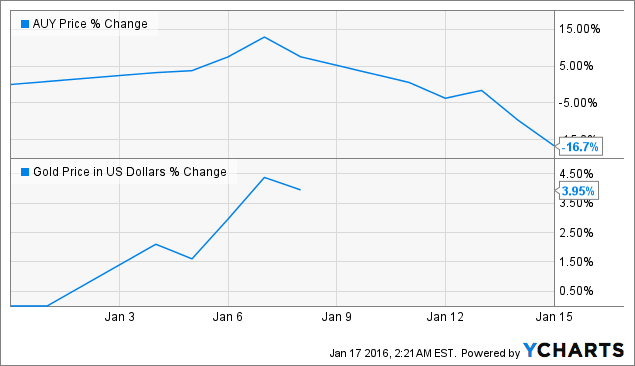 In this article, we will take a closer look at the reasons why Yamana's fundamentals are decent enough to warrant an investment in the stock, and how a possible improvement in gold prices will help Yamana Gold come out of its slump going forward.
Fundamentals are improving due to better grades
A closer look at Yamana Gold clearly indicates that the company's fundamentals are getting better. For instance, Yamana has been able to consistently lower its cost profile. More importantly, the company's core operations are the ones that are driving its costs lower, and this is clearly evident from the following chart.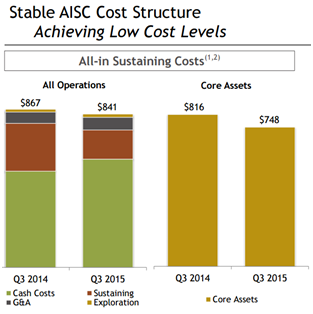 Source: Yamana Gold
As seen above, while the cost profile of Yamana's overall operations went down slightly in the last reported quarter, the company's core assets saw a steeper cost decline of almost 9%. The company counts the likes of Jacobina, Chapada and Canadian Malartic as core assets, and the way the grades at these assets are increasing, the cost profile should continue going down.
For instance, at Jacobina, Yamana has seen an increase of almost 37% in grades in a single quarter, which led to a reduction of 27% in the cost base. The advantage of having higher grades is that Yamana can now mine a higher quantity of ore while keeping wastage under control. As a result, the company now has to take care of less waste materials, which will allow it to mine more of the ore at lower costs.
What's more, a look at Yamana's operational progress at its mines clearly indicates that the grades could improve further. For instance, the company is focused on exploration and infilling at the Main Reef Horizon at Jacobina. The advantage of infill drilling is that the resulting grades turn out to be superior as compared to the regular thickness, as a result of which Yamana can see further improvements in grades at Jacobina.
Additionally, Yamana is currently working on the development of infrastructure at a high-grade core area at the Cava Norte pit at Chapada. This particular resource stretches over a distance of 1.8 kilometers, and since Yamana is carrying out infill drilling in the area, it expects superior results. Hence, the possibility that Yamana will continue to improve its grades is still there and this will help the company improve its cost profile further.
In fact, a closer look at the company's EBITDA performance of late clearly indicates that Yamana has been able to get better on this front due to its operational improvements: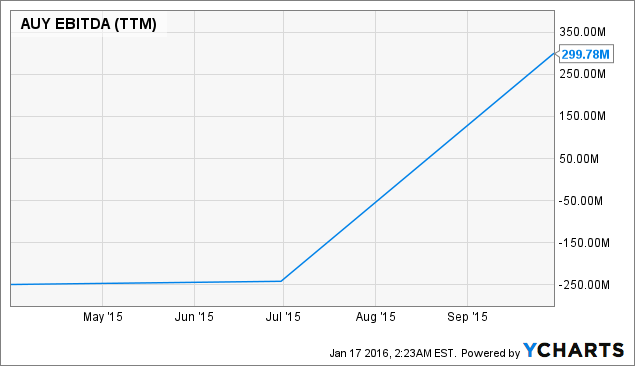 AUY EBITDA (NYSE:TTM) data by YCharts
Thus, the improving fundamentals of Yamana's mines are having a positive impact on the company's financials as well. Now, looking ahead, a possible improvement in gold pricing due to the global economic uncertainty could act as another tailwind for the company. Let's see how.
Expect better gold pricing to be a tailwind
As shown in the first chart given in the article, gold prices have picked up at an impressive pace of late. This can be attributed to global economic weakness affecting the stock markets, with the problem mainly arising out of China. But China is not the only problem, with markets in Brazil and Russia also expected to remain under pressure this year due to economic stress.
In fact, as a result of the uncertainty in several key economies, the World Bank has been forced to reduce its 2016 global growth forecast by 0.4 percentage points. Now, it is well known that gold thrives on instability in the equity markets as it is considered to be a safe haven investment, and this has led to an increase in demand for the metal of late. In fact, the net long position in gold has gone up by 18,158 contracts in the week that ended on January 12, with bullish positions rising and bearish positions declining, which indicates increasing demand for the yellow metal.
More importantly, apart from being bought as an investment, gold consumption is also anticipated to rise due to a pick-up in industrial consumption. For instance, in the electronics sector alone, the consumption of gold accounts for 300 tons on a yearly basis, and I believe that this number will go up. I'm saying this because there are investments being made across the world to improve network connectivity.
For example, in China, the construction of LTE base stations and fiber-optic networks will require an investment of $112 billion in the next two years. This will lead to higher gold demand with the metal being used in connectors and circuit boards. Thus, due to both economic reasons and industrial demand, gold should see stronger buying activity going forward, which will act as a tailwind for pricing.
Conclusion
Yamana Gold has lost a lot of value already in 2016. But investors should consider using the drop as an opportunity, as there are a number of tailwinds in the cards that will help it get better. As already discussed, Yamana is seeing an improvement in its grade profile and this is positively impacting the asset base and leading to lower costs. On the other hand, due to favorable developments for gold pricing, Yamana could see further improvements in its financial performance.
Thus, I believe taking advantage of the weakness in Yamana's stock price will be a good idea, since the company could do better as the year progresses.
Disclosure: I/we have no positions in any stocks mentioned, and no plans to initiate any positions within the next 72 hours.
I wrote this article myself, and it expresses my own opinions. I am not receiving compensation for it (other than from Seeking Alpha). I have no business relationship with any company whose stock is mentioned in this article.