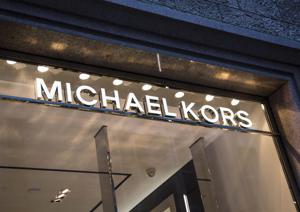 With U.S. retail sales in December coming in well below expectations making it one of the weakest holiday seasons for retailers since 2009, we feel the resurgence of Michael Kors Holdings (NYSE:KORS) could be held back.
Further compounding this is that it has also been reported that the retailers that are set to benefit most from the weak holiday season are the ones in the mid-price range, not the luxury retailers, nor the value retailers.
As Michael Kors is the epitome of a luxury retailer we speculate that it may have had a poor holiday season. This is bad news for the struggling company with the third quarter being its busiest quarter of the year by some way. With this in mind we now fear an earnings miss this quarter, leading to lowered full year guidance.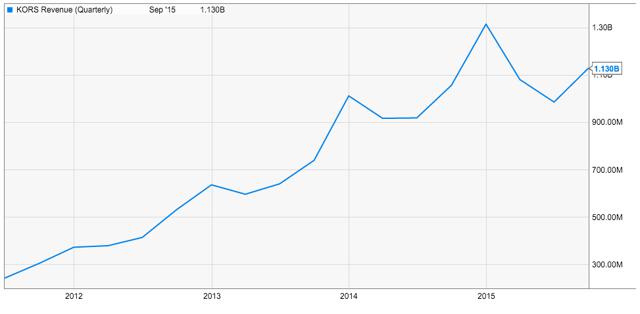 Click to enlarge
(Source: Ycharts)
As demonstrated above, each of the peaks you can see is the third (and current) quarter which encompasses the holiday season. The market is expecting Michael Kors to produce $1.46 earnings per share on revenue of $1.35 billion for the latest quarter, but we just can't see that happening right now. As a result we expect the company to lower the full year guidance it offered recently of $4.38 to $4.42. If there's one thing the market hates, that is lowered guidance.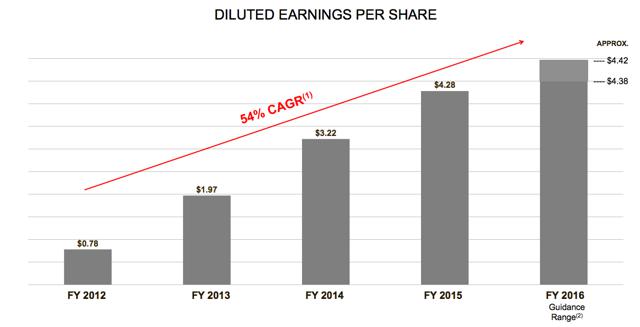 Click to enlarge
(Source: Company Presentation)
If revenue is sliding then margin expansion would be the great hope to save the day, but it doesn't look likely unfortunately. On the Q2 call the management team advised that they...
"…think margins are going to start to stabilize in Q3 and Q4. You've seen kind of a sequential 1% to 2% decline in gross margins in the retail business and we think that's going to stabilize for us."
It doesn't fill us with an awful lot of confidence, and if the company has been forced into discounting items in-store its going to continue to pressure margins. Perhaps they won't decline further, but we don't see much chance of them expanding. As such we expect the earnings miss and subsequent lowered guidance to spook investors causing further share price declines adding to the 47% the stock has lost in the last 52 weeks.
Now having said all that, we do recognize that the stock is trading at extremely low multiples compared to its averages in the past few years and its industry peers.
Why the company is trading at such a low PE ratio is debatable. We feel the market expects sales and earnings to dwindle over the next few years, much like what has happened to Coach (NYSE:COH) as demonstrated below.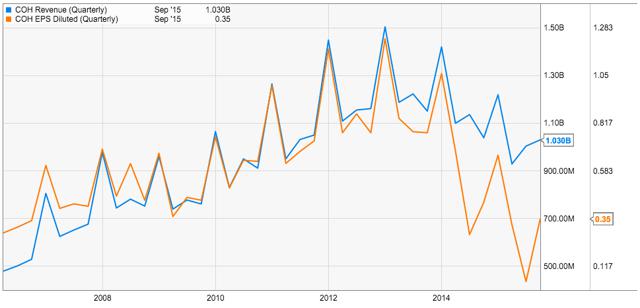 Click to enlarge
(Source: Ycharts)
The apparel manufacturing industry trades at approximately 18 times earnings and 1.5 times sales on average. So for Michael Kors to be priced at 8.3 times earnings when the industry is trading at 18 times earnings implies a massive drop in profitability in the coming years, or complete mispricing.
We believe it is actually a mix of both. There is every chance that Michael Kors will be the next Coach. Its part and parcel of the industry that one day you're the hottest thing and the next you are yesterday's news. We think that rarity seems to be everything in the industry and when you lose that, you lose a lot of value in consumers' eyes. But has it lost so much value to warrant trading at 8.3 times earnings?
We don't think so. For a start, the company has an extremely strong balance sheet. No debt, a current ratio of 4.20, and a quick ratio of 2.03. It has been growing free cash flow nicely each year and currently has $633 million of it. This along with the abnormally low price to earnings ratio leaves us feeling that it is considerably undervalued.
When the market improves we would not be surprised to see the share price spike up. But for us, until Q3 earnings are released we would not want to risk an investment. During times like we are having now, no matter how undervalued a stock may appear, the last place investors want their money to be is in a company which is currently seeing year over year revenue declines.
So we believe that, as tempting as it may be right now to buy in at this low multiple, the best thing to do might just be to sit tight until early February when earnings are announced as an earnings miss and lowered guidance could knock the shares down further.
Disclosure: I/we have no positions in any stocks mentioned, and no plans to initiate any positions within the next 72 hours.
I wrote this article myself, and it expresses my own opinions. I am not receiving compensation for it (other than from Seeking Alpha). I have no business relationship with any company whose stock is mentioned in this article.