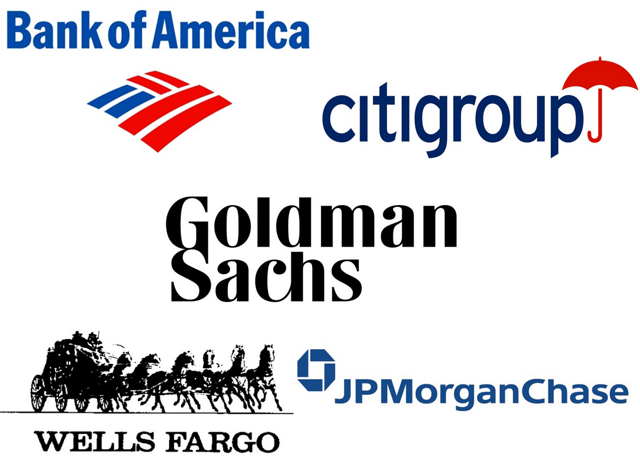 Coming from the depths of the financial crisis it wasn't surprising banks outpaced the broad market. Priced for extinction they became a coiled spring feeding off the massive liquidity pumped in by the Federal Reserve as the world adopted "too big to fail."
Needless to say the political winds have shifted and "too big to fail" has morphed into "too big to succeed." Today banks are healthier, better capitalized and able to withstand deeper shocks to the financial system so what's the problem?
The Democratic Debate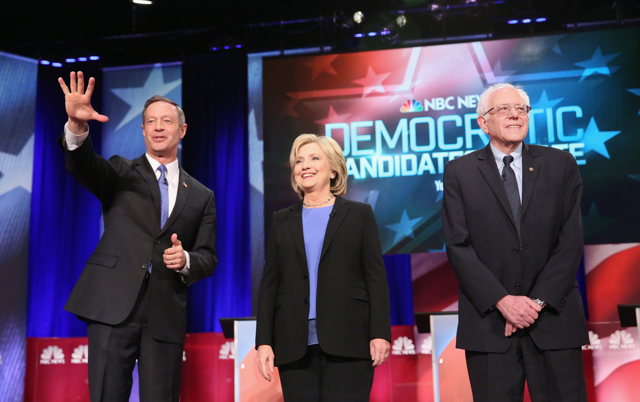 Click to enlarge
There's no shortage of cyclical challenges facing the industry but Sunday's Democratic Debate highlights a rising political movement placing banks in the cross hairs and if successful could stamp out growth in the industry for years to come. The banking sector and in particular Goldman Sachs (NYSE:GS) has become the centerpiece of Senator Sanders campaign pushing Secretary Clinton further to the left. I'm not making a political statement just an observation.
There's no question the banking sector stood at the epicenter of the financial crisis however, the rhetoric seems to ignore the Fed, government and even the public all complicit in encouraging the banking sector to push the envelope. The Fed and regulators turned a blind eye to excessive leverage while the government encouraged mortgage lenders to increase loan volumes implying owning a home is the backbone of the American Dream even if you can't afford it. The public's greed just prior to the housing bust rivaled that of the dot.com era with many becoming quasi real estate agents flipping homes as fast as kids trade baseball cards.
Nevertheless, the financial community lives in a post crisis world with many of their profit centers either stripped away or at best significantly downsized. Trading desks are a mere fraction of an era that's passed, taking away an important incremental buyer during times of market stress. Dodd-Frank is thousands of pages in length with detailed provisions outlining the creation of the Financial Stability Oversight Council, The Office of Financial Research and the Bureau of Consumer Financial Protection but of course comes at a cost and continues to be a drag on the bottom line of nearly every financial institution. A financial transaction tax as proposed by Senator Sanders would only add to that pain.
It's not just Washington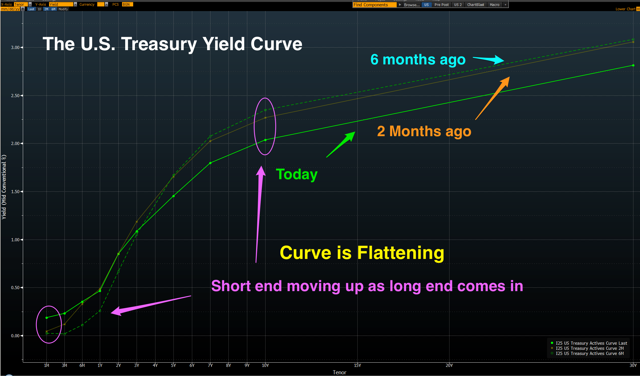 Click to enlarge
Weak net interest margins, NIM have been a drag on earnings but a gradual increase in the fed funds rate was sure to help improve the bottom line. In December the Fed launched, raising rates for the first time in years. However, one look at treasury interest rate curves shows the picture isn't getting any better. The yield curve is clearly flattening as the short end starts to rise while the long end falls in response to weakening economic data. Kicking off the earnings season for banks last week, JP Morgan's (NYSE:JPM) NIM came in line while Wells Fargo (NYSE:WFC) saw their NIM slip 4 basis points. Year to date the SPDR Finance ETF (NYSEARCA:XLF) is underperforming even the energy ETF (NYSEARCA:XLE).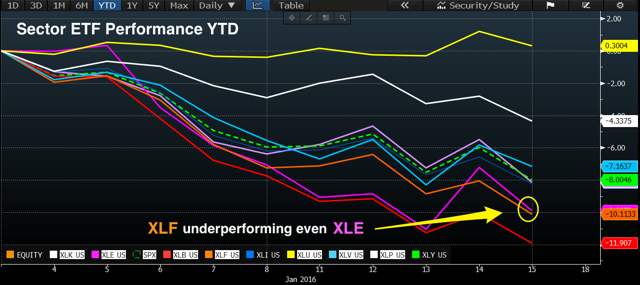 Click to enlarge
It shouldn't come as a surprise that ROE (Return on Equity) at many large financial institutions is just a fraction of pre-crisis levels. Goldman who just agreed to pay $5 Billion to settle civil claims tied to the firm's securitization practices has seen its ROE slashed from 32% in 2007 to under 12% today. As of November last year, banks have paid out over $200 Billion in fines a figure that continues to rise.
Oil
Falling oil prices have of course been an arrow through the heart of the energy complex but increasingly concerns are mounting for the finance sector as well. Brian Moynihan, CEO of Bank of America (NYSE:BAC) has said they are monitoring the credit profiles of customers living in the zip codes of energy producing states.
I've pointed to oil as a potential Black Swan in previous posts. CNN reports that Wells Fargo is sitting on more than $17 Billion in loans to the oil and gas sector. JP Morgan has said their potential for losses could rise to $750 Million if oil stays at $30 for the next 18 months.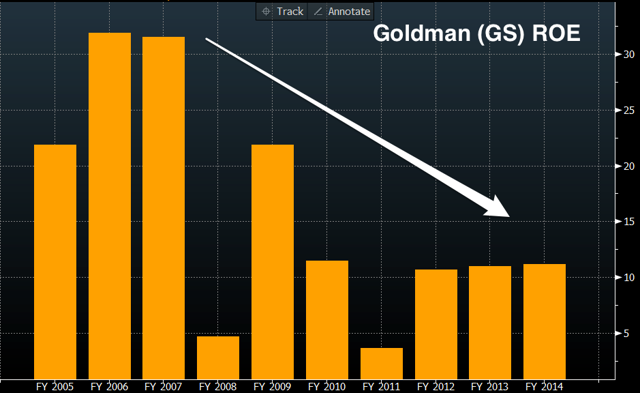 Click to enlarge
The picture into the health of the sector hasn't changed much since I published "Buying a Bank Stock" just about one year ago. Goldman's ROE is down dramatically and estimate revisions for the quarter to be reported pre-market Wednesday have been in a free fall. The post report stock action will likely be more of a report card on the accuracy of analysts then a true picture into the health of Goldman or even the sector.
Click to enlarge
The game has changed
For bank investors the political challenges are real and can't be ignored. The game has changed as increased regulation comes at a cost. Pre-crisis growth and profitability aren't coming back anytime soon. Even as the industry finds new lines of business and profit streams, Washington will likely find a way to tax it, regulate it and maybe even kill it before it has a chance to thrive.
Disclosure: I/we have no positions in any stocks mentioned, and no plans to initiate any positions within the next 72 hours.
I wrote this article myself, and it expresses my own opinions. I am not receiving compensation for it. I have no business relationship with any company whose stock is mentioned in this article.