So far this year, it seems as though the market is in the mood to rally. I don't know about you, but one thing that I've noticed is that it is beginning to get harder and harder to find places in the market to put my money.
As the market keeps advancing, the opportunities to purchase the traditional dividend growth stocks, like Procter & Gamble (NYSE:PG), Coca-Cola (NYSE:KO), Philip Morris (NYSE:PM), etc, seem to be getting more difficult to warrant a purhase.
As a dividend growth investor, I like to invest in order to create an increasing dividend stream. My current retirement portfolio consists of 35 different companies that are drawn from the ranks of Dividend Champions, Contenders and Challengers. For a point of reference, these stocks will be refered to as "CCC" stocks from this point forward. These companies can be found on a list that is produced every month by David Fish.
Now, you might ask "Why are you limiting yourself to just those companies in the CCC group?" The answer is simple. These are companies that have a track-record of increasing dividend payments to shareholders, year after year. These companies are grouped, but the length of time that they have increased dividends on an annual basis.
While there are some fantastic companies that do not find themselves earning a spot on the CCC roster, I have chosen to concentrate on these companies, because they have developed a culture of dividend distribution. Pure and simple.
Of Interest
Recently I came across an article that drew my interest. It was written by an author who does not pretend to be a DG investor, but instead, looks at ways, outside of the DG strategy for his investments. I don't have any issues with that, as often times, authors of non-dividend investing articles can get me thinking.
In his article: "The Utilities Are Struggling in 2012," the author, The Financial Lexicon says:
Investors have not been kind to the Utilities sector thus far in 2012. It has been competing with Telecom for the worst performing sector in the S&P 500 (NYSEARCA:SPY) and has been underperforming the S&P 500 and Dow Jones Industrial Average (NYSEARCA:DIA) by a significant amount year-to-date.


If you are an investor who believes the overall market indices are headed for a fall in the near future, you might view this underperformance in utilities as a buying opportunity. Also, if you are a so-called dividend investor, you too might view this as an opportunity to initiate or add to a position.
I could not agree more. I think that the pullback in utilities, relative to the rest of the market, does present an opportunity to lock in nice yield points. Like you, I don't know if utilities have further to fall from here, but at current price levels, there are a number of companies that are worth a look.
I think that looking at the utilities here makes sense, not only for older investors who are trying to increase their income stream, but also to younger investors who might choose to use the income from utilities to help fund the purchase of other companies they might want to add to their portfolios.
In running a screen for utility stocks that pay dividends of 3% or more, I came across a number of interesting candidates for you further review.
Utility Champions, Contenders and Challengers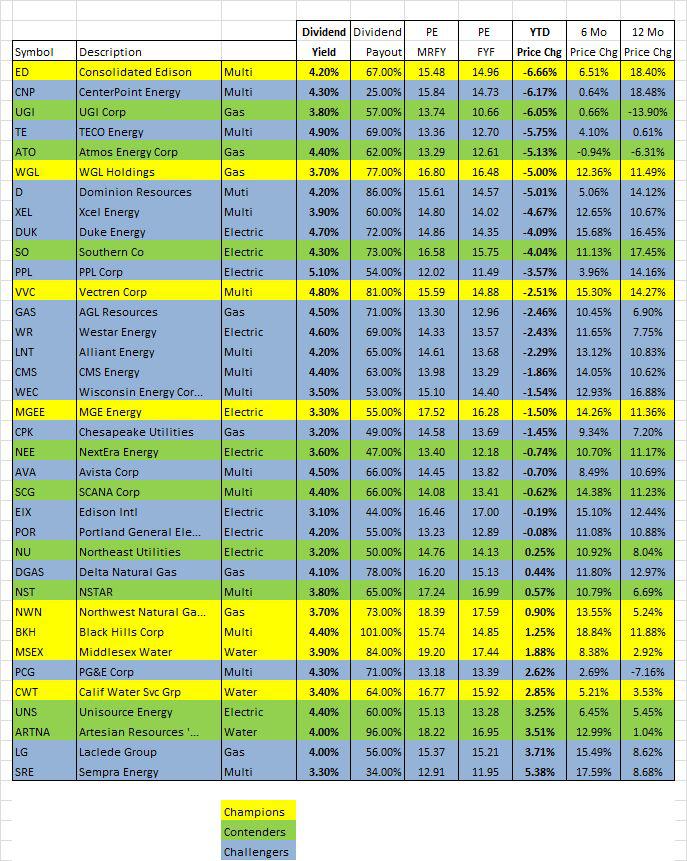 Click to enlarge
What You Should Be Doing Now
The list of utility stocks that have been presented here are ranked by the year-to-date price change. The list begins with Condolidated Edison (NYSE:ED), which is down 6.66% year to date and is currently paying a dividend of 4.20%.
Sempra Energy (NYSE:SRE) is the best performing company on the list, up 5.38% year to date, and is currently paying a dividend that yields 3.30%.
All of these companies have a history of annually increasing their dividends, have the ability to sustain those dividends moving forward, and some of them are selling at pull-back prices, in my opinion.
I would do more due diligence on these companies. I would be comparing their financial metrics against one another and be looking to add one or two to my current portfolio. My intentions would be to purchase additional shares on further weakness, thereby increasing my yield.
While there are many other dividend-paying utilities that have yields of 4% or better, those were eliminated from this list because they do not qualify for the CCC grouping. Some of the better known companies that did not make the cut were: American Electric Power (NYSE:AEP), Excelon (NYSE:EXC), and Entergy (NYSE:ETR).
There is nothing intrinsically wrong with many of those companies that were left off the list. Many of them are excellent companies and have dividend yields approaching 5%. The consistency and growth rate of the dividend was my primary concern -- not the quality of the company.
Conclusion
Utility companies have a place in most investor portfolios. Utilites can be used to increase income and enhance total portfolio yields. Buying utilities on pullbacks makes just as much sense as buying traditional equities having pullbacks. Earnings should be consistent over time, volatility should be lower than other investments and utilities can serve a useful purpose other than being relegated to "widow and orphan" status.
Disclosure: I am long PCG, ED, SCG, CNP.