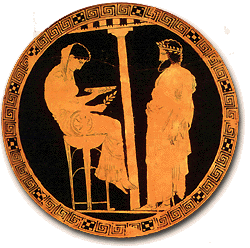 Delphi is the place where ancient Greeks went to get advice from an oracle. Kitco.com is the place where gold traders go nowadays for similar purposes.
This is your trusted
Resource Sector Digest
(Vol. 19 - January 18, 2016) brought to you by Itinerant and The Investment Doctor.
As for all previous editions of this newsletter we shall proceed to:
Set the scene,
highlight actionable ideas,
comment on news releases, and
link to relevant articles.
Please consider our cordial invitation to start the year by joining Itinerant Musings for exclusive access to actionable research on mining and energy stocks.
In case you missed out on previous editions of this newsletter, simply click here, here, or here to catch up.
Setting The Scene
Here is a chart that we love to show while we can. It has been a longer time than we care to remember since stars have last aligned in this way: Gold (NYSEARCA:GLD) has outperformed much sexier investment options such as Apple (NASDAQ:AAPL) or Google (NASDAQ:GOOG) year to date.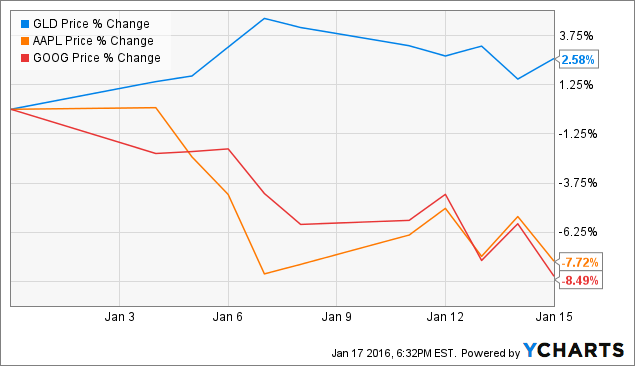 Hurray! onwards and upwards one is tempted to shout. Except we lack conviction that this situation will last. Stocks (NYSEARCA:SPY) will recover if you believe the resident stock oracle here on Seeking Alpha, and gold will fall to new lows if you believe the former resident gold oracle who has published his latest uttering here. According to his analysis gold will drop to one more low, before embarking on another bull run. We are holding our breath.
Thankfully, we also have access to other analyses on metal prices, and one of them has released an update of its outlook on commodity prices. We are talking about Haywood's Commodity Price Revisions, and the table below lists the analysts' price outlook for 2016 for selected precious and base metals. We have also included the numbers prior to the revision, and a column showing the relative change.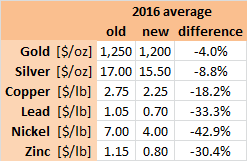 We will take those numbers for gold and silver any day; but boy, many base metals miners will get it in the neck if predictions for copper, lead, nickel and zinc hold true. Many analysts were too bullish in their 2015 outlook, and perhaps the pendulum is swinging the other way in 2016. In any case, your trusted resource sector digesters will be keeping an eye on proceedings, and readers up-to-date as the year unfolds.
Actionable Ideas
Detour Gold (OTCPK:DRGDF) has received little attention here on Seeking Alpha of late, except for the Investment Doctor who sees the name shooting straight to success in 2016. This rhymes nicely with our crystal ball's prediction at the start of the year, which foresaw a takeover of this Canadian gold miner.
We also liked this long case for Lydian International (OTC:LYDIF) which reiterated many points we made in an article for Itinerant Musings subscribers back in September 2015.
News Releases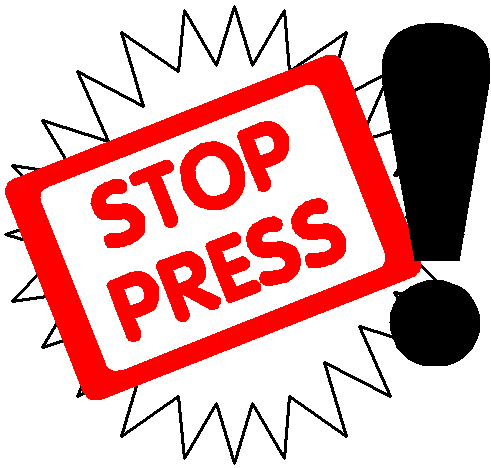 Action is picking up as the year is getting under way and we have selected the most relevant news releases of last week for our summary. As always that's a very subjective choice and we welcome additional links in the comment section below.
Teck Resources (TCK) is fighting a tax hike by the state of Alaska which will potentially triple annual payments for the company's Red Dog mine in this state. Teck has filed a complaint in the Superior Court for the State of Alaska over a tax increase after a negotiated agreement was not prolonged and a severance tax was imposed instead. It's hard to imagine a worse time to tighten the thumbscrews.
BHP Billiton (NYSE:BHP) has warned investors that it expects to recognize a $7.2B impairment charge against its US onshore oil and gas assets. The company is also reviewing 2016 investment and development plans with a "with a focus on preserving cash flow". The bear case seems to be gathering steam.
The Russian Supreme Court has declined to hear Stans Energy's (OTCPK:HREEF) appeal against decisions by other Russian courts regarding the expropriation of a rare earth project in the Kyrgyz Republic. The company is trying to seize shares of Centerra Gold (OTCPK:CAGDF) as compensation for the loss and is continuing its fight in Canadian courts. Centerra Gold on the other hand has provided solid operational results, and at least two authors are bullish on the name, for different reasons.
Dynacor Gold Mines (OTC:DNGDF) has had a remarkable year summarized in this press release, which was followed by news of closing of a $10M credit facility. The company was Peru's first listed toll-miller and it is benefitting from recent legislative changes that have moved this business model much closer to the main stream.
Great Panther Silver (NYSEMKT:GPL) started the year on the back foot reporting a theft of explosive materials from its Guanajuato mine. A brief suspension of mining activities was lifted after just a couple of days, but penalties by Mexican authorities remain a possibility. However, at this stage we see no reason to modify our favorable view of this silver miner.
Thompson Creek Metals (TC) has inched closer to the gurgler yet again, as it announced its decision to de-list from the NYSE. The company will maintain its listing on the Toronto Stock Exchange where the share price promptly tanked to new lows. Royal Gold (NASDAQ:RGLD) owns a stream from Thompson Creek's single asset, the Mt. Milligan mine, and will not be amused by the seemingly inevitable.
Detour Gold reported the extension of its power supply contract to 2024, and also informed markets about its operational results for 2015. The Doc was suitably impressed.
Canarc Resources (OTCQB:CRCUF) released its NI 43-101 compliant resource estimate for its El Compas gold-silver project in Mexico. The story is developing nicely according to plan, as explained for Itinerant Musings subscribers here.
Guyana Gold (OTCPK:GUYFF) is going from strength to strength with its Aurora mine in Guyana. After producing 35,901 ounces during ramp up in 2015 and achieving commercial production at the start of the year the company has now updated its mineral reserves assuming a gold price of $1,000/oz (down from $1,300/oz in its 2012 reserve). Proven and probable reserves have only dropped by 13% (from 3.4M oz to 3M oz) which we view as another indicator of a very robust project.
Pilot Gold's (OTCPK:PLGTF) Goldstrike project is shaping up as another hot iron in the fire for this project generator, as the company reported another set of drill results from this property in Utah, further giving credence to the Investment Doctor's highly positive view.
Orocobre (OTCPK:OROCF) continues to chase that elusive "breakeven run rate" which will now be achieved sometimes after de-bottlenecking efforts are concluded in January. What happened to nameplate run rates we wonder, as the company remains non-committal. The share price chart would make for a great rollercoaster layout, but investors who can stomach an investment in this company would have no problem on this ride.
Hudbay Minerals (NYSE:HBM) released production numbers largely in line with guidance and announced plans to cut 2016 capex by more than 20% to roughly $300M. The market was not impressed, and sold the company down. Your humble scribe maintains his generally positive view on the company, if only it had less debt.
Columbus Gold (OTCQX:CBGDF) raised $6M by selling a 5% stake of its Paul Isnard project to Norgold, its JV partner in developing this potentially world class project. Sandstorm Gold (NYSEMKT:SAND) will be pleased when doing the sums on its 1% NSR which it acquired for $5M in 2013.
Integra Gold (OTCQX:ICGQF) is another junior gold favorite of your humble scribe, and the company has done, yet again, what it does best: find more gold on its Lamaque property near Val d'Or. This time the high grade intercepts come from below 1000m at the Triangle zone showing the potential of this ore body at depth. Eldorado Gold (NYSE:EGO) has recently purchased a stake in Integra Gold, and we are wondering if other sharks are also circling. Speaking of Eldorado Gold, we can't help but feel sorry for the Greek quagmire the company is finding itself in. Our sympathy is not strong enough to view the latest low in the share price as a buying opportunity, however.
Not one, but two companies informed markets about devastating losses on previously estimated mineral resources. Rubicon Minerals (RBY) exceeded worst expectations when it released its resource update, down more than 90% on the ounce count. The other one was much less publicized: Aurcana (OTCPK:AUNFF) also released a resource update for its Shafter silver mine and confirmed our assessment published more than two years ago.
Pretium Resources (NYSE:PVG) announced yet another set of bonanza drill results from its Brucejack project. Nothing new here, but 20kg/t (yes, that's KILOGRAMS) gold deserves a mention nevertheless. We are looking forward to hearing about mine construction progress in due time.
Rumors about South 32 (OTCPK:SOUHY) bidding for Anglo American's (OTCPK:AAUKF) niobium and phosphate business in Brazil have finally hit main stream press. Readers of this article had a 3 months head start on Bloomberg.
There seems to be a number of streaming deals still available for sale from various base metals miners, just like we predicted a couple of weeks ago. First Quantum (OTCPK:FQVLF) is betting big on copper, and is rumored to offer future precious metals output from its Kevitsa mine (and possibly other assets) and we would not be surprised in the least to see an entity outside of the ubiquitous 4 snapping up the deal.
True Gold Mining (OTCQX:RVREF) announced that it has entered into a $10M equipment refinancing facility for its near production Karma mine in Burkina Faso. This move might just make using an option to increase financing from the streaming agreement with Sandstorm Gold and Franco Nevada (NYSE:FNV) obsolete. The recent terrorist attack in the host country's capital city will unfortunately renew country risk concerns which have only just started to abate after the elections late last year.
And this is where your humblest of scribes is signing off for this week. Your faithful Investment Doctor will have the pleasure of putting together next week's edition and we are already looking forward to reading his work. Please give a subscription to Itinerant Musings some thought; in any case we are already looking forward to catching up with youse all in due time.
Disclosure: I am/we are long SAND, CBDGF, GPL, ICGQF.
I wrote this article myself, and it expresses my own opinions. I am not receiving compensation for it (other than from Seeking Alpha). I have no business relationship with any company whose stock is mentioned in this article.
Editor's Note: This article covers one or more stocks trading at less than $1 per share and/or with less than a $100 million market cap. Please be aware of the risks associated with these stocks.